Results 2019
Our 2019 highs:
*7 National golds
*13 National medals
*37 National Track/Cross qualifiers
*49 State medals (including 20 Gold!)
*10 State Little Athletics medals
December 2019
Australian All-Schools Track Championships Dec 6-8 Perth
The 41 degree heat on Day One forced a four hour delay. Odd timetabling for a December day at the height of a Perth summer in the face of a forecast record heatwave!! Or is it the program schedulers who are odd?!
GOLD ISABELLA HARTE U/16yrs 3000m 9.48
In warm breezy conditions, Isabella raced like the 4-time Australian junior champion she is — a lung-busting first kilometre (3.07), then leading at a grinding, unrelenting mid-race tempo, followed by a daring "Modini Maneuver" that propelled her to gold (Racing up a year!). Only three others have won the AJ/AAS double in the same year and Isabella is our fourth AAS U/16yr girls 3000m champion after ELENA GREEN, KATELYN SIMPSON and MELISSA ROLLISON. Finishes the year world #2 among 14 year olds for 3km.
BRONZE BRIDGET MORRISSEY U/16 Steeple 7.04
Up against the world #1-ranked 15 year old, our AJ champion was boxed back in the chase pack early. She moved into second, Tybereking the water jumps (3.27 at halfway), but couldn't shake the other Tasmanian. Finishes the year world #3 among 15 year old steeplers and with her fourth national medal in a row.
#7 AMY PARTRIGE U/16yrs 3000m 10.10
A PB in a championship is always laudable and Amy delivered courtesy of 3.12/3.29/3.29 kilometre splits and in the chase pack through halfway (4.56). That's 4 Nationals in a row Amy's placed 7th!
October 2019
The State School Championship season concluded in Cairns (Secondary Schools Track, Oct.19-22) and at Kawana (All-Schools Aqua/Tri, Oct.27) with our 7 wins, 1 record and PBs/NQs galore.
GOLD ISABELLA HARTE 14yrs 3000m 10.08 REC
It takes more than humidity and wind to stop the hard-training Isabella whose 1.13 opener presaged 3.16/3.28/3.24 km splits. That was good for gold and the fastest time (by 6secs) in QSS Championship history!
GOLD ISABELLA HARTE 14yrs 1500m 4.43 NQ
This time she sat outside the leader through 1.15/1.21/1.16 laps before a final 1.09 split saw off some serious challenges.
GOLD AMY PARTRIGE 15yrs 3000m 10.14 NQ/PB
A sensational final 200m in 35secs propelled Amy from the chase pack to gold and a trip to the Nationals in Perth. Her 10.14 PB was made up of 3.20/3.31/3.23 km splits.
GOLD BRIDGET MORRISSEY 15yrs 2km Steeple 7.16 NQ
Quicker than last by 10secs, Bridget bided her time before 2-foot water jumping her way to a machine-like victory.
BRONZE JACK PARTRIGE 16yrs 3000m 8.56 PB/NQ
A creditable run in tropical conditions for Jack who passed halfway in 4.29 with a gap to make up on the breakaway leader. Despite his best efforts, including a 29sec last 200m, he couldn't repeat last year's heroics and settled for the bronze.
National qualifiers also to steeplechasers SHANTEAL HANSEN, JACKSON CRANITCH & HARVEY CRAMB, and 800m runners ROB STRINGER, ANNA JONES & MIA McCONAGHY.
GOLD ZALI BOWDEN U/12yrs Aquathon 12.20
A newcomer, who made State for swimming and cross-country, Zali sat off the lead trio through a 4.07 kilometre, passed them on the swim, then careered away on the last run (3.36). What a debut!
GOLD SYBELLA HINZE U/10yrs Aquathon 8.29
Extended her medal-winning streak with 500m splits of 2.25/1.59 and an awesome swim to repel all challenges by 7secs.
SILVER ALEXIA ABELA U/12yrs Aquathon
Ran with Zali early and took the lead in the swim by 2secs, then hung on well to claim silver.
SILVER BRIANA MOW (Triple F Tri Club) Intermediate Triathlon
Ran strongly off the bike to set herself up for an excellent tri season.
NB GABBY JACKSON'S 14.41 for 4kms off the bike was the fastest girls' time of the day!
September 2019
Sept.19-21
Australian Primary School Track Championships Darwin
Thankfully MD races took place in the cool of the evening to escape the daytime sauna. Performances were electrifying and our four held their own.
Silver LEO LLEWELLYN 11yrs Tetra 800m (2.22=PB)
Positioned to medal after the 100m, shot put and long jump, Leo made no mistake in the 800m with an equal PB 2.22. He risked a negative split (6th at crossover and 1.13 at bell) –"I didn't want to lead"–but finished full of running. He improved from 4th last year.
Bronze DANIEL WITT Tetra 800m (2.27)
What a National debut! Daniel had a great start in the 800m sitting 4th with a 1.14 split. He finished gamely to earn a podium spot.
6th KODY HOCKEY 12yrs Tetra 800m (2.21 PB)
Kody overtook several in the overall pointscore thanks to a PB 2.21 in the 800m. He quickly moved into 2nd, passed the bell in 1.08 and put 3secs into the breakaway leader on the last lap.
7th CAIDEN MACFARLANE 11yrs 1500m 4.50 PB
Started brilliantly from an inside lane to avoid the box. He was a lung-busting 1.10 after a lap but hanging on to the record-setting lead pack proved too much. Held it together for a PB and 1st Queenslander.
Caiden backed up in the 800m heat with a 2.24 (1.10 also!).
August 2019
August 24
AUSTRALIAN CROSS-COUNTRY CHAMPIONSHIPS Dapto (Wollongong)
Three in the Top 7 at any Major is noteworthy and even Vic & NSW couldn't match our U/16 stars. The weather was perfect but runners outside the top 6 sucked in dust kicked up by the leaders and the Livestream mini-moke. There was no avoiding it on the needlessly narrow "slow start/race over" course. 
GOLD ISABELLA HARTE U/16yrs 4km 13.55
History was against our girl with only one previous 13yr champ ever winning at 14. And that was World Junior X-Country runner Samantha Prime (2008/09). As well Isobella was facing the AJ 1500/3000m champ in the older 15yrs age.
She laid off the pace early but assumed a co-lead by 1km. Passing the halfway in 6.55, the front pack had the 3000-strong crowd running from point to point enjoying the battle.
Isobella covered all the surges in the last half eventually charging hard herself over the last 200m to successfully defend her title from Maleny.
Triathlon/SLS star KELLY-ANN PERKINS is our other previous U/16 champ (2007).   
Great interview after by Isabella whose AJX record now reads Gold, Gold, Silver/Bronze, 4th.
Moneghetti, Mottram, O'Sullivan, Wardlaw and Telford the sport's royalty–would've been most impressed.
BRONZE BRIDGET MORRISSEY U/16yrs 4km 14.07
Unfazed by the rough-and-tumble start, Bridget zig-zagged up from 12th early to a top 4 position by the 1km. Given her previous AJX placings (39th, 36th, 15th, 13th) a miracle was needed and that's exactly what she produced!
Not only did Bridget drop off a steeple rival with 1.5km left, she won her debut national cross medal in a time that would've placed her 3rd in the U/18s!!!
The "pitter-patter" queen joins our KATELYN SIMPSON (2008), SOPHIE MALOWIECKI & SCARLETT FAHEY (2012) & ELENA GREEN (2014) as an U/16 AJX medallist.
4th MATTHEW HANSEN U/16yrs 4km 12.38
A debut to savour for someone who was a soccer player this time last year!
Matthew took it to the nation's best, after having a shoe signed by one of the nation's best EVER, Steve Moneghetti, pre-race.
"Hanso" forced the pace, passing halfway in a lung-busting 6.06, and only missing on a debut national medal by 2secs.
Strava in meltdown for our big mileage man who may find next year's 6kms much to his liking.
7th AMY PARTRIGE U/16yrs 4km 14.22
A brilliant start in the 100-plus field saw Amy co-lead for much of the first km.
Passing halfway in 6.58 and the pressure on, the 2016 bronze medallist never panicked to finish in the top 7 for the 3rd time.
Amy was the 6th-fastest SS runner and so would've made the cancelled Australian team for the 2020 World Schools Cross-Country!
9th KYLE WILLIS AWD 3km 12.03 (37%)
Displaying early speed to burn, Kyle matched the open men for 800m before paying the price mid-race.
He toughed it out to replicate last year's top 10 record.
Presentations took place at Towradgi Beach Hotel with our runners defeating Lizel's at tag.
***
*** Harte and Morrisey ***
National Cross Country Medallists
"Still the Ones"
(and Matthew soon to be!)
Pictured: Some of our stars at the 2019 Australian Cross Country Championships in Wollongong.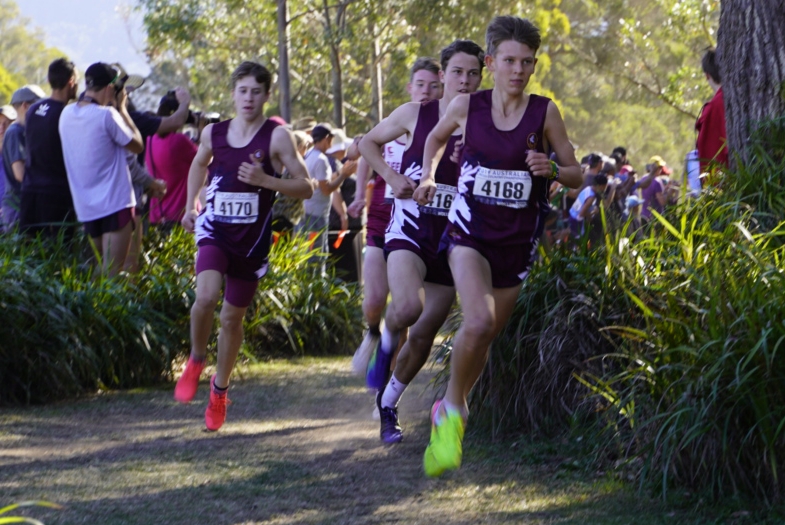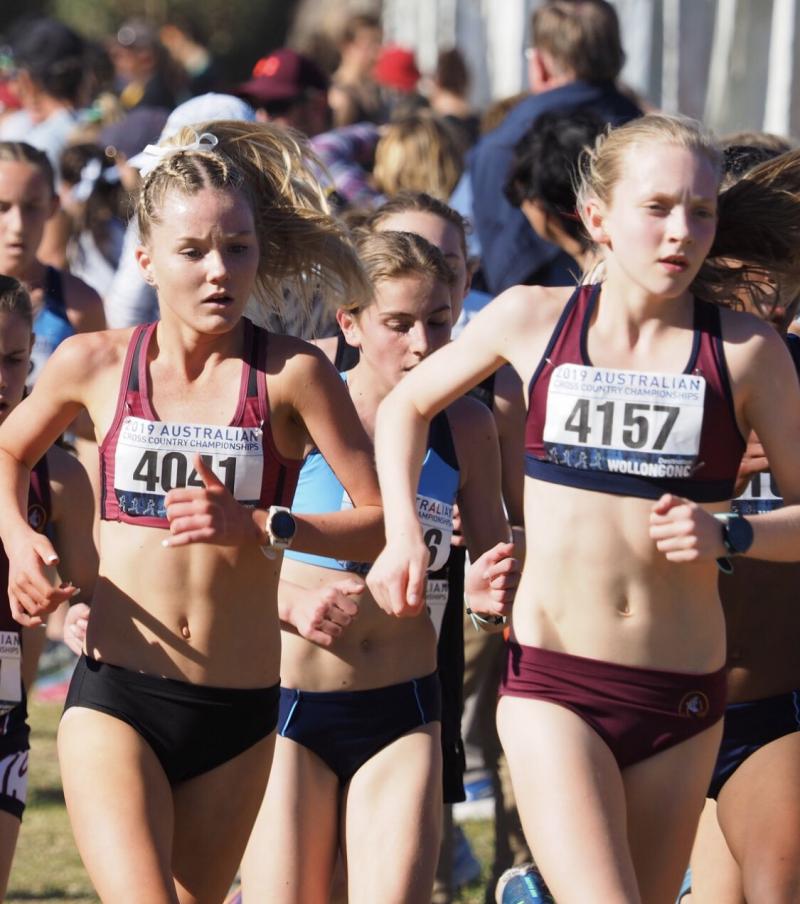 ﹡﹡﹡** HARTE & MORRISSEY **
NATIONAL "GOLDEN GIRLS"!
AND HUGHES MAKES THREE!!
RAYWARD FITTEST AUSSIE MUM!!
7 MEDALS at QUEENSLAND ALL SCHOOLS CROSS COUNTRY!
See Results
August 15 – 16
Queensland Primary Schools Track Championships QSAC
WE WON 5 MEDALS and had 4 NATIONAL QUALIFIERS
GOLD DANIEL WITT 11yrs Tetrathlon
To win a State title on debut is special, but to earn a trip to Nationals in Darwin will be a memory to cherish. Daniel was top two throughout the 4-event test of all-round ability (100m, long jump, shot put, 800m). Already a rep League player, the scouts will be circling after he PB'd the final 800m (2.25 off a 1.11 split) to secure gold with a massive 1253 points.
SILVER LEO LLEWELLYN 11yrs Tetrathlon
Always tough when you're the defending champion, but Leo shook off the Day 1 pressure with a PB long jump and a near-PB 800m (2.23 off a 1.09 split). The National #4 leapfrogged several to clinch the second berth for Darwin and ensure we have the top 2 all-round 11year old athletes (Top 3 if you count HARRY CARTWRIGHT who was with us for several months after last year's state). 
SILVER CAIDEN MACFARLANE 11yrs 800m 2.21
Faced with the imposing Irrikantje, Caiden backed himself through the first lap in 1.08 to earn a trip to Darwin in 2.21. It was an amazing 6sec PB from before the titles and just a second outside the National U/14 qualifier! 
SILVER CAIDEN MACFARLANE 11yrs 1500m 4.51
The split fields meant Caiden didn't face the defending champ & Australia's #6. Nevertheless he took 4secs off his PB to win his heat in 4.51, 2secs behind the favourite. It gives Caiden a second start in Darwin.
SILVER KODY HOCKEY 12yrs Tetrathlon
Kody featured in the closest finish of the Championship with just 3pts separating the medallists. His 4-event total of 1157 came off the back of a determined 2.22 in the final 800m event, just 1sec behind the winner. Like sister Trista, KODY is now a national qualifier in cross-country & tetra.
July 2019
July 21
QUEENSLAND SCHOOLS CROSS-COUNTRY CHAMPIONSHIPS, Highfields (Toowoomba)
GOLD Rising star MATTHEW HANSEN'S shock 15yrs 4km triumph provided the "WOW" moment of a championship where our four golds dominated the secondary ages. Not only did Matthew stun the massive crowd with his first victory, but his 12mins 20secs was national-class.
Hanso's Strava posts have gone viral among older road warriors and his original "Hansen Hybrid" tactic may force a rewrite of the coaching manuals. Post-race, the Ormiston College ace commenced a lung-busting 5-week training block into the Nationals.
GOLD "PARTRIGE POWER" was on show with AMY (15yrs 4km) and JACK (16yrs 6km) fired up after being abruptly denied their World Schools Cross dream.
AMY, the 2016 winner and 2017-18 silver medallist, used old-school hard running to build an early lead. Despite losing time in the kaleidoscope of cones, her 14.04 was a massive PB.
GOLD JACK PARTRIGE was equally unstoppable powering off the front to a 19.21 triumph and striking gold after four bronzes and last year's silver.
Limestone Park State Cross Country
GOLD National champion ISABELLA HARTE made it 4-in-a-row with her victory in the 14yrs 4km. Few have won five. Her 14mins exact time was the third fastest of the day.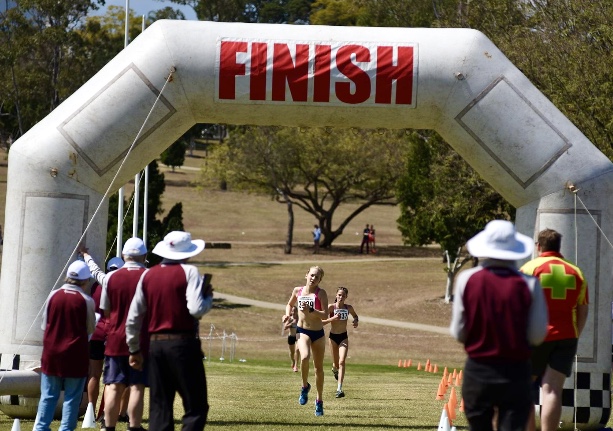 KYLE WILLIS (MC), KODY HOCKEY (12s), ALEXIA ABELA (who actually led the 11s at some stages) and SAM ELLICE (10s) were also selected for the State Team after placing top five.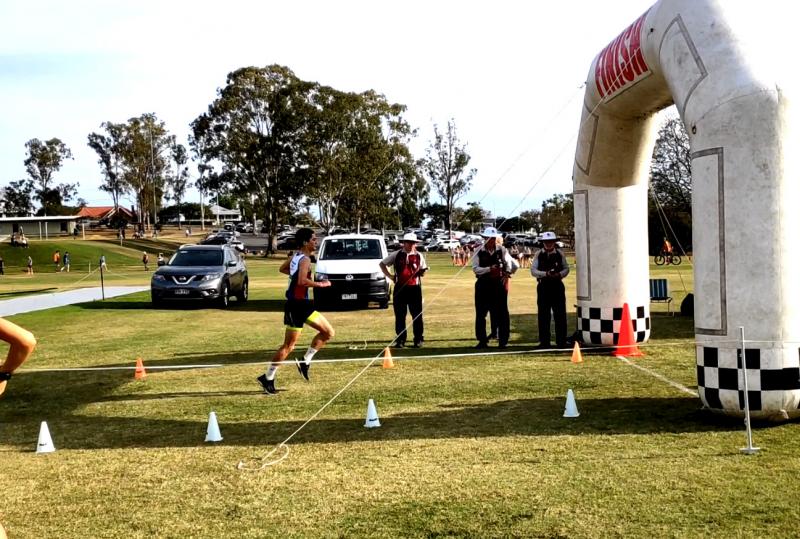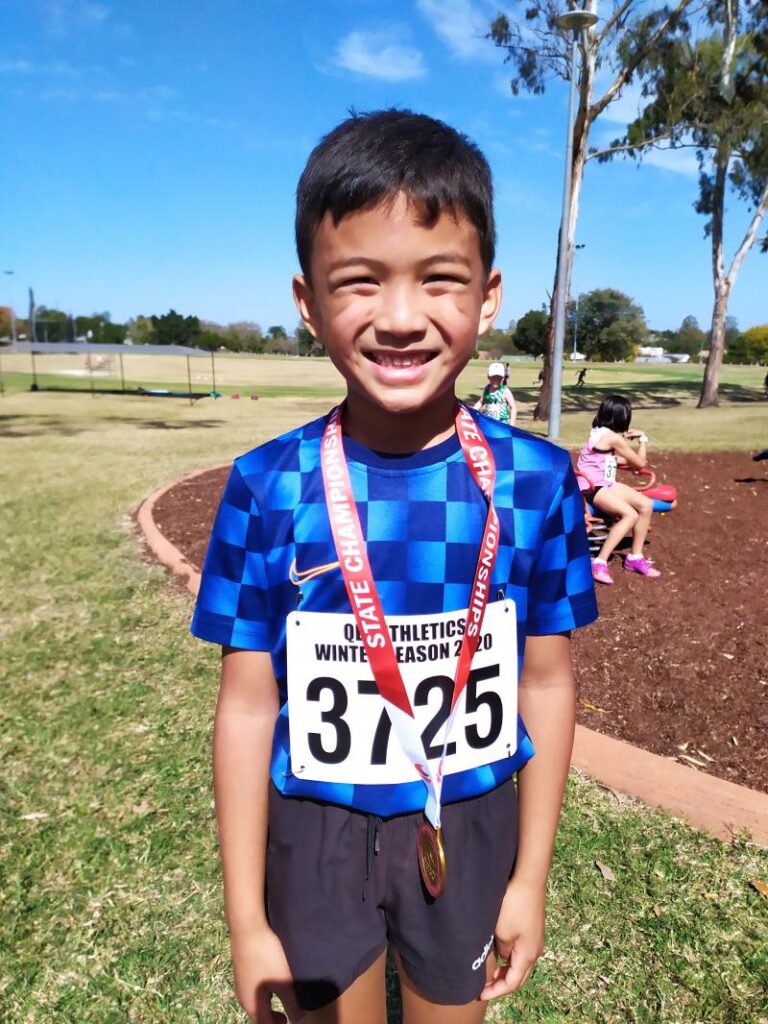 Celebrations took place at Toowoomba Sports Club.
July 28 QUEENSLAND CROSS-COUNTRY CHAMPIONSHIPS, Maleny
The unique golden double of CATHRYN and ELKE RAYWARD provided the "feel-good" factor but also significant was ISABELLA HARTE and BRIDGET MORRISSEY posting the fastest 4km times of the day.
GOLD CATHRYN RAYWARD'S defeat of the Australian Masters Cross-Country champion on the torturous 6km course proved her class beyond doubt.
GOLD Daughter ELKE RAYWARD, also a surf lifesaver, zipped around the hilly 1000m loop in 4.07 to capture the U/10yrs gold on debut.
GOLD ISABELLA HARTE, 14, completed the Triple Crown (All-Schools/State Schools/State Junior) for the second successive year with the fastest time of any female (14.54).
GOLD Fellow Australian junior champ BRIDGET MORRISSEY won the 15yrs in a slick 15.18 to complete a full set of QJX medals and, amazingly, capture her first state title in any event.
SILVER ZAHN SPIES bounced back from State Schools leading much of the way in the U/12yrs 3km (11.45).
BRONZE AMY PARTRIGE, in training mode, still podiumed in the 15yrs 4km (15.44).
BRONZE CHARLI SPIES proved her endurance by winning her first state cross medal in the U/12yrs 3km (12.53).
** QA selected BRIDGET MORRISSEY, ELIZABETH BRYANT and EMMA MCDONALD in its Heat Team for National Cross-Country.
May 2019
Queensland All-Schools Cross-Country, Yatala, May 4
We won 7 medals, more than all but Lizel's Squad.
GOLD
ISABELLA HARTE (14yrs). To win 3-in-a-row is excellent but to record a 4km time (14.35) just 1 second behind a world junior runner–WOW!! Isabella had to deal with a torrential downpour at the start and then 4kms of mud and slush to defend her title. A Kenyan-like last km was memorable.
SILVER
SYBELLA HINZE (9yrs) A fearless approach to her first state cross almost won Sybella a sensational State gold. She led the 1000m until the last 50m (5.07).
KYLE WILLIS (AWD/T38) pushed the Aust.400m champ all the way to prove he has endurance as well as speed.
BRONZE
JACK PARTRIGE (16yrs) tried a hard opening 2km in the 6km, eventually winning his second QASX bronze (20.45).
MATTHEW HANSEN (15yrs) From obscurity to a State medal in 9 months, Matthew was clearly the best newcomer. He pushed the AJ 3000m champ throughout the 4km (13.32) and was nipped at the end by another national medalist. 
AMY PARTRIGE (15yrs) handled the quagmire like it was her friend to claim her second QASX medal in an excellent 14.59 (4kms).
ZAHN SPIES (11yrs) The Qld Little Athletics champ won his first-ever State cross medal by tracking two national runners in a tough 3km (11.07). 
April 2019
Australian Track Championships Sydney April 1 – 7
Medal magnet ISABELLA HARTE contributed 20% of Qld's gold medal haul in MD races at the Nationals. She won the U/15yrs 1500m (PB 4.34) & 3000m (PB 9.47), positioning herself perfectly for her irresistible long drive to the finish. Isabella's 3000m time (3.10/3.24/3.13) was the second-fastest of any age and #2 in championship history for the U/15s!! STAR!
BRIDGET MORRISSEY clinched her maiden national title in the U/16yrs 2km steeple (PB 6.56). Her time was the quickest of any age and ranks #7 female in the world this year! AWESOME!
KYLE WILLIS (T38) chipped in with a silver in the Para 800m (PB 2.18/66), his first national track medal.
CALLUM DAVIES looked at home in the world-class Open Men's 1500m. First Queenslander since 2011 to even make the final, Callum sat "in the bubble", then unleashed a near-PB 1.53 last 800m (55sec close!!) for an impressive 7th (=PB 3.46).
Our depth was also great:
5th MATTHEW HANSEN (3000m/PB 9.03) & JACK SALCEDO (5000m/PB 14.46)
6th KLOE LOCKHART (After leading half her steeple)
7th AMY PARTRIGE (PB 10.23/3000m)
9th ANNA JONES (1500m/4.42).
Also PBs to OSCAR RUTHERFORD (Steeple/6.36), EMILY OLDERS (800m/2.26 off a 68) & JACKSON CRANITCH (Steeple/6.35).
Our U/14yr race walkers also starred with ASHANTI HEAP silver and 11 year-old LYLA WILLIAMS 4th with a "double PB".
Summary–We won more golds than any Qld MD squad!
NEWSFLASH:- CATHRYN RAYWARD earned "SuperMum" status with her victory in the Australian SLS Masters 2km Beach Run. The soft sand at Kurrawa was heaven-sent for the hard-training Cathryn. SO WELL DESERVED!
March 2019
QUEENSLAND LITTLE ATHLETICS TITLES Townsville March 22-4
Seven middle distance golds, including an historic double by twins ZAHN & CHARLI SPIES, highlighted our results at sweltering tropical Townsville. RUBY HUGHES (800/1500m) & ASHANTI HEAP (Walk) provided the icing with their State Team selection for the Nationals in Hobart, April 27-8.
2 GOLDS ZAHN SPIES won the U/11yrs 800/1500m double in 2.32 (1.15 split) & 5.03 respectively with hard front-running efforts that left the chasers wilting or unable to raise a sprint.
2 GOLDS RUBY HUGHES dominated the U/13yrs 800/1500m with national-class times of 2.22 (1.09) and 4.48 (1.16/1.19/1.19). She joins a parade of our legends who have gained selection for the hard-to-make Little Athletics Nationals.  
2 GOLDS SHANTEAL HANSEN broke through with a bang in the U/16yrs nailing the 800m gold in 2.27 (1.10 split) the day after capturing her first State title in the 1500m (5.07). Off-the-front tactics paid off.
BRONZE AMALI MOORE arrived as a force to be reckoned with thanks to a stunning third place in the U/12yrs 800m (2.34/1.10). She took a massive risk going with the leaders but was massively rewarded.
Our 400m medalists were ISSI SCHOFIELD (U/17 silver, 1.05) and SYBELLA HINZE (U/9 bronze, 1.15).
Our walkers also shone with golds to ASHANTI HEAP (U/13–State selection) & LYLA WILLIAMS (U/12–3 in a row, PB, clean sheet) and silvers to AMELIA and ISSI SCHOFIELD.
QUEENSLAND TRACK CHAMPIONSHIPS March 7-10 QSAC
GOLD CALLUM DAVIES Open 1500m 3.50
Callum won our third 1500m state title in 4 years (Brodie Modini/2015, Lucinda Crouch/2016) with a brilliant tactical display in gusty conditions. Callum, 20, fashioned 1.04/1.03/1.00 splits into a 3.50 masterpiece with an invincible 43sec close. That's the fastest winning time since 2012 and boosts his World Uni qualifying (3.42.5) hopes. Noteworthy was Callum's "zip-zapping" into and out of boxes and through gaps, testimony to his quick turn of foot. 
SILVER CALLUM DAVIES Open 800m 1.52 PB
Two days earlier Callum had PB'd the 800m (55sec split) behind an ex-AJ medalist, so signs good.
GOLD ISABELLA HARTE U/15yrs 1500m 4.44
After sitting on the leader in the wind for 3 laps (even 1.16 splits), Isabella launched with 300m left to take gold and boost her confidence ahead of Nationals.
SILVER ISABELLA HARTE U/16yrs 3000m 10.02 PB
Earlier she had led all but the last 100m of the QJ 3000m racing up an age ("I wanted to be pushed more").
BRONZE ISABELLA HARTE U/15yrs 800m 2.19
A negative split (1.11/1.08) gave Isabella the full set of State medals.
GOLD RUBY HUGHES U/14yrs 800m 2.22
Successfully defended her State U/14yrs 800m title from the front, splitting 1.09/1.13.
SILVER RUBY HUGHES U/14yrs 1500m 4.55
Did all the work at the front but unable to hold off a fast-finisher.
SILVER BRIDGET MORRISSEY U/16yrs 2km Steeple 7.03 = PB
Competitive with the Aust.All-Schools champ most of the race, but the 2-footed water jumps eventually took their toll. Still World #5.
BRONZE KLOE LOCKHART U/17yrs 2km Steeple 7.26
Closing in on her PB and a well-deserved return to the podium.
BRONZE JACKSON CRANITCH U/17yrs 2km Steeple 6.53 PB
Handled the higher steeples skillfully to medal once again.
BRONZE JACK PARTRIGE U/17yrs 1500m 4.13
Competitive throughout, Jack medalled off an endurance-oriented prep.
BRONZE ANNA JONES U/17yrs 800m 2.14 = PB
Back to her best in time for Nationals, Anna fired on all cylinders.
BRONZE EMILY OLDERS U/14yrs 800m 2.26 PB
A National Qualifier and PB in the one that counted. Great under pressure.
BRONZE KYLE WILLIS AWD 800m 2.22/92% PB
Hung on to the national champ and dragged to PB
BRONZE KYLE WILLIS AWD 1500m 5.11/86% PB
Other National Qualifiers were AMY PARTRIGE (4.39 PB) & MATTHEW HANSEN ((4.20 =PB) in the 1500m; and OSCAR RUTHERFORD (6.50 PB) & HARVEY CRAMB (6.53 PB) in the steeple.