SEPTEMBER-DECEMBER
HARVEY CRAMB set a State U/18 record for 2km steeple (5.58)–#1 in Australia this season.
He backed up next day to win the BRRC 5km title.
We qualified 14 runner-triathletes to QSS State at Hervey Bay with golds to ADDIE HOUSLIP (Junior Tri) & ELKE RAYWARD (Aquathon)
Junior Coolangatta Gold victories to JAZ, BIANCA & ELKE RAYWARD, KAI GILBERT & ZARAH FARRINGTON.
ISSY HARTE'S 16.27 PB at the Noosa Bolt compares well with the World Junior Qualifier (16.40).
BIANCA RAYWARD successfully defended her State Junior Aquathon title with sister JAZ nabbing silver in the age above.
LUKA BROWN won the Nerang Forest 2000m Trail Run outright in a downpour with sister AVA #3 junior.
MAALEKA ESSER-KRAUSE was 1st junior at Intraining Twilight Bay Half-Marathon & ALASTAIR BELL #3 junior in 10km.
GRACE ADAMS won the SunCo Running Festival 2000m & SELWYN RUSSELL was 1st junior in 10km.
BEN SCIACCA 3rd at AIC open 1500m (4.15) & 3000m (9.19).
MILLIE MITCHELL 3rd at TAS 12yrs 800m (2.49).
ELSA CHAN single-handedly negotiated a USA Athletics Scholarship at Jacksonville State University.
KYLE WILLIS was awarded our first Sports Australia Hall of Fame scholarship. That's history!
JAXON PATERSON-WRIGHT'S 8.16 PB for 3000m at Road to '32 meet is #5 by an Australian junior this season.
BIANCA & ELKE RAYWARD dominated QSLS Enduro with golds, ZARAH FARRINGTON silver & LUCCA PITHER bronze.
DAVID CRELLIN'S 4.35 at SunCo 70.3 Half-Ironman prepped him for Noosa Triathlon (#3/Age equivalency in Mates Wave).
ANNA JONES depated to USA Kent State Uni on scholarship.
ASHLEY PLANE, TARLAY ROBERTSON, HOLLY-MAREE MATTHEW & BIANCA RAYWARD in TQ Triathlon Merit Squad.
August
ASHLEY PLANE, TARLAY ROBERTSON, HOLLY-MAREE MATTHEW & BIANCA RAYWARD named in Qld Schools Triathlon team.
LYLA WILLIAMS (U/16) & FREYA WILLIAMS (U/8) crowned Qld road walk champions. Coach Robyn Wales, well done too.
JOAQUIN WIECZOREK won Jetty to Jetty 5km (17.43) with KELSEY ROLFF 3rd in 3km (11.59).
FARRAH JUBB won Park to Park (U/13 div.)
JACK PARTRIGE PB'd 3000m (8.39) at winter meet off endurance prep.
SYBELLA HINZE PB'd 400m (1.11) & 1500m (5.23) at Runaway Bay winter meet.
JULY
Past Border Strider trainers selected for Tokyo Olympics are ROSIE MALONE (Hockey), STEPHANIE GILMORE (Surfing)
ASHLEIGH GENTLE (Triathlon). BRANDON COPELAND was flown to Tokyo as a reserve for the Triathlon Relay.
JASMINE RAYWARD named in ASLSA Youth Talent Squad targeting 2024 World Surf Life Saving titles.
JUNE
ADDISON HOUSLIP, 11, and HARVEY CRAMB, 16, became the youngest-ever winners of the Brisbane Marathon Festival 5km.
Addie's 17.33 on a short course compares favourably with World Age Best (17.41) & she was 7th in a field of 700+.
MAALIKA ESSER-KRAUSE, 14, was 2nd junior in her debut Half-Marathon (1hr 35min).
KELSEY ROLFF, 10, is the youngest-ever winner of an open Brisbane RRC race, taking out the recent 4km.
QA has selected ISABELLA HARTE, JOSEPH SAUNDERS, OSCAR RAYNER & KYLE WILLIS to its Target Talent Squad.
LYLA WILLIAMS has gained selection to National Little Athletics' AIS Camp (Walks coach Robyn Wales).
MAY
JOSEPH SAUNDERS was runner-up at GPS 16yrs 6km Cross-Country (PB 19.34), helping his school BSHS to the win.
CALLUM DAVIES won his first (and ours) UQ Great Court Race, earning $1000, in the quickest time since 2009.
GRACE ADAMS was runner-up in the IMPI/Gold Coast 3km (PB 11.32).
FARRAH JUBB (Prime coach Michael Matthew) was 2nd at Andrews Cup Cross-Country.
At QGX, ISABELLA HARTE won the 16yr 4km (3rd title-in-a-row) and HOLLY-MAREE MATTHEW was 3rd in the 13yrs 3km.
RUBY HUGHES and mum LISA headlined a Mothers Day IMPI photo-shoot.
APRIL
The Gold Coast Running Festival 5km went to RUBY HUGHES by 2mins 30secs.
Our winners at Miami's Flirt with Dirt were LUKA BROWN (U/12) and SUMMER IMMISCH (U/8).
CALLUM DAVIES was named UQ Sportsperson of the Year (Male) the same week he PB'd the 1500m (3.38) when 5th at Box Hill.
MARCH
3rd place at the Melbourne Track Classic 1500m was CALLUM DAVIES (3.40).
GABRIELLA HILL won bronze at the Australian U/20yr 10km Road Walk in a PB 51.23.
BIANCA RAYWARD was selected in QSS Triathlon Team.
LUKA BROWN won the Numimbah 3km Trail run.
HARVEY CRAMB was 2nd junior at the Great South Run 5km (PB 15.41).
RUBY HUGHES was the first junior at the Lakelands 6km while SUMMER IMMISCH won the U/8yr 2km.
FEBRUARY
JASMINE RAYWARD, 14, earned $1000 for winning the Summer of Surf Ironman.
ADDISON HOUSLIP won the silver medal in the Queensland Primary School Aquathon at Hervey Bay. She won selection in the State Team along with ELKE RAYWARD (Aqua) and JONAS LONGHURST, TARLAY ROBERTSON & ASHLEY PLANE (Tri).
JANUARY
CALLUM DAVIES was 3rd at Zatopek 1500m (PB 3.40).
BIANCA RAYWARD won the Junior Burleigh Swim-Run in the 3rd fastest time of the day.
Nationals Day 3
Nationals Day #3–LYLA WILLIAMS #2 in AUSTRALIA!!!
OK, it was the 3000m WALK but, hey, she runs intervals with us 3-times a week so I'm claiming it (with due credit to race walk coaching maestro Robyn Wales). Lyla went in ranked #3 but clocked a brilliant PB 15.08 to clinch Silver! Looked more energetic than I've ever seen and stylistically faultless, earning just the one "red" for "tripping over water". IOU "Cold Rock". PB also to ELSA CHAN (Co-coach John Purcell) whose 12.06 in the World Junior 3000m Steeple Trial netted her a top 10.
Sydney Nationals Day 1/2
CAIDEN MACFARLANE SILVER/PB!!!ADDIE HOUSLIP #3 (12yrs) IN AUSTRALIA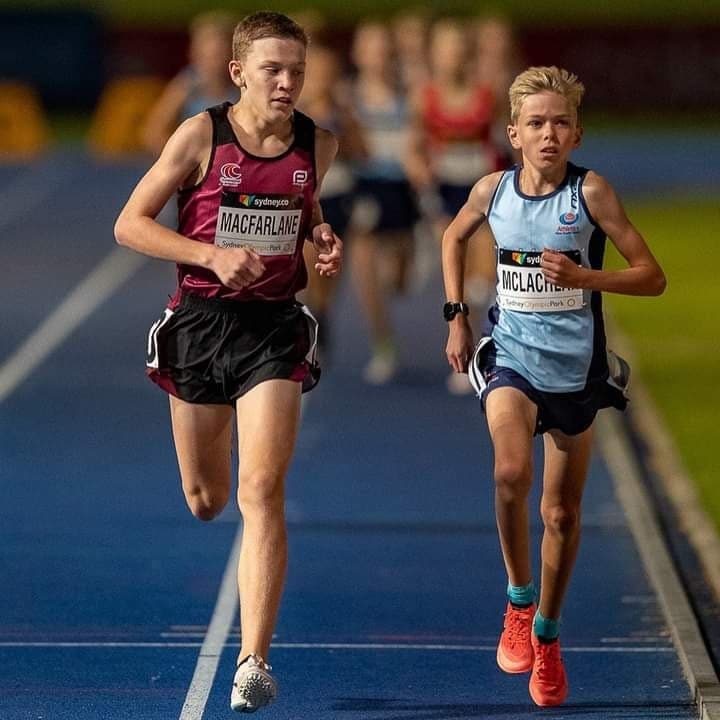 Caiden gave our Nationals campaign a flying start with his Silver medal in the U/14yr 1500m at Sydney Olympic Park.He slashed 6sec's off his PB (4.23) and it took an Australian Record to snap his 2 year unbeaten streak. Caiden's splits were1.04(!)/1.12/1.14/1.12 in securing his maiden national medal.
Addie, at 11 the youngest in the U/14yr girls 1500m, stunnedher 12 higher-ranked rivals with a blistering PB opening 400m(1.10) and leading through 900m!. Splits of 1.10/1.22/1.24 anda 1.21 close rewarded her with #3 (age) and a near-PB 4.55!!!
HOLLY-MAREE MATTHEW tuned up for her 800m with acreditable 5.04. I ended up $50 lighter for buying 'em dinner!!
2021 National athletics Championship Sydney Olympic
Pic of our Alanasia Malone lined up at the start of the Olympic Trial steeplechase beside eventual winner Genevieve Gregson
Pic of Elsa Chan at start of World U/20 Trial steeplechase with big smile.
\
DAY 3

Pic of our Shanteal Hansen at first water jump in 4th place early in WJ Trial Steeple (with her name on the scoreboard in background!). It may be difficult to get her in focus but see what you can do.
"Olympic Trial" & "World U/20 Trial".
*** WE ARE OFF TO A FLYING START IN 2021 ***
NATIONAL TRACK
A silver medal in the U/14yr 1500m (PB 4.23) by CAIDEN MACFARLANE (Pic in pre-kick mode) and the U/17 Steeple bronze (PB 6.07) by JOSEPH SAUNDERS led the way.
STATE TRACK
Open titles to CALLUM DAVIES (1500m "3-peat") and ALANASIA MALONE (Steeple) and junior golds to CAIDEN MACFARLANE, JOSEPH SAUNDERS & KYLE WILLIS highlighted our 14 medals & 23 National Qualifiers.
QLD ALL-SCHOOLS CROSS-COUNTRY. A resurgent IZZY HARTE spearheaded our 4-medal haul with 7 earning early selection for Nationals in Adelaide.
STATE SHORT COURSE CROSS-COUNTRY
CALLUM DAVIES is mid-purple patch with his 3rd at Zatopek 1500m eclipsed by a 6th at the Olympic Trials 1500m (=PB 3.38) and then followed by UQ Sports Star of the Year Award, the Aust.Uni Games 1500m/5000m double gold and our first victories at State Men's 4km Cross and the UQ Great Court Race!
"AUSSIES" (Surf Life Saving Beach Runs)Golds to FIN BOOKER (U/14) & CATHRYN RAYWARD (Masters).