Home

Please continue to be vigilant regarding COVID safety. Easing of restrictions does not mean easing of care. Do not come to training if sick.

Now affiliated with Q Run.
Welcome to the website of the Border Striders, Australia's leading junior distance running squad
Based in South-East Queensland, the squad ranges from the Sunshine Coast, inland to Ipswich and across the border into the North Coast of NSW.
Coach Brian Chapman (ATFCA Level IV) holds training sessions seven days a week. For times and locations go to the Sessions page. New and visiting runners are always welcome.
Please contact us for more information on joining Border Striders.
Sorry, no coaching by correspondence.
2022-23 TRACK SEASON REPORT — MAY BE OUR BEST EVER
Two International rep's–ISSY HARTE (WJ Cross) & SELWYN RUSSELL (WJ Mountain Run)
* 12 National Medals (7 Gold)
* 45 State Medals (22 Gold)
* 43 National Qualifiers at Dec.31 with another 2 this year.
———————————————————————————————–
HARVEY CRAMB National U/20 champion (1500m/3.48 & Steeple/9.12); Qld Open 1500/3000/Steeple champion; Qld Schools (QSS) 1500m (3.52) & Steeple (9.34) champion/REC; Qld U/20 Steeple REC (8.58); Zatopek 3000m (8.13 PB); Signed Montana/USA-NCAA scholarship.


ISSY HARTE World Junior Cross-Country at Bathurst. 44th in 6km (25.04), #4 Australian, 35-degrees, via Golden Ticket 4km runner-up.

TAYLOR GOODWIN National U/17yr 1500m champion (4.00), Silver 800m (1.56); National Schools Bronze U/16yr 1500m (3.59). Qld Schools champion at 800m (1.57) & 1500m (3.57). R/up UQ 1500m Classic.
ELLIE ECKSTEIN National 10yrs Primary School 800m GOLD (2.25 PB), Silver 1500m (4.57 PB); Qld. Little Aths champ (400/800/1500m).REC 2.29
CAIDEN MACFARLANE National Schools U/15yr Champion 800m (1.59) & 1500m (4.09); Qld Schools 1500m GOLD; QJ 800m GOLD; GCM 4k(#1)
ELKE RAYWARD Aust. Aqua Champ; Qld Schools Junior Tri Bronze; QJ 1500m GOLD (4.44); Qld Schools 800/1500m GOLD; Coolangatta Gold 1st
JOSEPH SAUNDERS Qld Schools 17yrs 2km Steeple REC (5.58); GPS Open 3000m champion; Donnelly Dash REC; QJ 5000m (Bronze).
SELWYN RUSSELL National U/20 Mountain Running champion. Qld Junior Steeple Bronze; Won SEQ/Ewan Maddock Trail Run. Selected for World Championship Mountain Running in Austria.
CAITLIN McQUILKIN-BELL (1st.Claim/Lace Up Running) QLD 10,000m Track Champion, Won Run4Reef $1000.
———————————————————————————————-
ANOTHER SUCCESSFUL CROSS-COUNTRY SEASON
———————————————————————————————–
—–ELKE RAYWARD'S Bronze extends our medal-winning streak at National Cross-Country to a record 20 years.
—–7 Individual State Cross-Country CHAMPIONS (See photos below).
—–24 State Cross-Country MEDALS from 14 runners.
—–CAIDEN MACFARLANE breaks "unbreakable" Gold Coast Marathon Junior 4km Record.
Pic(MTSP)–JOSEPH SAUNDERS (17yrs) State All-Schools GOLD, QSS GOLD, QAA BRONZE, National #4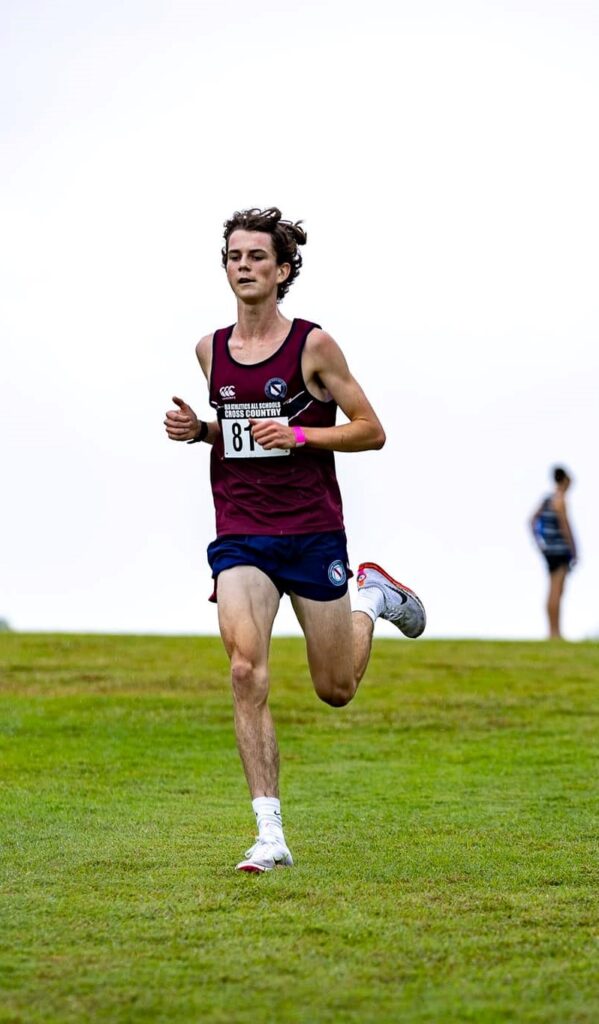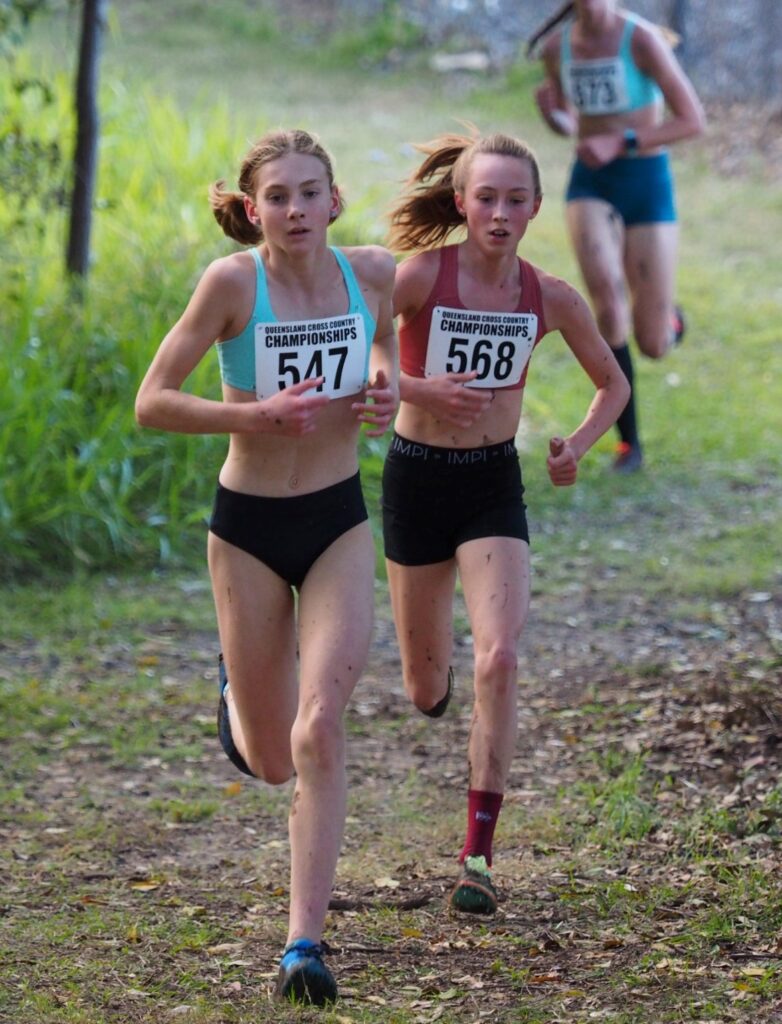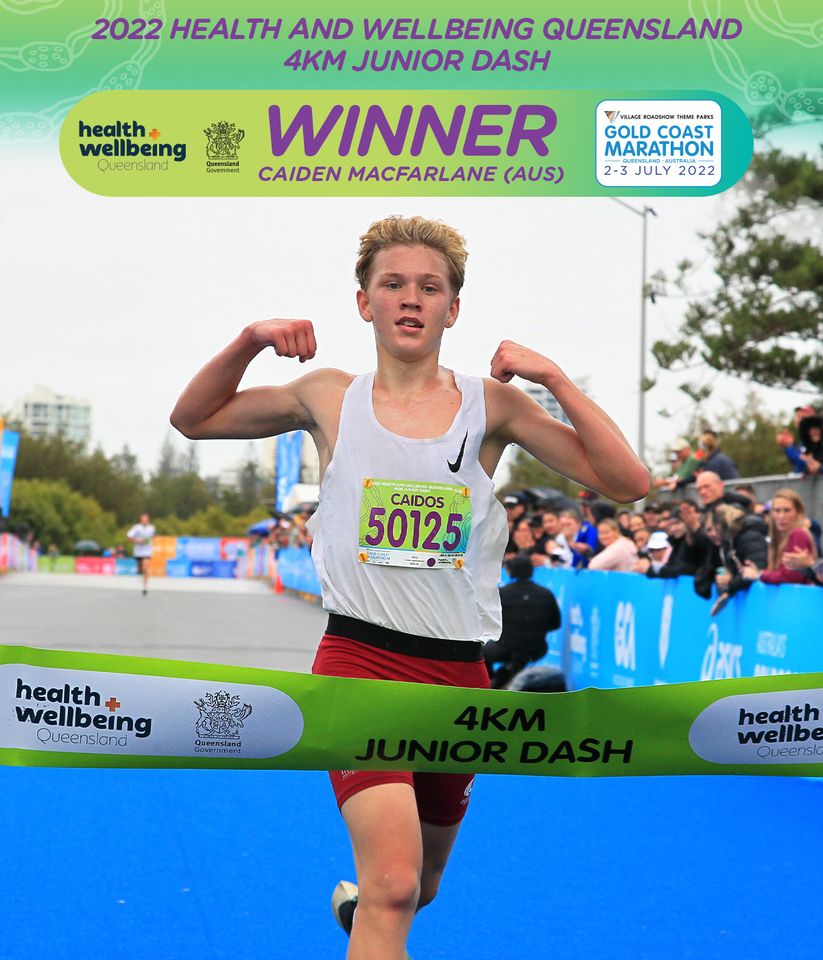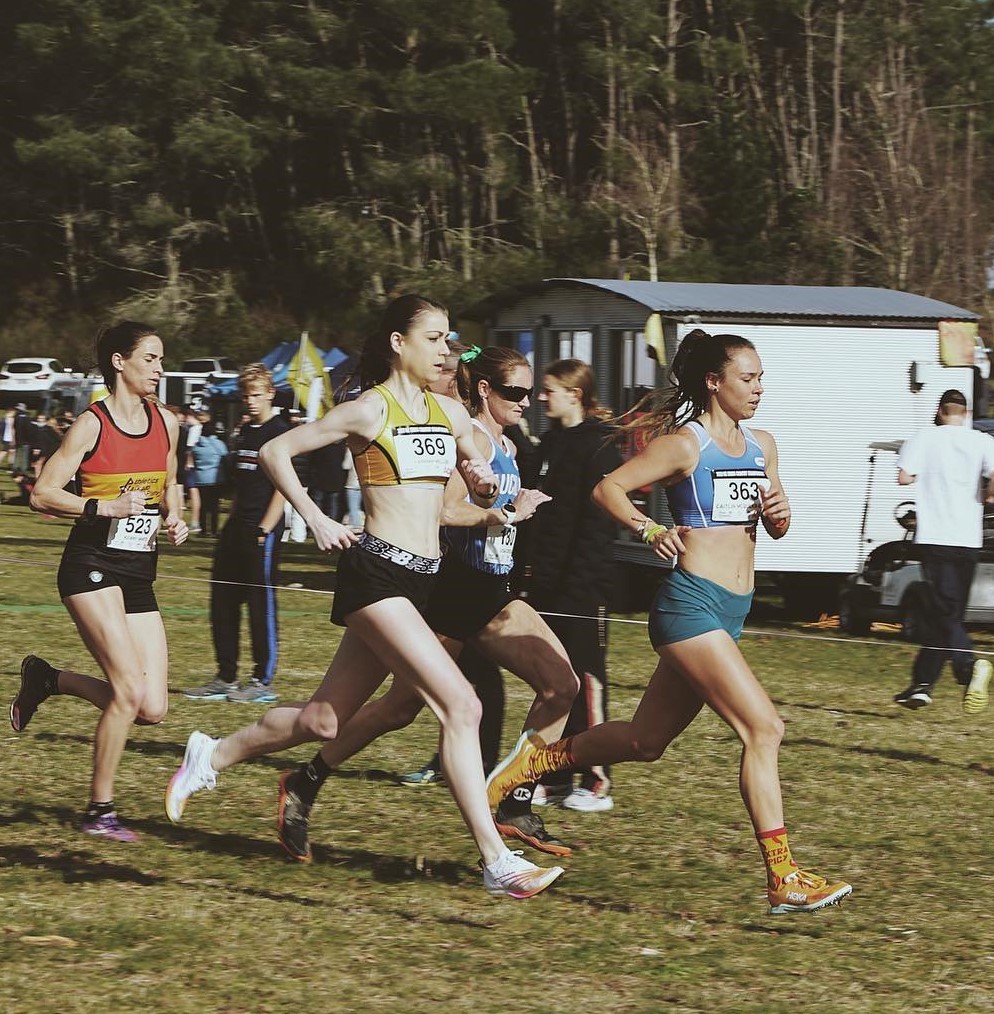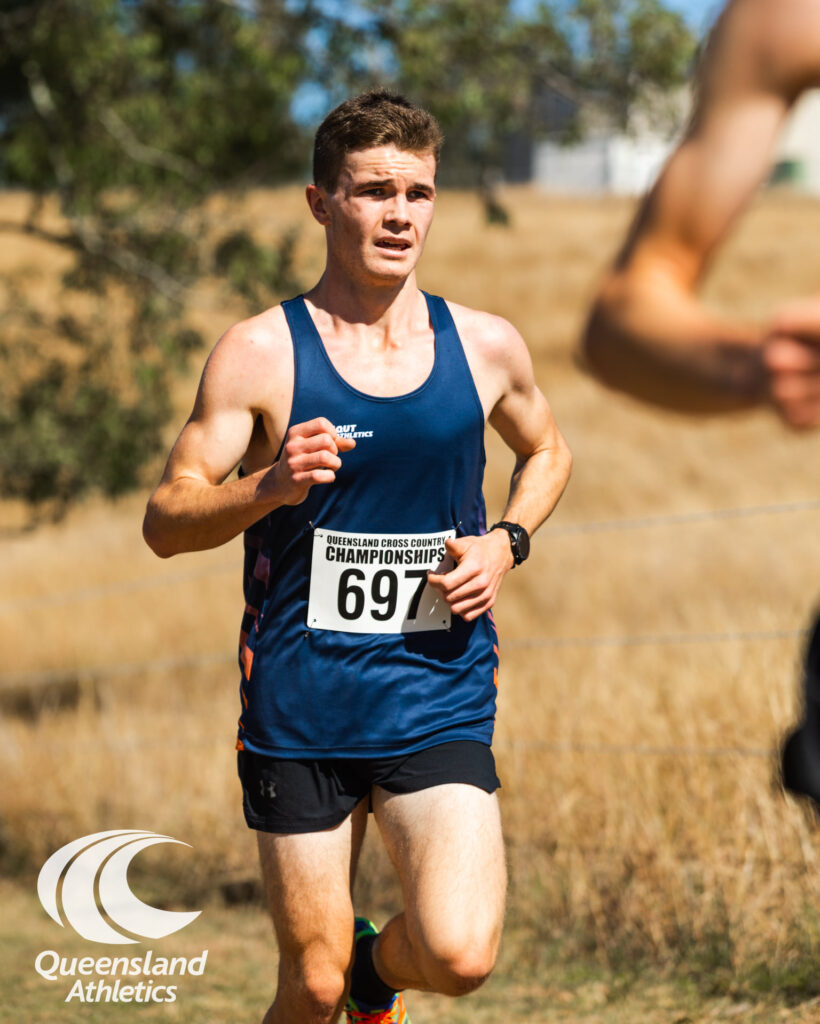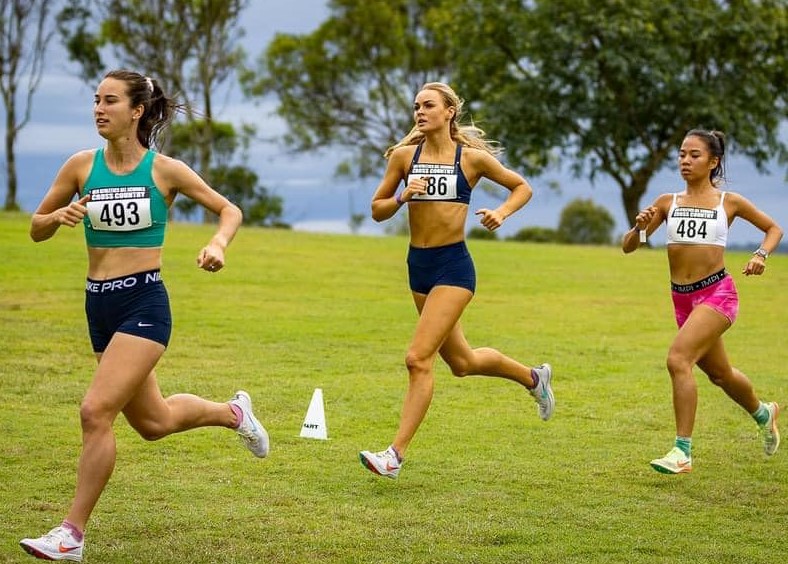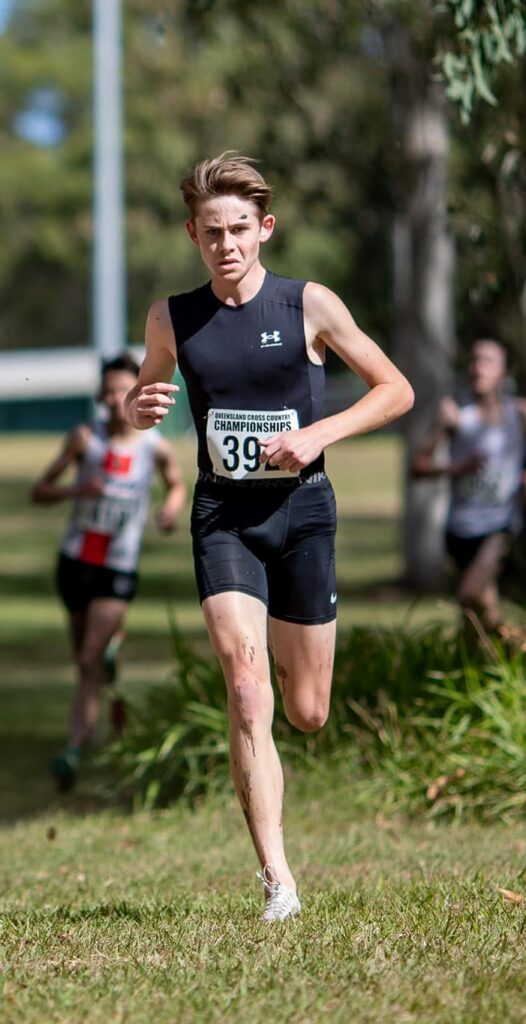 POSTSCRIPT. Honourable mentions to:-
* HARVEY CRAMB (3 State Medals, victory at Gold Coast Marathon 5km Peoples' Race, Oceania Junior Steeple GOLD)
* VINCENT BUHAGIAR (3 State Medals)
* GRACE CAMPBELL (State All-Schools SILVER, National SSA Junior Triathlon #2 Age)
* JEMMA WILSON (QAA U/16yr SILVER)
* BIANCA RAYWARD (QAA U/15yr BRONZE, National SSA Junior Triathlon BRONZE)
* ELLIE ECKSTEIN (QPS 10yrs Cross BRONZE)
**** TRACK SEASON CONFIRMS WE'RE STILL AT THE TOP! ****
* 4 GOLD MEDALS AT NATIONAL TRACK & FIELD
—-Joseph Saunders (U/18yr 2km Steeple)
—-Isabella Harte (U/18yr 3000m)
—-Caiden MacFarlane (U/15yr 800m/1500m)
* 15 MEDALS at STATE* One STATE RECORD (Joe Saunders, U/18yr Steeple, 5.51)
* 3 Major Triathlon Titles (incl. National Super-Sprint quinella)
—-Addie Houslip (Super-Sprint)
—-Ashley Plane (QSS Junior)
—-Elke Rayward (QPS Aquathon)* 1 National Masters Title
—-Cathryn Rayward (40yrs+ Beach Run)
Our National Gold Medalists at the Australian Championships in Sydney were JOSEPH SAUNDERS (U/18yr Steeple–Pic Lizel Moore), CAIDEN MACFARLANE (U/15yrs 800m/1500m–Pic MTSP) & ISABELLA HARTE (U/18yr 3000m–Pic Lizel).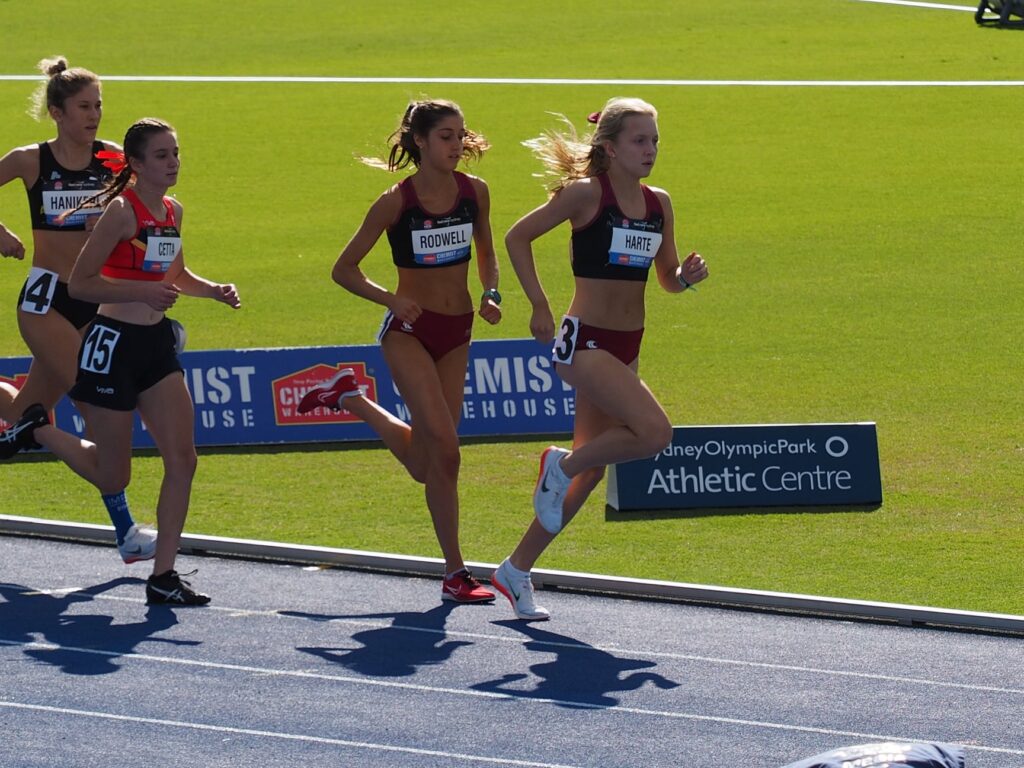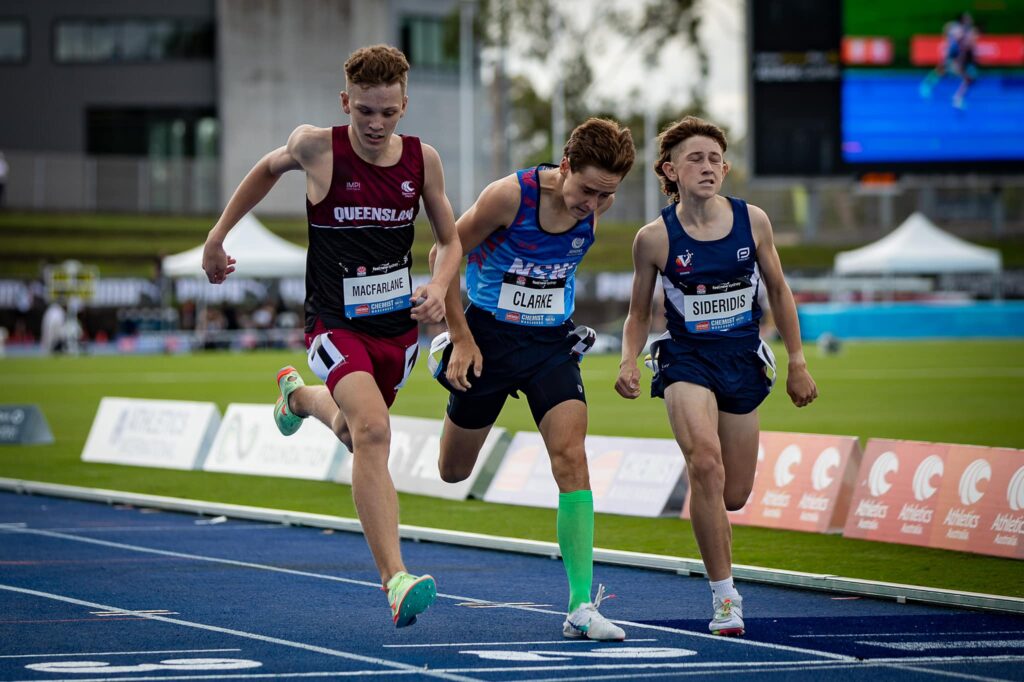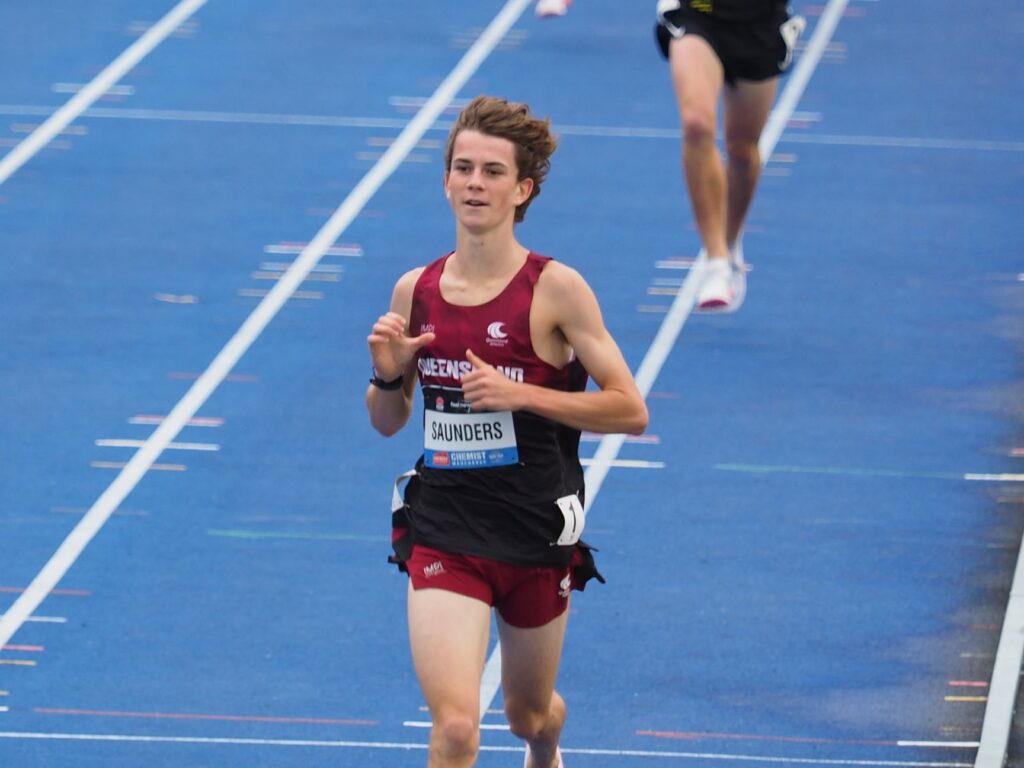 SCHOOL SEASON TRIUMPHS RETURN US TO #1*
Two World Junior Qualifiers (JACK PARTRIGE / IZZY HARTE)* 16 State Medals incl. 11 GOLDS!* 38 Runners Nationally qualified for 2021.*
State Record-setter HARVEY CRAMB (#1 Aust.Steeple, 5.58)(Photo–ISABELLA HARTE, World Junior Qualifier for 3000m (9.19)taking Qld All-Schools 1500/3000m double.
Also clocked enormous PB16.27 at Noosa Bolt 5km & won UQ 1500m Classic in PB 4.23 as well)(Pic credit–Lizel Moore)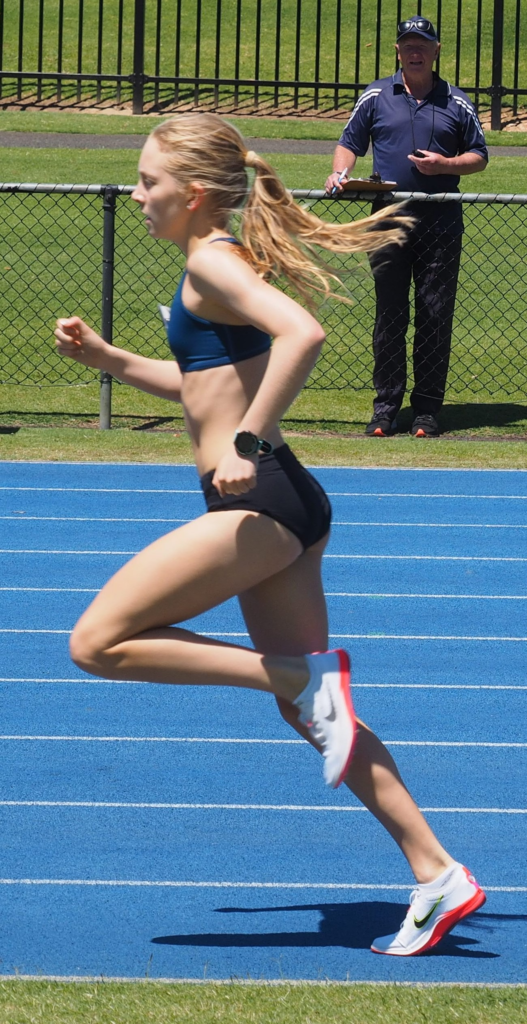 JOSEPH SAUNDERS State All-Schools U/17yr Steeple Champion (NQ/PB 6.03)Joe later lowered that to 5.58, #2 Aust. this season!. Also 1500 NQ (4.02) & 3000m NQ (8.39)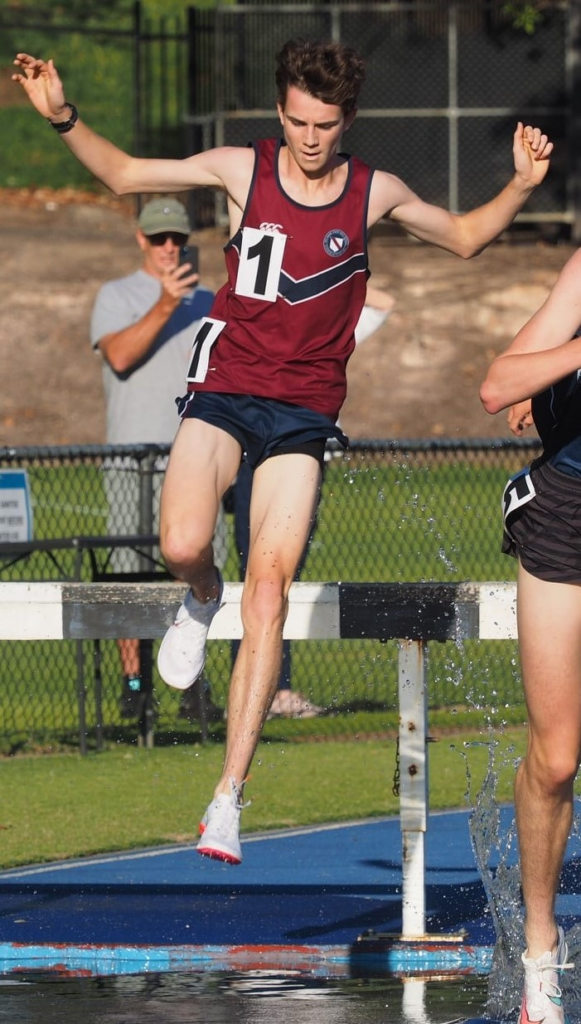 AMY PARTRIGE ended her school career with her 3rd consecutive State Schools 3000m Gold medal, clocking a NQ 10.16 in the U/18s. (#10 in pic leading Denielle Hills)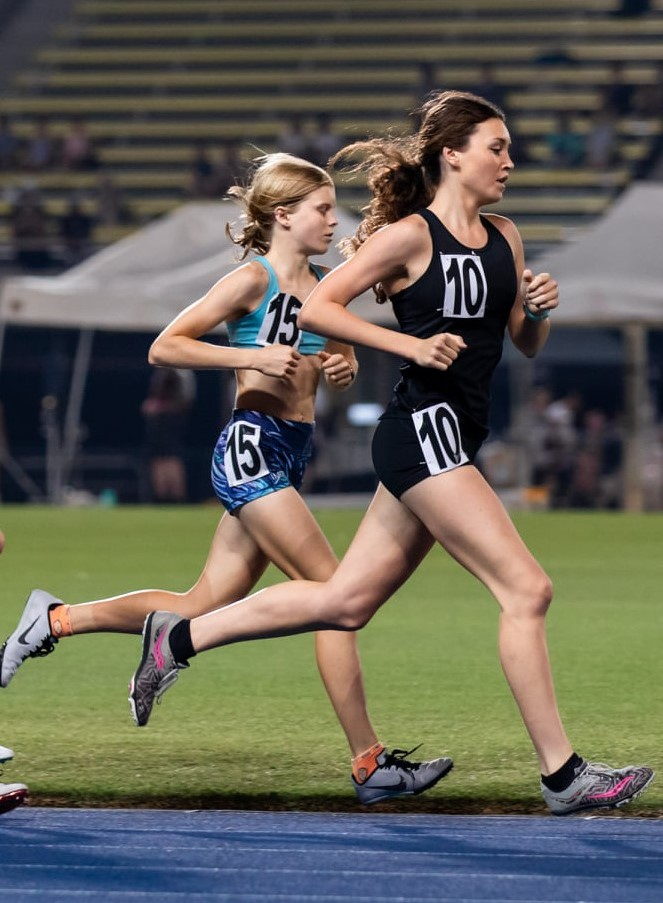 State record-setter HARVEY CRAMB (5.58/#1 Aust. this season) enjoyed a stellar Oct-Nov.,winning the State All-Schools U/18yr steeple (NQ/PB 6.03) and posting PBs for 1500m (3.57),3000m (8.43) & 5000m (15.14 NQ).
Also won BRRC 5km championship & podiumed Bridge to Brisbane! (Pic–Lizel Moore)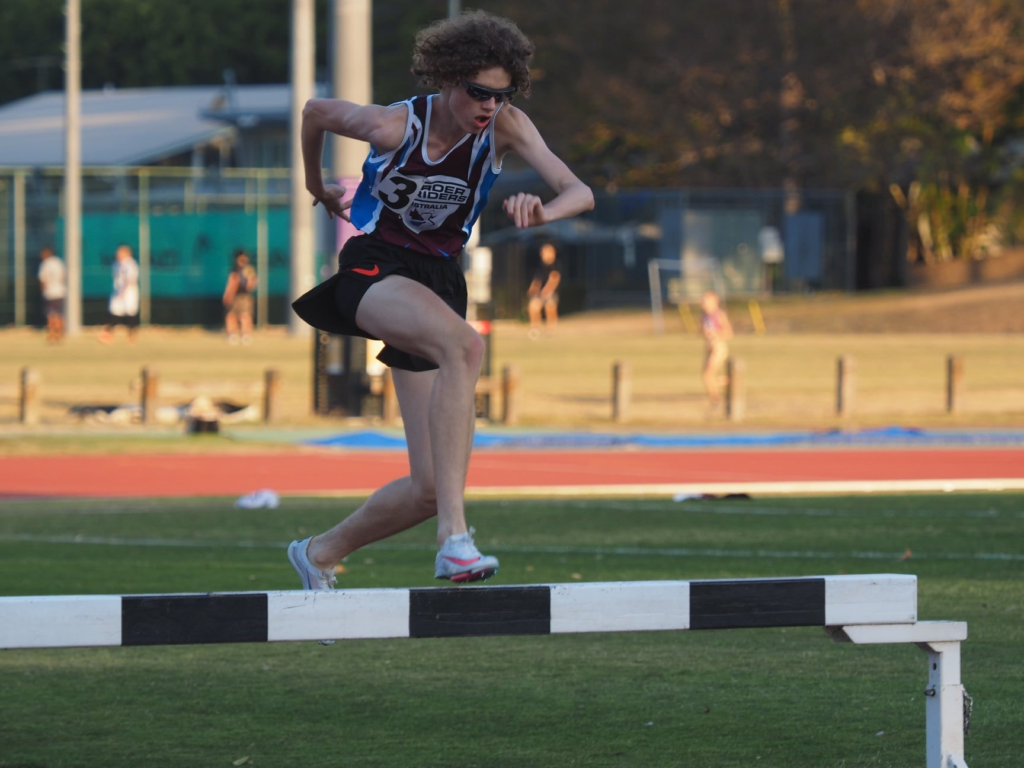 SELWYN RUSSELL'S maiden State U/15yr Steeple title was hard-earned after a heavyfall at WJ #3. She regathered to take Gold (NQ 7.45), later lowering that to a PB 7.30.
CAIDEN MACFARLANE is the State All-Schools U/14yr 1500m champion following his4.20 (NQ) tactical masterpiece. He later PB'd the 800m (2.05), also a NQ!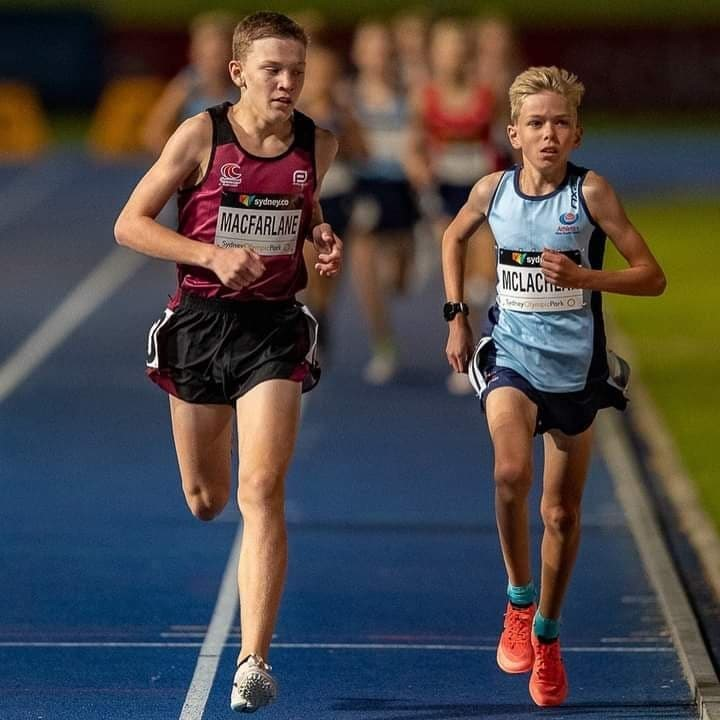 ELKE RAYWARD captured the State U/11yr All-Schools 800m (PB 2.26) & 1500m (5.02)as well as the Qld All-Schools Primary Aquathon & Coolangatta Gold (Junior). Star-power!!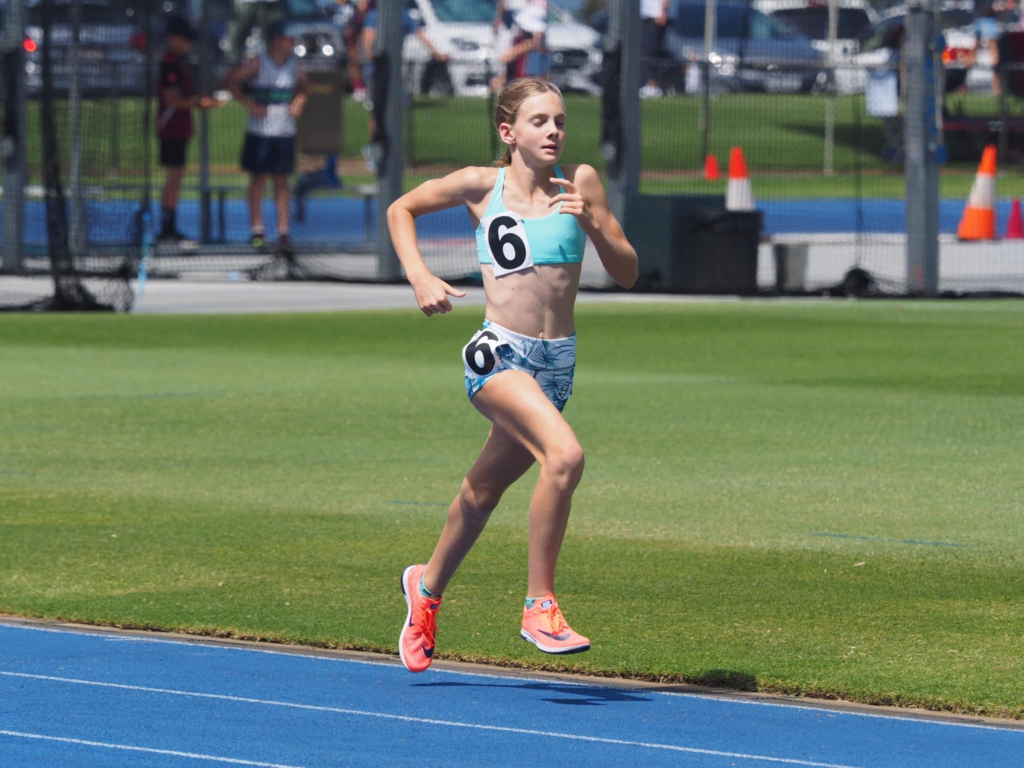 ELSA CHAN won Gold at the State All-Schools 3000m Steeple (PB/NQ 11.57) despitea mid-race fall. Also negotiated a scholarship (solo) to Jacksonville State Uni!.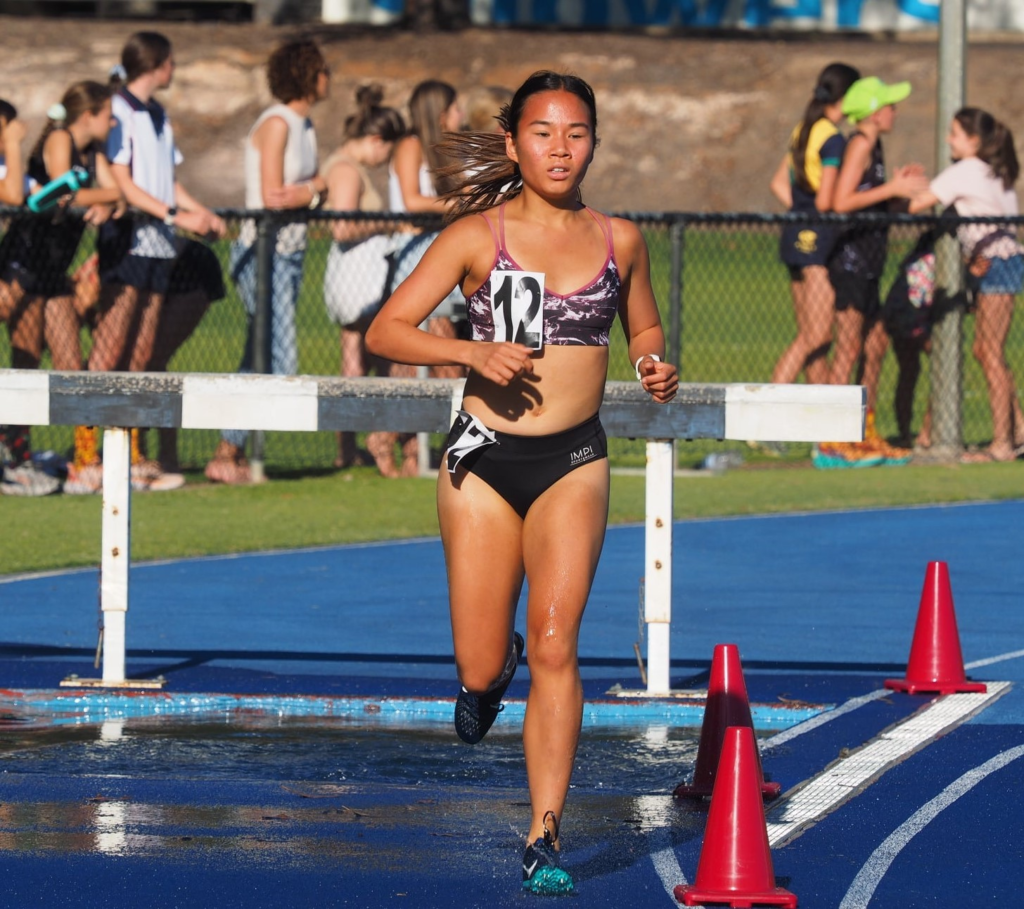 ROBERT STRINGER utilized a unique "double-kick" to win the State All-SchoolsOpen U/20yr 800m (1.56), later trimming it to 1.54 (NQ) to go with his 3.55 NQ.(Photo–Michael Thomas Sports Photography/cropped)
ADDISON HOUSLIP became one of only four 12 year olds in almost a quarter century towin the State All-Schools junior (U/14) Triathlon Championship. Doubly creditable given shewas back from an injury layoff and had to come from behind.

LYLA WILLIAMS (Pictured/Casey Sims Photography at State Junior Cross/Toogoolawah) isthe NSW Open 3000m Race Walk champion (PB/NQ) after a nail-biting finish at SydneyOlympic Stadium. She also won a Gold Coast Academy of Sport "Future Stars Grant" (Creditto walks coach Robyn Wales).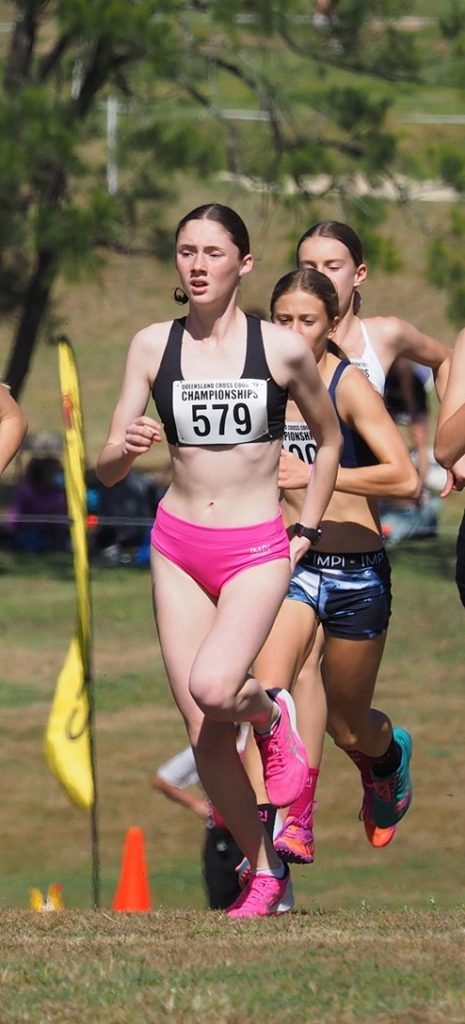 JACK PARTRIGE CLOCKS WORLD JUNIOR 3000m QUALIFIER!!!!

One of our most respected and hard-working runners, Jack clocked 8mins 11secs to win the "Road to '32" 3000m at QSAC on Oct.2.
This is 2secs inside the world junior qualifying time for Cali, Colombia, next year!!! Training partner JAXON
PATERSON-WRIGHT was close as well (8.16) and both benefitted from a free ride on the "CALLUM DAVIES TRAIN" which saw lap splits steadily drop from 68secs to Jack's 60sec finale. Pic–Casey Sims Photography.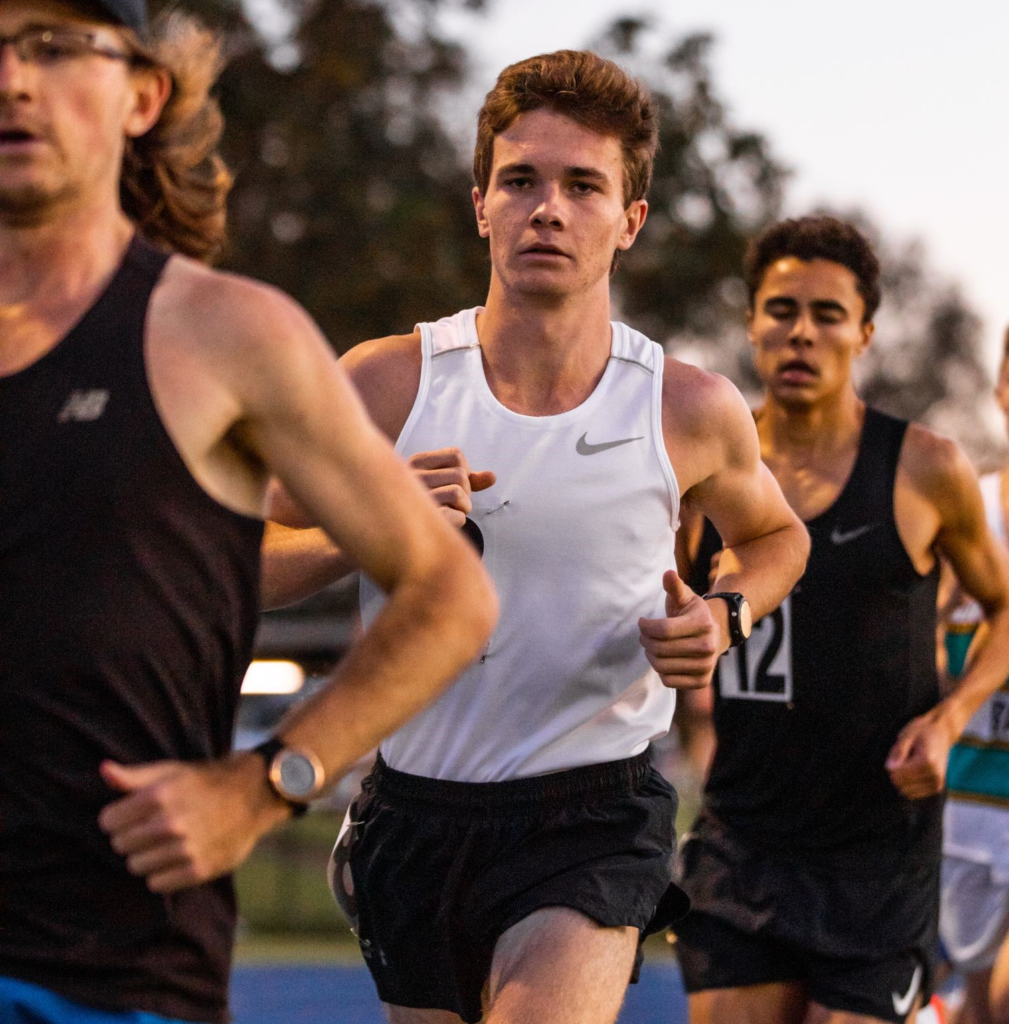 CROSS-COUNTRY SEASON WRAP
WHAT A YEAR! * 9 Individual champions * 13 medallists* Countless National Qualifiers!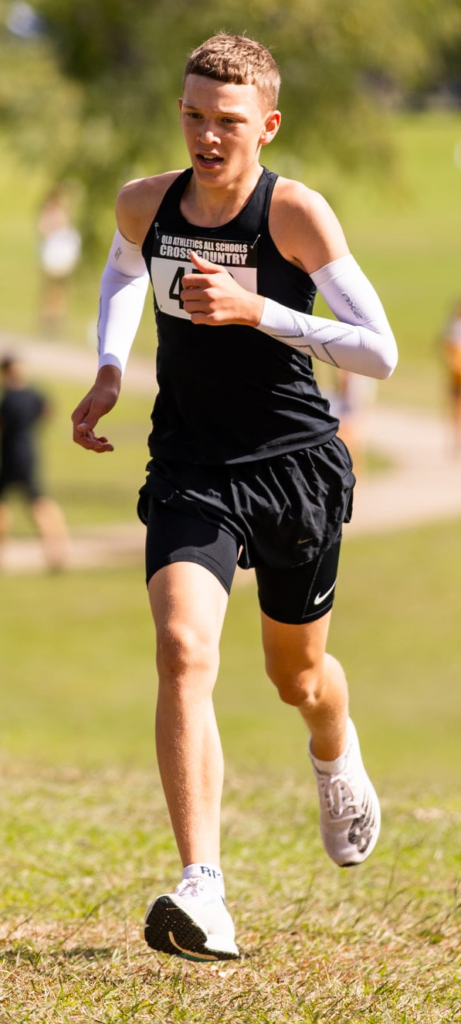 CAIDEN MACFARLANE Gold 13yrs 3km (Pic–Lizel Moore)
Pic (Casey Sims/QA) ISABELLA HARTE QASX 16yrs 4km GOLD,QSSX 16yrs 4km GOLD, QJX 16yrs 4km GOLD. Clean-sweep!!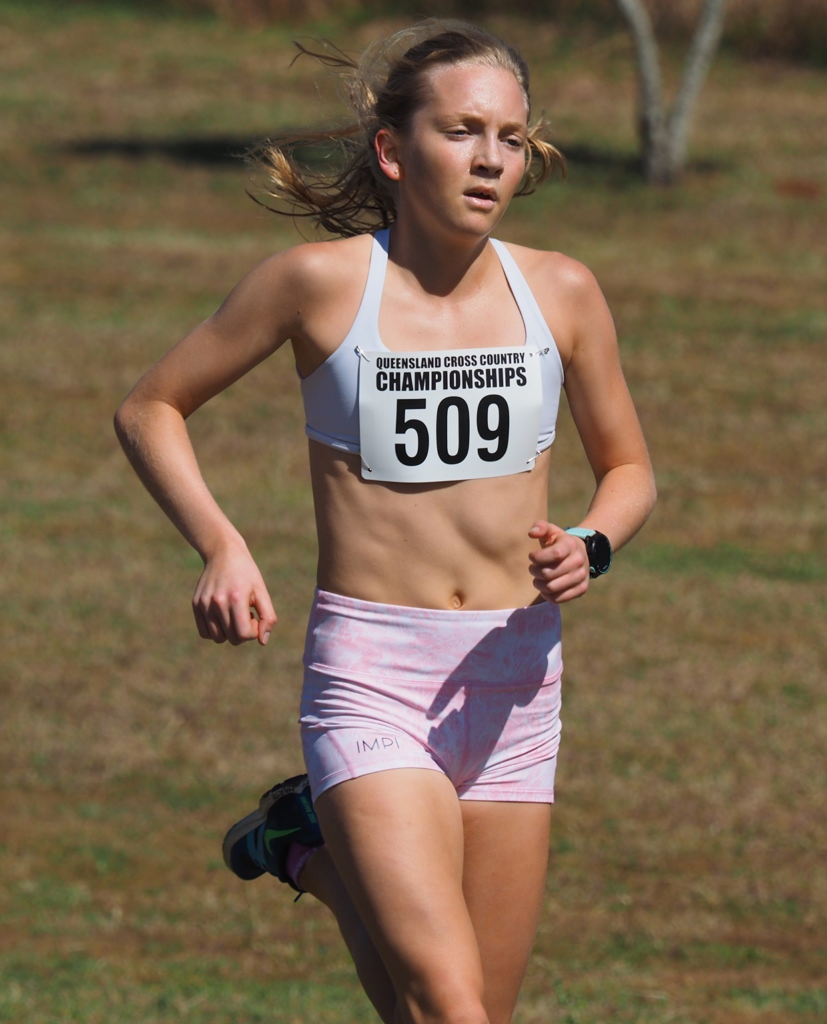 ELKE RAYWARD QJX 11yrs 3km GOLD (Pic–Casey Sims/QA)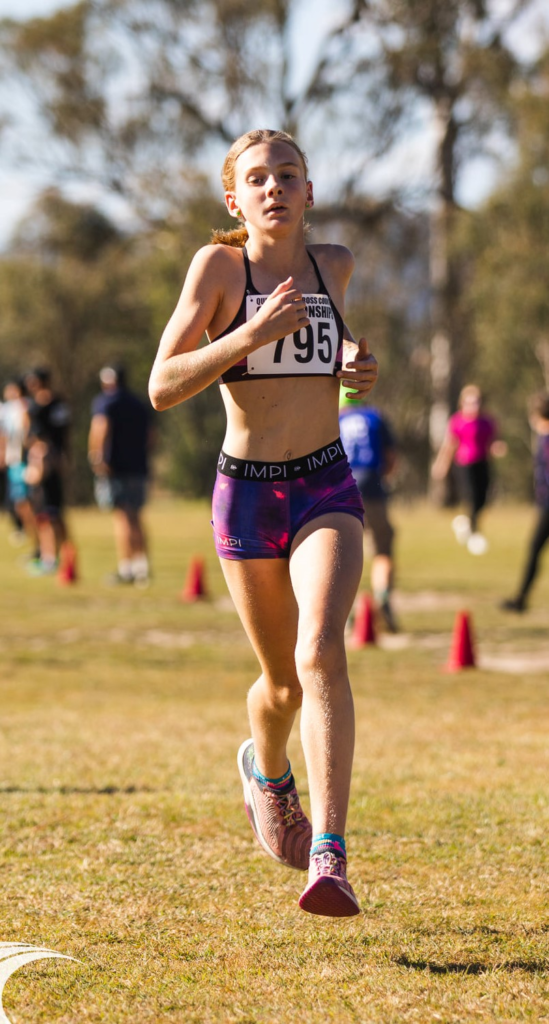 Jaxon Paterson-Wright (LEFT) Silver QU/20 8km Xcountry Jack Partridge on the right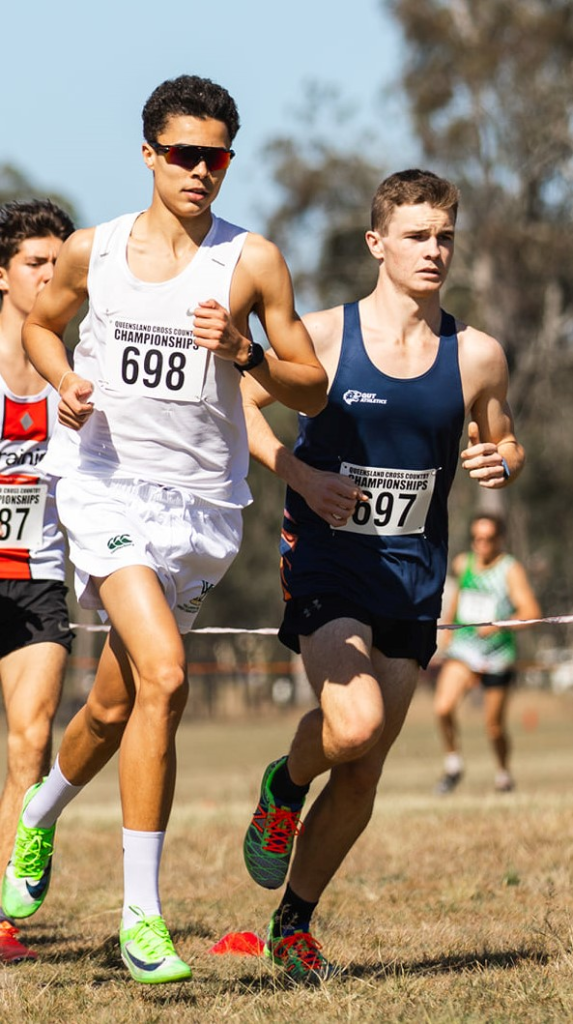 ZARA FARRINGTON 12yrs 3km Silver(Pic–Melanie Black/GCRA, Zara's 1st run coach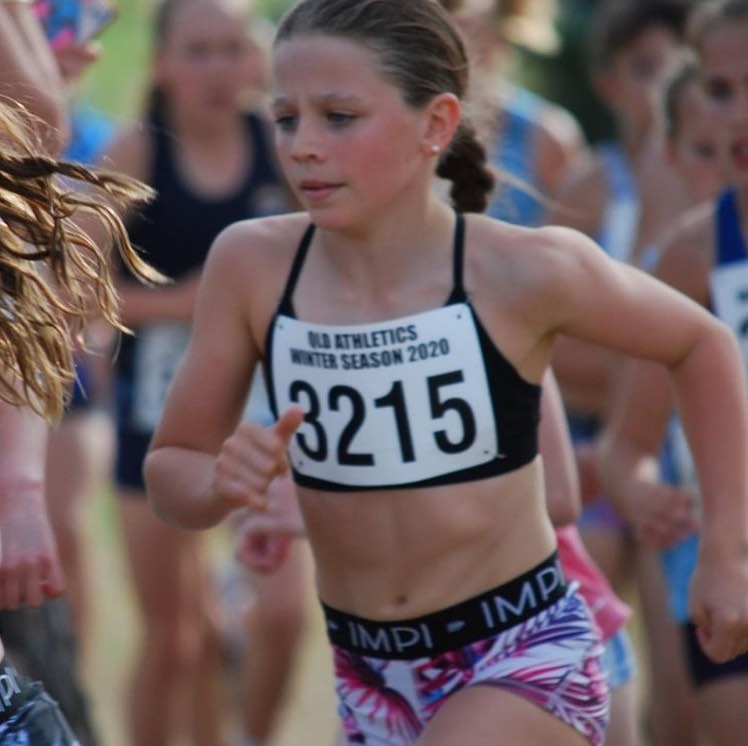 GABBI HILL QASX 6km Silver (Pic–Casey Sims/QA)* Also medalled at Aust.U/20 Road Walk Champ's!ELSA CHAN running third.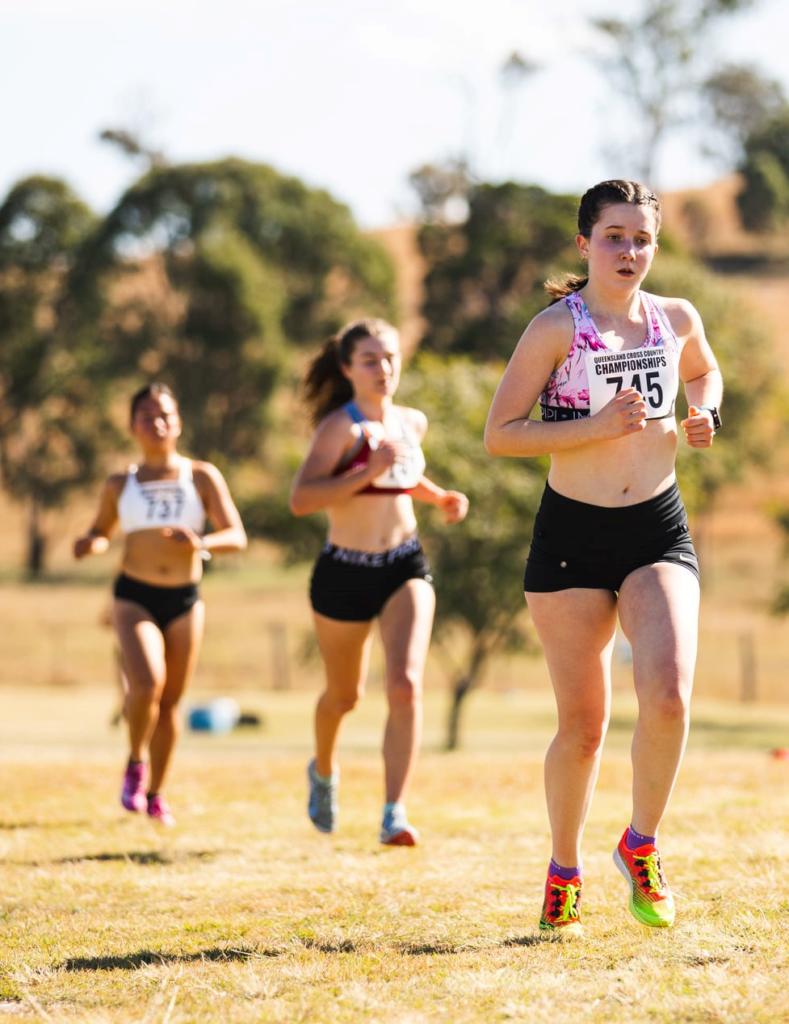 AMY PARTRIGE QJX Silver / QSSX Bronze (17yrs)

ADDISON HOUSLIP QASX 12yrs 3km Silver &QPSX 12yrs 3km GOLD (Pic–Lizel Moore)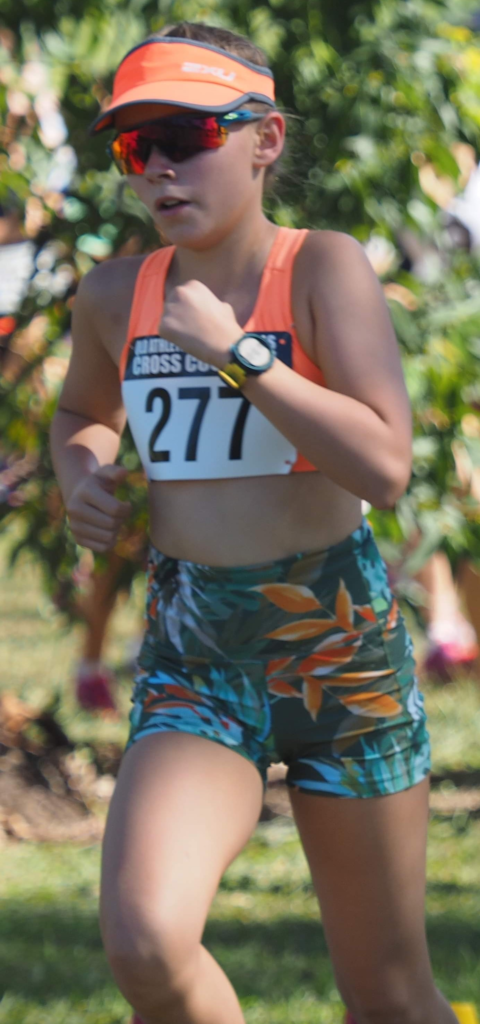 CROSS-COUNTRY SEASON WRAP–WHAT A YEAR!
* 9 Individual champions * 13 medallists* Countless National Qualifiers!!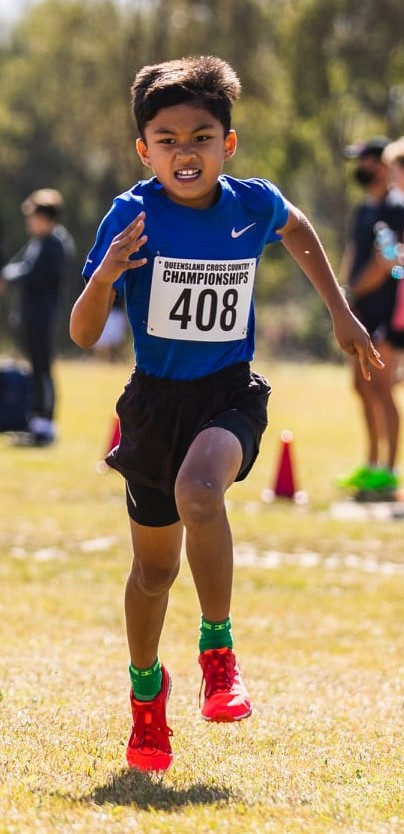 GIO ANTONIO QJX 8yrs Bronze (pic-Casey Sims/QA)
---
No. 1 Qld Junior Squad Again!!!
CALLUM DAVIES Q3000m GOLD 7.59.50!!!
* #8 All-Time by a Queenslander (outdoors)
* Only 1sec behind Championship record
* Third runner to win back-to-back titles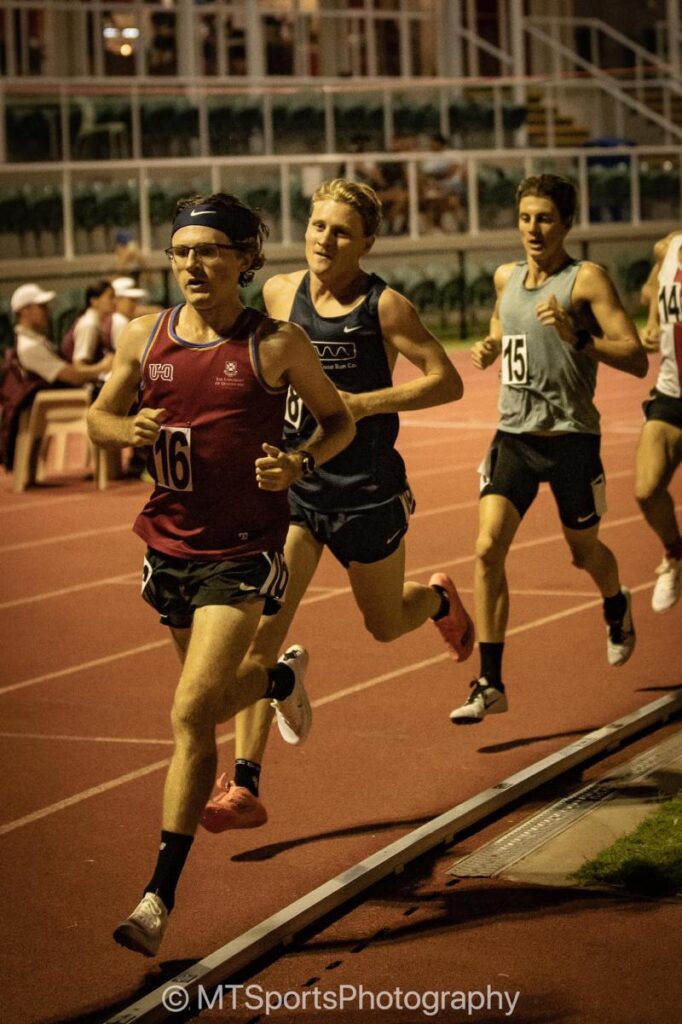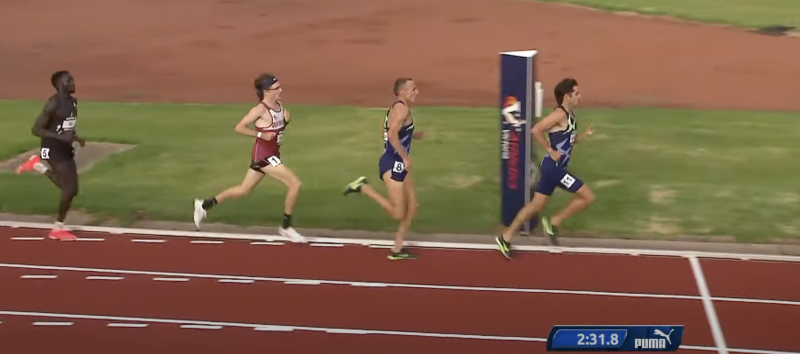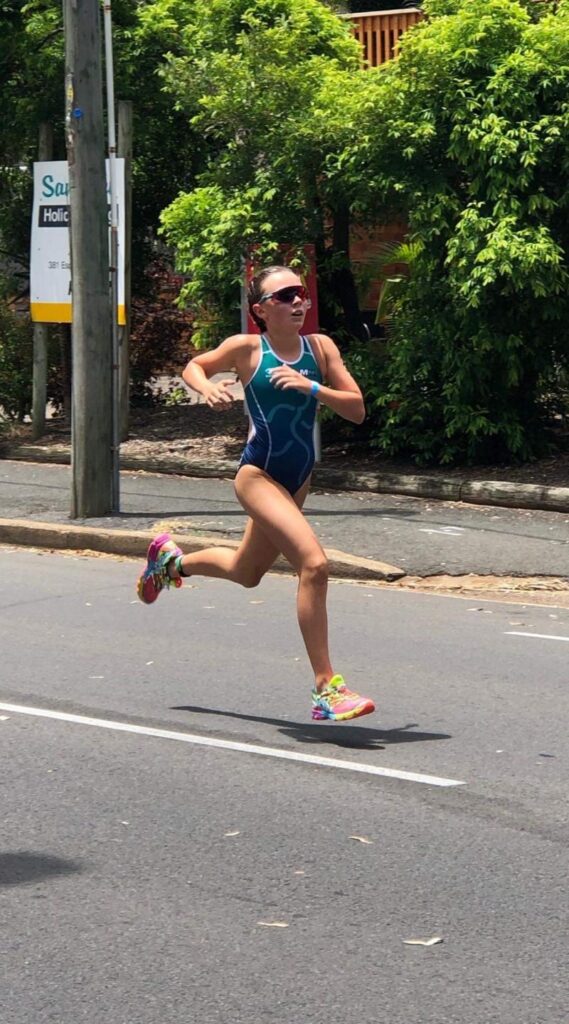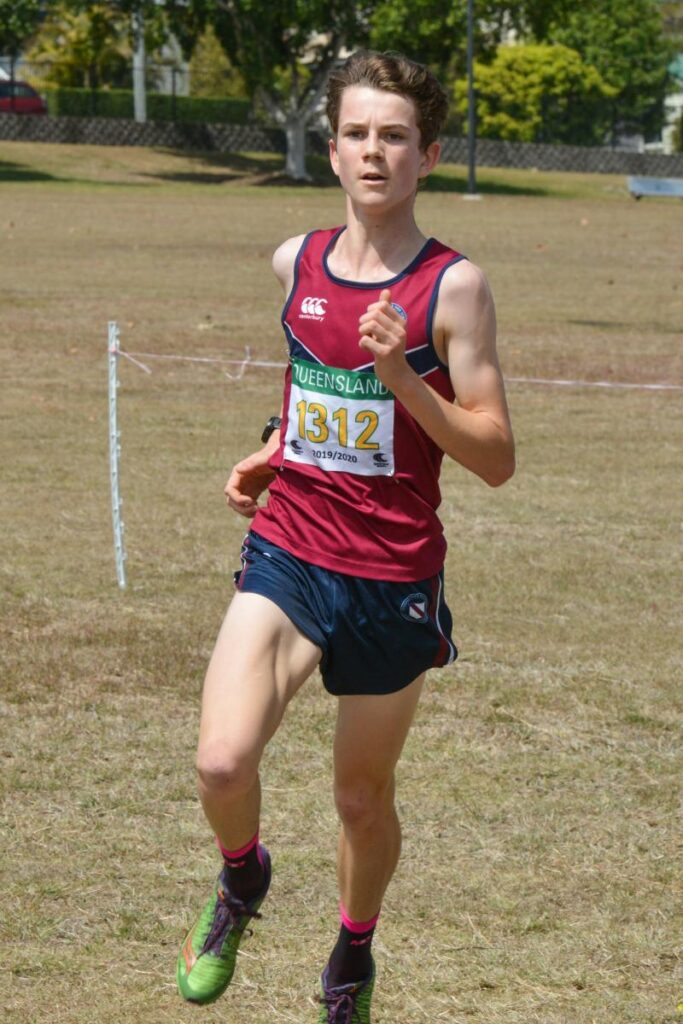 See 2020 Cross Country pics below: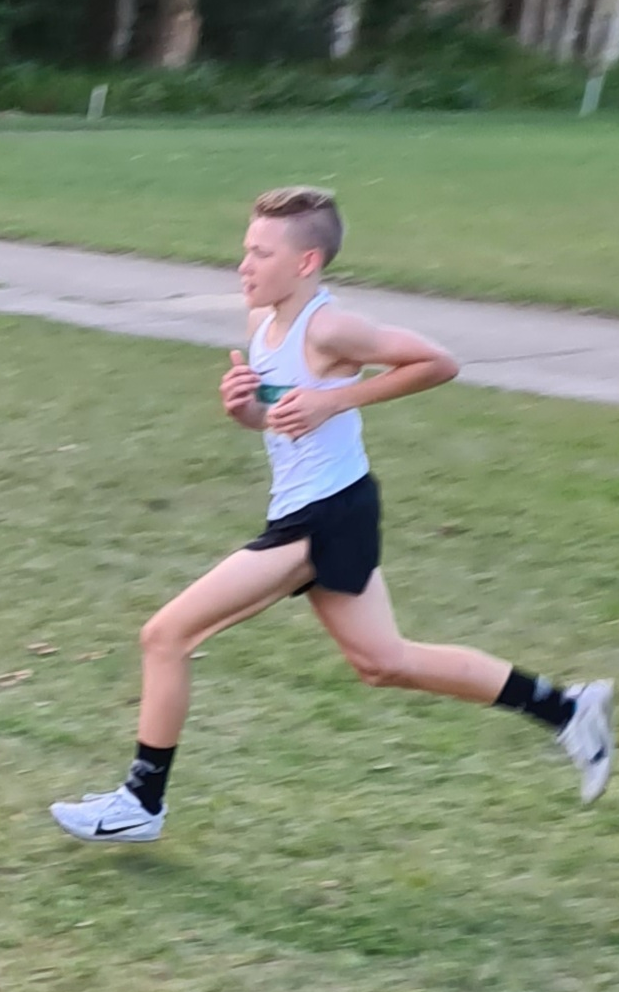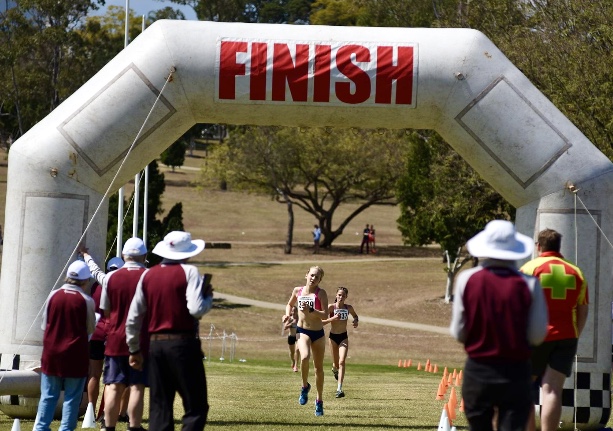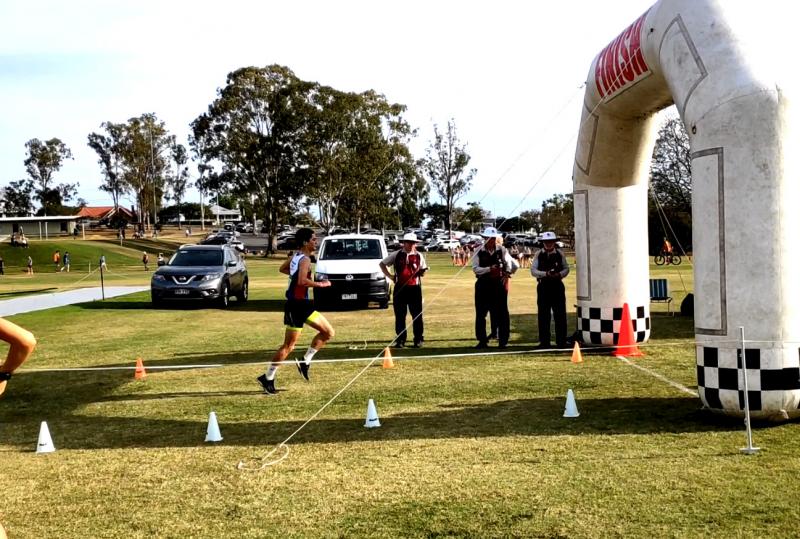 ﹡﹡﹡
HISTORIC STATE 3km DOUBLE GOLD!!
CALLUM DAVIES & ISABELLA HARTE
LAUNCH 2020 / THE OLYMPIC YEAR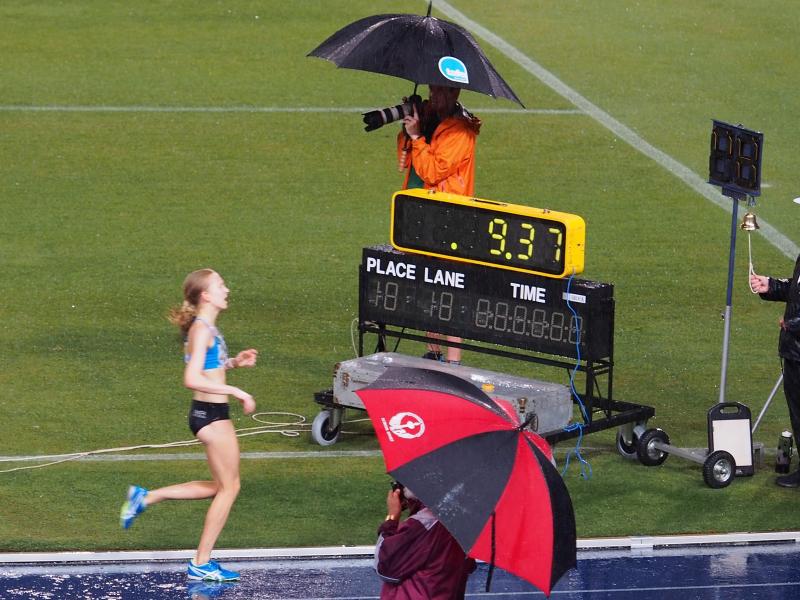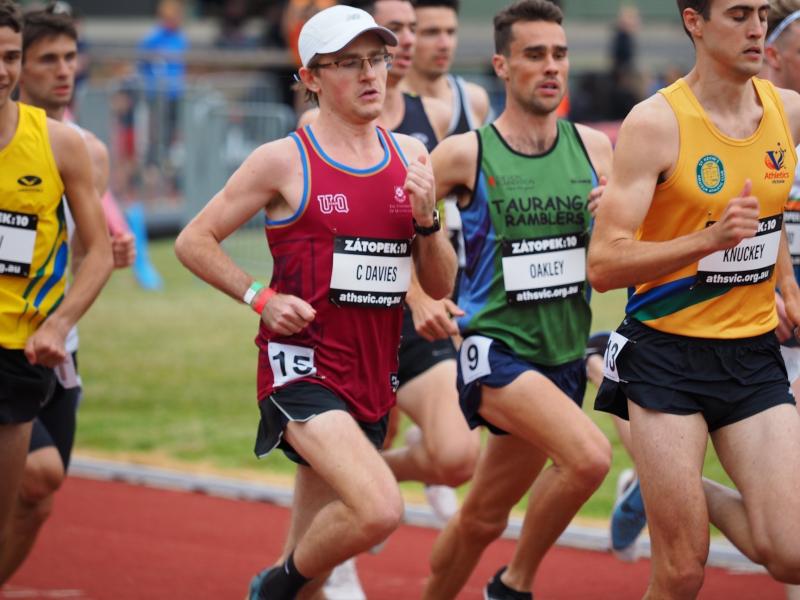 ﹡﹡﹡
* CALLUM DAVIES Zatopek #1 (3.43)
* ISABELLA HARTE World #2 (14yr/3000m)
* BRIDGET MORRISSEY World #3 (15yr/Steeple)
* EVA PARISH Aust.YS #1 (Triathlon)
WHAT A SENSATIONAL FINISH TO 2019!!
See News and Results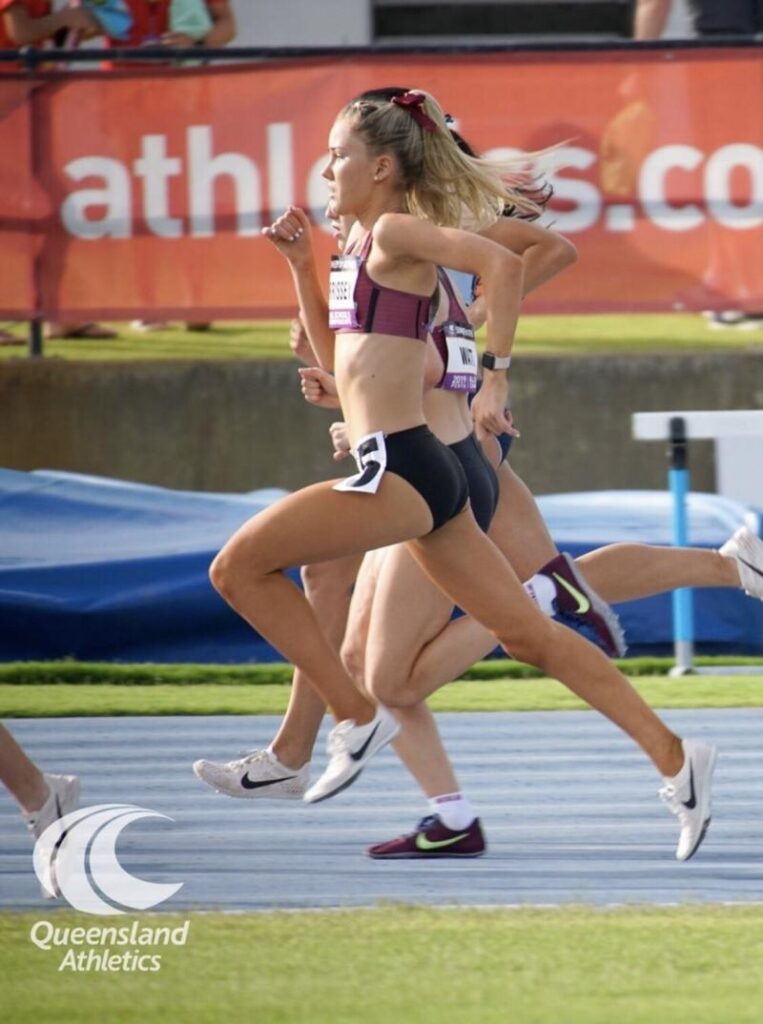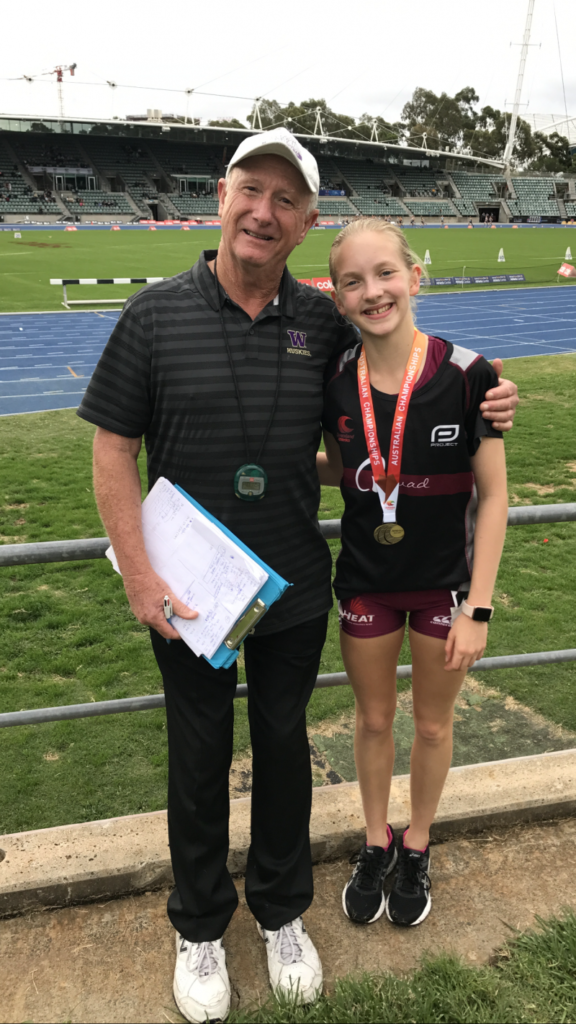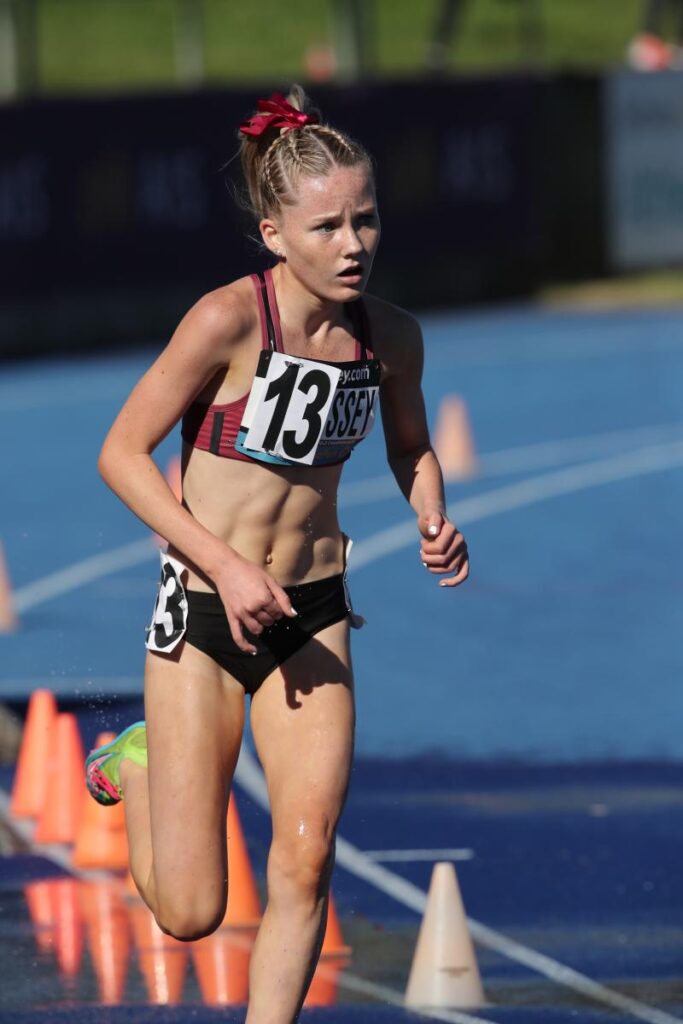 ***
CALLUM DAVIES–QLD 1500m CHAMPION!!
* 14 State Medals*
22 National Qualifiers
﹡﹡﹡
BRIDGET MORRISSEY WORLD #1 IN STEEPLE!!!
See News
﹡﹡﹡
HARTE "RULES THE WORLD"
!! GOLD at NATIONAL JUNIOR CROSS
HUGHES adds BRONZE
We are still #1!
﹡﹡﹡
DAVIES #11 AT WORLD JUNIORS!!!
Our 4th finalist
PB in Finland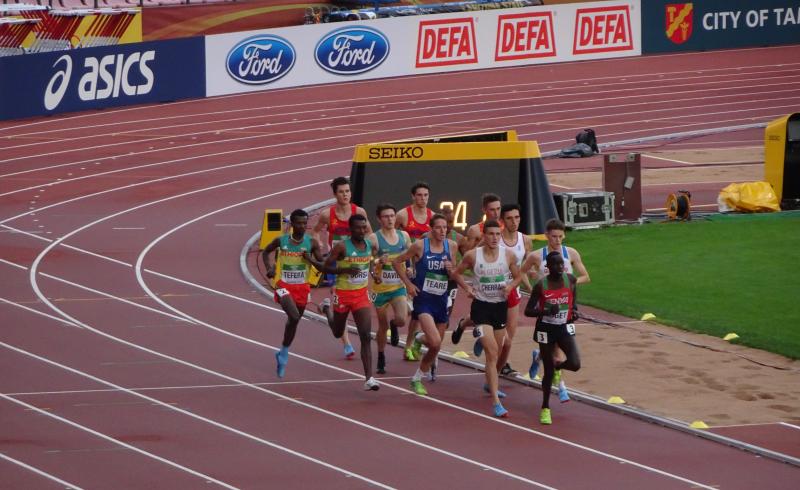 ﹡﹡﹡
Ruby Hughes
Pacific School Games Champion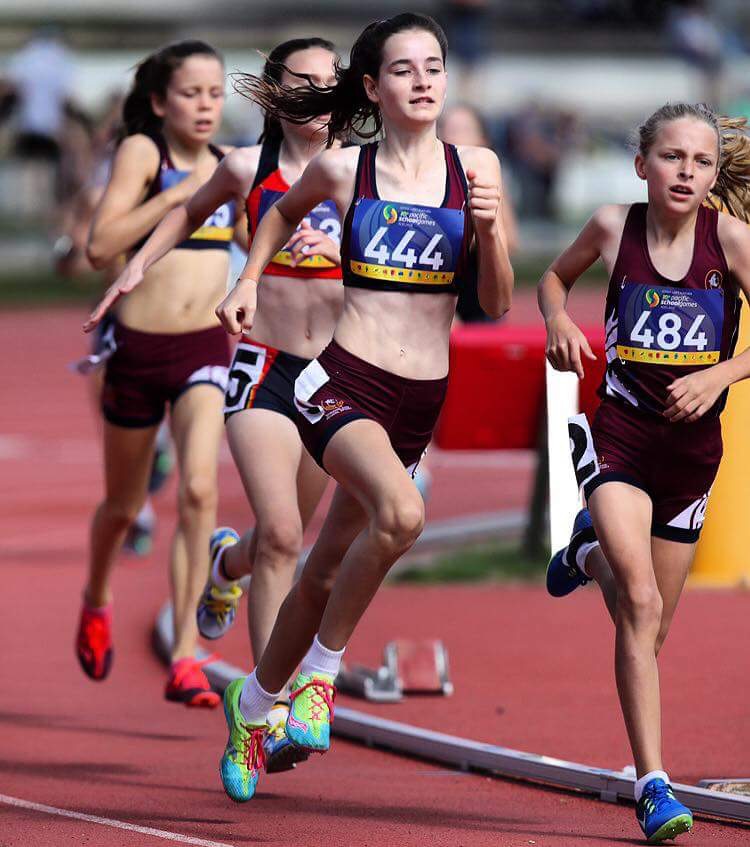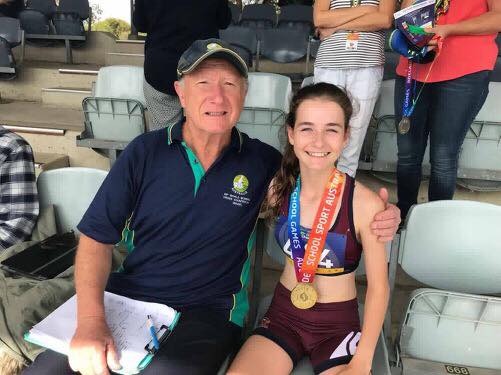 ﹡﹡﹡WE ARE NO. 1 IN THE WORLD!***
Five of our runners are part of the six member St Margaret's team which has won the 2016 World Interschool Cross-Country Championship in Budapest, Hungary.
It is Australia's first-ever team victory in the girls race.
Congratulations to Australian captain LUCINDA CROUCH (Gold),
LARA CROUCH, just 14 (Bronze)
ISABELLA BURDON (5th)
BRIANNA CAMPTON (28th)
ANNABEL KENNEDY (31st/Coach-Eric Brown)
ALEX CLEMENTS (65th)
1. Australia/Border Striders (St Margarets AC) 37pts;
2. Morocco (Marrakesh-Inzaren SC) 42pts;
3. Turkey (Attaturk SC/Eskipehir) 51pts;
4. China (Beijing No.1 MS) 63 pts;
5. France (Reims SC) 128 pts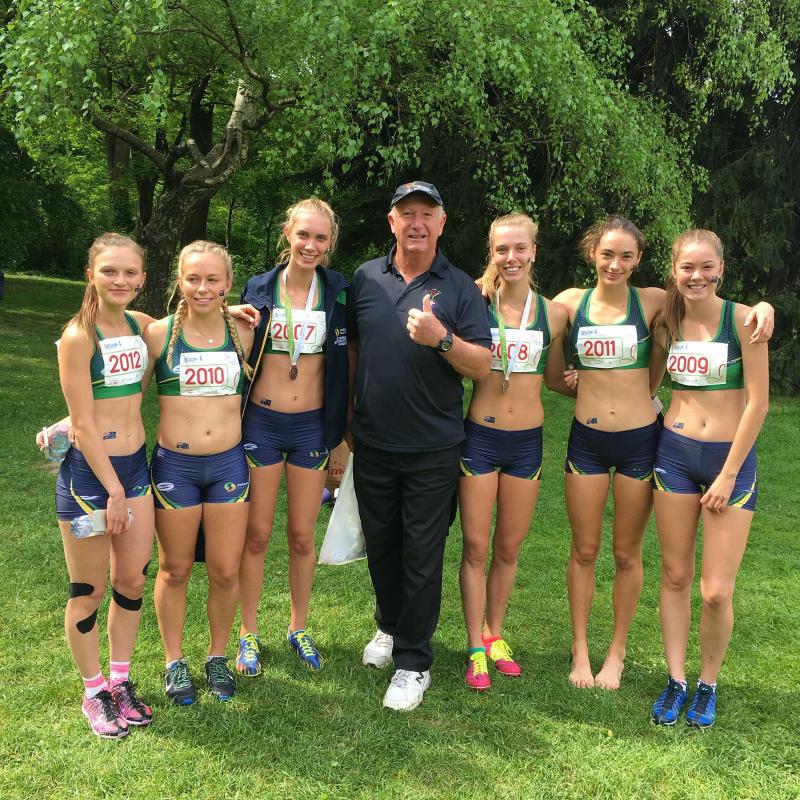 World Interschool Cross Country Champions, the St Margaret's team
L – R Annabel Kennedy – coach Eric Brown
Alex Clements
Lara Crouch – bronze medallist
Lucinda Crouch – gold medallist
Issy Burdon
Brianna Campton
To see Youtube video of the event click here
***