Results 2018
December 2018
Australian All-Schools Track Championships Cairns December 7-9
Always gratifying to see young people who put in exceptional efforts, have the best attitude and get the most out of their ability win National medals:-
3 BRIDGET MORRISSEY U/16yrs 2km Steeple 7.10
The pitter-patter queen (Callum's the king) gave us a great start with her maiden medal, a bronze, coming in treacherous conditions. Severe cross-winds, pelting rain, plummeting temp's and a 45 minute delay in starting (no steeples out!) didn't stop Bridget from defeating the reigning AJ champ in a near-PB. And running up a year! Her 6th in the 3000m on the final day (10.31) proved she is one of the nation's best.
3 JACK PARTRIGE U/16yrs 3000m 8.58 PB
Clocked two PBs in the space of 18 hours, his 4.09 in the 1500m just a hint of what was to come.
In the 3000m, "The Machine" stuck to the lead pack for 2kms (6.06) before a 65 second lap saw him gapped. Unfazed, Jack returned the favour on the penultimate before a withering 30sec last 200m took him past three and almost saw him snatch silver (PB 8.58). May have a crack at World Schools Cross!
3 ISABELLA HARTE 13yrs 800m 2.17
Maintained her unbroken sequence of National medals with an 800m bronze. Passed the bell in 1.07 pursuing the world age record-holder, so couldn't hold off the fast finisher. Ditto the 1500m (4th/4.48) where Isabella was caught in a ferocious negative split after cruising 800m in 2.46.
4 ELLE RUTHERFORD U/18yrs 800m 2.13
Split 1.05/1.08 running up a year in what was a splash-a-thon.
7 ALEX GOUGH U/18 2km Steeple 6.33
Alex was second Queenslander in the steeple, using his superior water jump and finish speed to shrug off challengers.
November 2018
AUSTRALIAN PRIMARY TRACK CHAMPIONSHIPS November 24-6 Melbourne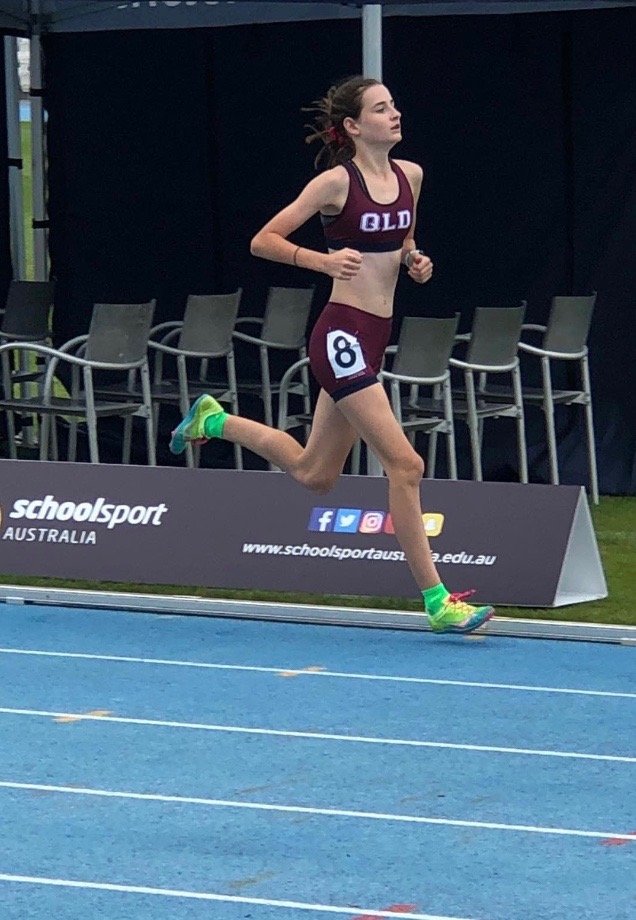 RUBY HUGHES joined illustrious company indeed with her golden double in the National Primary titles at breezy Albert Park.
Recent 12 year 800m champions include Olympian Charlotte Caslick (2007/2.15), Comm. Games rep Keely Small (2013/2.15) and world age record-setter Imogen Stewart (2017).
We have dominated the event winning four of the last nine gold medals! MARLIE CAMPTON (2010/2.17), ELLE RUTHERFORD (2014/2.18), ANNA JONES (2016/2.16) and now Ruby.
The 1500m saw our girl lay off the early pace, spotting the leader 3secs at 400m. Ruby overtook the NSW trio on Lap 2 before scooting into second after the bell and unleashing a withering 200m burst that carried her to gold and a 6sec PB (4.39).
"It was so cold I couldn't feel my legs", she said. "But I couldn't feel the pain either".
Two days later, Ruby successfully defended her Australian 800m title with dominant 68/69sec splits ("I just wanted it") to ice the double with a 2sec PB 2.17. "I thought it went quickly" she understated after bettering the Olympian split +3secs.
All our runners placed Top 5 in Australia:
4 LEO LLEWELLYN 10yrs Tetra 800m 2.31
Leo led the eventual winner from 300 to 600m, passing the bell at PB pace (1.14). Just 7 pts off a medal at his National debut.
5 SIERRA LLEWELLYN 12yrs Tetra 800m 2.35 PB
Should've gained some confidence after outsprinting the ultimate winner. Sierra passed the bell calmly sitting 7th in a quick 1.13 before equalling her PB in a fine National debut.
5 HARRY CARTWRIGHT 10yrs Tetra 800m 2.48 PB
Newcomer Harry looked like he belonged in this class with an impressive opening lap (1.18) to finish just 11pts off the medals. Very creditable debut.
UQ 1500m CLASSIC November 1 UQ
CALLUM DAVIES inspired our runners to a whopping 10 podiums in what is the most popular junior track meet of the year.
Facing two internationals and the pacemaker stepping off, our man served up a 700m kickdown to negative split the last 800m in 1.58! 
Callum was rewarded with $400 for third, a near-PB 3.47 and, the following night, a Uni Sport "Half-Blue". No post-championship slump here!
Unheralded MAJENTA STIRLING-WRIGHT (PS #2/5.17 PB) and touch player LILY BUCHANAN (SS #4/4.55 PB/REC) enjoyed breakout victories with incisive last-lap surges.
Other placings:-
RUNNERS-UP
Jack Salcedo SS #1 4.01 PB/NQ
Emma-Kate Watt SS #2 4.43 PB/NQ
Matthew Hansen SS #4 4.31 PB
THIRDS
Mitchell Bradbrook Open 4.05 PB
Ruby Hughes PS #1 4.49 NQ
Samuel Stanway PS #2 5.11 
Alexia Abela PS #2 5.22 PB
(Ashanti Heap Walk 6.52)
October 2018
State Secondary Schools Athletics Titles October 25-8 QSAC
6 GOLD–6 SILVER–5 BRONZE! 30 NATIONAL (AJ) QUALIFIERS!!
ISABELLA HARTE'S golden double in the 13yrs 800/1500m set the tone for a productive championship from which we emerged #1 on the medal aggregate (17 MD medals) for the 11th year-in-a-row!
Isabella (Speed Coach–Karen/Andrew Iselin) utilized new tactics in the 800m cruising a 65 second opener before storming home to a PB/NQ 2.13. She repeated the dose in the 1500m with her 4.37 (PB/NQ) earning a trip to Cairns and another National showdown with the world age record-holder.
JACK PARTRIGE stayed calm in the 15yrs 3000m when he conceded the leaders 3 seconds at the 1km (3.02). Iron-willed as ever, Jack gathered them in at halfway (4.36) before consolidating (6.11 at 2km), then launching a lung-busting 2.58 last km for gold (9.09 PB/NQ). Speechless!
ALEX GOUGH shrugged off the weight of Year 12 to take gold in the 17yrs steeple (6.24). Technically proficient as usual, he'll join Jack on the year-end trip to the Nationals in Cairns. Double Schoolies!
LEAH SIMPSON (Prime Coach–Mark Ladbrook) became the greatest 17 year old schoolgirl 800m runner in Qld history with her breathtaking 2.08 (off a controlled 63sec split), just 2secs from the World junior qualifier. When she went with 300m to go, it was "Goodnight Nurse"!
ELLE RUTHERFORD (Prime Coach–Gary Howard) was equally impressive in the 16yrs 800m parlaying a 62sec opener into a PB/NQ 2.10 and gold.
Other medallists:
SILVER
Elle Rutherford 16yrs 1500m 4.33
Jack Partrige 15yrs 1500m 4.11 PB
Bridget Morrissey 14yrs 3000m 10.25
Bridget Morrissey 14yrs steeple 7.26
Alex Olders Multi-Class 1500m 4.59
Kyle Willis Multi-Class 800m 2.27 PB
BRONZE
Anna Jones 15yrs 1500m 4.42
Anna Jones 15yrs 800m 2.14 PB
Amy Partrige 14yrs 3000m 10.25
Alex Olders Multi-Class 800m 2.23
Kyle Willis Multi-Class 1500m 5.20
State Primary Athletics Titles October 19-20 Cairns
2 GOLD–3 SILVER–1 BRONZE–4 to NATIONALS!!
RUBY HUGHES stunned a national-class field in sauna-like conditions to capture the 12yrs 800m (near-PB 2.19) and earn the opportunity to defend her Australian title. Charging the first lap in 68 seconds, she clocked the Olympian's split (+3 seconds) in the second to take gold and bury any lingering disappointment for being denied what experts believe was a deadheat in the 1500m (4.45 PB/NQ).
Officials later declared her equal record-holder.
LEO LLEWELLYN amazed the crowd when he appeared to sprint the whole way in the Tetra (Multi-event) 800m.
Knowing he needed to win massively to close the points deficit after the sprint/jump/throw, Leo did just that with a length-of-the-straight shutout and an excellent 2.32 (1.17/1.15).
His reward? A National debut.
Other medallists:
SILVER
Ruby Hughes 12yrs 1500m 4.45 PB/NQ
Sierra Llewellyn 12yrs Tetra 800m 2.37 PB/NQ
Caiden MacFarlane 10yrs 1500m 5.04 NQ
BRONZE
Caiden MacFarlane 10yrs 800m 2.30 NQ
Our 12 rep's duly ran rampant along the waterfront Saturday night either side of Mondo's/The Hilton. Great trip. Great championship.
August 2018
Australian Cross-Country Championships Maleny
GOLD ISABELLA HARTE earned the adulation of a large and parochial home crowd with an upset victory over a multiple World Age Group recordholder in the 13yrs 3km.
Isabella was facing a rolled gold superstar and two-time defending champ who had beaten all the boys at the junior Gold Coast Marathon and had relegated her to silver and bronze in their previous encounters. But somehow she found a way.
Our girl forced the pace right around the brutal Maleny course, laying off at the crucial late climb up "Torture Ridge", before unleashing an epic finish sprint to claim a famous victory by 3secs in 11mins 11secs.
Isabella becomes our sixth 13yr girls Australian champ joining Olympian EMMA JACKSON (2004), Australian rep KATELYN SIMPSON (2007), USA scholarship runner CAITLIN-McQILKIN-BELL (2010), world schools cross-country champ/World #2-ranked U18 steeplechaser LUCINDA CROUCH (2013) and world junior cross hopeful MACKENZEY ORMISTON (2015).
BRONZE RUBY HUGHES cemented her spot in Australia's greatest-ever State cross-country team by adding a bronze to last year's silver. Ruby backed herself early then stuck to her guns when two teammates went off the front. Our fast-finishing PSG champ clocked the same time as the runner-up (11.31) and again played a key role in Queensland's historic 1-5 sweep.
TOP 10s  We had five in the top 10 with RYDER AH FOOK (Prime coach-Andrew Arkinstall) third Queenslander on debut in the 13yrs 3km (6th/10.45), JACK PARTRIGE top 10 for the 5th time in the 14/15yrs 4km (13.43) and KYLE WILLIS 10th in the Multi-Class 3km (13.16).
We led the Qld medal count again.
STOP PRESS CALLUM DAVIES runner-up at Bridge to Brisbane 5km in arguably his best-ever road race.
July 2018
Queensland Cross Country Championships
HOLLY-MAREE MATTHEW and CAIDEN MACFARLANE captured the U/11 double to give us the perfect start to the State Junior Cross-Country Championships at a brutal Maleny course on August 4. We returned to the top of the medal table with 8 medals and it looks like we'll field the most National Qualifiers (24) of any squad in Australia–for the 19th year-in-a-row!
Newcomer Holly-Maree handled the combined boys and girls 2000m format calmly, sticking to her race plan on the mountainous course and winning against classy opposition in 8mins 12secs.
State team-mate PRIYA MADDERS took bronze in a great hitout for Nationals (8.31).
Medal-magnet Caiden returned to his brilliant best to clock 7.39 and claim gold by one second in a thrilling boys race.
Another newbie RYDER AH FOOK (Prime Coach–Andrew Arkinstall) came of age with a last-gasp counter-attack against the defending champ in the 13yrs 3km, taking gold in 10.55. 
Ryder's heroics inspired a medal avalanche for us with silvers to CIANA JAMIESON (U/17) and BRIDGET MORRISSEY (U/15) and bronzes to JACK PARTRIGE (U/16) and KYLE WILLIS (MC).
The state selectors also added AEYSHA GRANZIEN (U/20 debut), JOSHUA CHAPEL and JACK SALCEDO (U/18), LIZZY BRYANT, KLOE LOCKHART and LAUREN NEILLIE (Debut)(all U/16) and TRISTA HOCKEY (U/14) to the 16 we already have in the Schools Team (listed in our Facebook Post, July 22). 
#1 in Australia since 2000!
State Schools Cross-Country
ISABELLA HARTE led our 16-strong national qualifying charge in the Queensland Schools Cross-Country Championships at Maroochydore on July 22.
The St Margarets student won for the third year in a row despite briefly losing her way with a kilometre remaining.
The 3km course was a mix of flat and hill, grass and rocks, but Isabella had all the answers with the fastest time of the day (10.36).
The brilliant display earned her a return bout with world age record-breaker Imogen Stewart at Maleny on August 25.
JACK PARTRIGE broke a string of four bronze medals with a hard-earned silver in the 15yrs 4km (13.01). Up in the top 4 right from the start, Jack's machine-like approach wore down all but one of his challengers on the deceptively tough course.
AMY PARTRIGE made it a family double winning silver again in the 14yrs 4km (14.57). The 2016 champion and national bronze medallist backed herself, staying on the pace throughout, and it was only an Australian champ who denied her the gold. 
PRIYA MADDERS enjoyed a debut to remember scorching the 10yrs 2km course in 7.36. The rising star handled the chaotic start, pace changes and breakaways calmly to be rewarded with a State Team berth. 
June 2018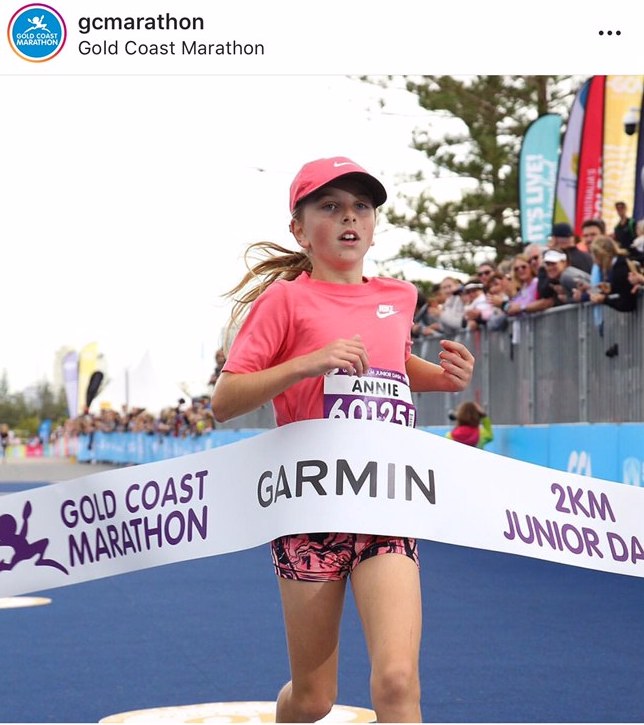 ANALIESE MURPHY is our newest star following her sensational victory in the Garmin 2km Junior Dash at the Gold Coast Marathon. Analiese survived a mass false start by the 800-strong field to wend her way through the argy-bargy and up to the main chase group.
She finished 4th overall, and first girl, in a brilliant 7mins 20secs.
Only Katrina Robinson, Kyah Anderson and the freakish Imogen Stewart have posted faster winning times in the event's 17-year history.
"It was a great feeling running down the finish straight" an elated Analiese said before receiving her large winner trophy.
Our squad has now won that race eight times (Robinson twice, Anderson, Caitlyn Morse, Daisy Fahey, Jade Dowling, Georgia Kelleher and Tayla Langley).
It took a record-breaker to deny CAIDEN MacFARLANE victory in the boys' race (6.59). NSW champ Kobe Stewart (Yep, Imogen's brother) bolted, but Caiden hung tough and was a respectable 100m behind the favourite at the finish. A great hitout for State.
Also noted BIANCA RAYWARD'S close 4th in the girls' race (PB 7.59).
May 2018
Qld All Schools Cross Country
ISABELLA HARTE and MJ LOWE struck gold as we enjoyed a 7-medal splurge in the Qld All-Schools Cross-Country Championships at undulating, sun-baked Rivermount College on May 5. Isabella successfully defended her title in the 13G 3km with the fastest time of the day (10.55), powering away from a field loaded with 17 state cross rep's. Her reward? An auto National qualifier and huge boost ahead of next week's QG.
MJ was equally impressive in the 12B 3km against the nation's #1 and #5, powering up "The Terminator" to clock 10.50. The victory gave MJ a full set of All-Schools medals and brought back memories of his 2016 win in the Maryborough mud.
BRIDGET MORRISSEY, third last year, prepped for QG with silver in the 14G 4km (PB 14.43) behind the national champ; RUBY HUGHES backed herself in the 12G 3km (11.20) to repeat her silver medal of last year; LIZZIE BRYANT, the defending champ, gave us a 2-3 in the 14G (PB 14.51); MATILDA LEE was a fast-closing bronze medallist in the 11G 3km (11.39) behind the nation's top two; and KYLE WILLIS (T38), the 2016 champ, powered to the bronze in the MC 3km. 
GOLD   
Isabella Harte 13yrs 3km 10.55
MJ Lowe 12yrs 3km 10.50
SILVER
Bridget Morrissey 14yrs 4km 14.43
Ruby Hughes 12yrs 3km 11.20
BRONZE
Lizzie Bryant 14yrs 4km 14.51
Matilda Lee 11yrs 3km 11.39
Kyle Willis (T38) MC 3km n/a
March 2018
AUSTRALIAN JUNIOR TRACK CHAMPIONSHIPS
SILVER CALLUM DAVIES U/20yrs 1500m 3.49
It was an emotional roller-coaster for Callum in the last week of his bid for World Junior selection. A third runner qualified late (only two can go) and Paralympic star Jarryd Clifford made two unsuccessful attempts at the mark (3.48).
In Callum's heat, the favourite (with two qualifying times) pulled out after 500m! Only four could make the final in a tactical race and as the lead pack charged around the last bend two runners tangled and went down. Callum, hemmed in Lane 2 with nowhere to go, crashed over one but, to his credit, picked himself up to limp home in 4.15. He then survived a triple protest with officials advancing him to the final under a "collateral damage" policy (a rarity). THANKYOU TO QLD TEAM OFFICIALS FOR FACILITATING THE APPEAL.
Callum then had to survive three hours at the hands of a sports medic magician of obscure European origin who put his hip and head back together.
The final was a dream come true as Callum took the safe one-out, 2/3/4-back positions staying on the pace with 59/63/63/44 splits. He avoided more carnage on the home straight narrowly missing gold behind the rampaging Clifford (3.49 apiece).
The next night at the Sydney GP, Clifford auto-qualified for the WJs with a 3.45.
We can only hope there is a God.
PS Callum was also first Queenslander in the U/20yrs 800m final (7th/PB 1.53).
SILVER ALEX GOUGH U/18yrs 2km Steeple 6.05 PB
Established himself as the nation's premier steeplechaser for his age (the winner Patrick Thygesen was running up in a YOGQ attempt) with a monstrous 12second PB. Alex quickly assumed the lead, utilising his unique dorsiflexion technique off each water jump rail to maintain momentum. Though overtaken late, he is now eligible for the Youth Olympic Trials in Vanuatu. Made for the event!
SILVER ELLE RUTHERFORD U/17yrs 800m 2.12 PB
She's back! When you break a Georgie Clarke record at 11, expectation can be a burden. Elle looked like she'd shrugged that off passing 400m in 65secs and looming as a winner at stages. Beat a long-time rival but won't be beating my Ayers Rock record (18 mins) mid-winter. Incredibly backed up in the 400m heat later (58secs).
BRONZE ISABELLA HARTE U/14yrs 1500m 4.39 PB
Scheduled to arrive Sunday morning for her 1pm race, Isabella was caught out when officials rescheduled it to 730am in the face of 40-degree forecasts. With Andrew Iselin (logistics) and Lizel Moore (accommodation) to the rescue, she made the start only to be faced with the world age group recordholder! Unfazed and despite being boxed, Isabella split 1.11/2.27 before being gapped on lap 3. No panic, she flashed home to challenge for silver posting a sensational 4.39 PB in the process. Remember the name!
Our depth may be nation-leading based on these National Rankings:-
#4 CIANA JAMIESON In medal contention for most of her U/17yrs 1500m, Ciana's 1.09/2.23/3.39 combo converted to a massive PB 4.34 in what was her second-choice event. Never clear of a box until 500m to go and the race was at an unGodly hour!
#4 BRIDGET MORRISEY backed herself for a medal in the U/15yrs 2km steeple despite the 25 barriers being at her eye-level. Near-PB 7.29.
#5 DAISY FAHEY Had to play catch-up for most of the U/17yrs 1500m with her 1.10/2.27 splits off the pace. She passed six on the last lap though (1.12) to equal her 4.37 PB and gain a confidence boost ahead of the 2km Beach Run Aussies in Perth.
#5 LEAH SIMPSON just missed her PB in the U/18yrs 800m, passing 400m in 63secs and in medal contention throughout (2.11).
#7 JACKSON CRANITCH moved steadily through the field using his trademark flat "layout technique" over the dry hurdles and only stopping dead once in a water jump (#4). Rewarded with a PB 6.44.
#7 KLOE LOCKHART overcame an indifferent start in the U/16yrs 2km Steeple after seeing them all (19th) at WJ#1. She passed 8 on lap two and another 2 on Lap 3 to clock a near-PB 7.36.
Special mention to OSCAR RUTHERFORD for his PB 2.12 in the U/15yrs 800m heat.
The trouble with a quality squad is the number of Cold Rocks it's costing!
Queensland Little Athletics Championships
RUBY HUGHES was the star of the show with two golds and a silver! Her eclipsing of Melanie Kaasinen's former ABP/U12 State 1500m record, which had stood since 2007, was especially outstanding. Ruby took 3secs off the venerable mark with her 4.51 made up of 1.13/2.35/3.55 splits. She backed up later in the day to capture silver in the 400m (PB 62secs) and completed the double next day in the U/12yrs 800m (2.24 off a 1.09). 
CIANA JAMIESON was untouchable in the U/16yrs 1500m confirming her favouritism with a 4.47 (1.09/2.25/3.45). Though conceding in the 800m (2.19 for silver), it's been another breakout season for this star of the future.
T38 (coordination) runner ALEX OLDERS caused a sensation by medalling in the U/17yrs (able-bodied) 800m/1500m with massive PBs (2.21/4.57). I can't remember an MC athlete ever doing that.
SHANTEAL HANSEN made an unorthodox preparation work, returning from a month-long camp, to nail silver in the U/15yrs 1500m (PB 4.59) and bronze in the 800m (2.28).
GOLD
Ruby Hughes U/12yrs 800m 2.24
Ruby Hughes U/12yrs 1500m 4.51 REC
Ciana Jamieson U/16yrs 1500m 4.47
Kyle Willis MC 800m 2.47
SILVER
Ciana Jamieson U/16yrs 800m 2.19
Emily Olders U/12yrs 800m 2.33
Alex Olders U/17yrs 1500m 4.57
Shanteal Hansen U/15yrs 1500m 4.59
BRONZE
Lyla Williams U/10yrs 800m 2.50
Shanteal Hansen U/15yrs 800m 2.28
Alex Olders U/17yrs 800m 2.21
***
February 2018
QUEENSLAND JUNIOR CHAMPIONSHIPS
One of our best championships ever with 12 medals including 5 golds.
CALLUM DAVIES led the way with victory in the U/20yrs 1500m, posting his second 3.49 in a fortnight. The effort was doubly creditable coming off a hard pace (59/63/63) the day after his silver medal in the 800m (NQ/1.53). Callum has obviously fine-tuned his finish kick and even admitted afterwards "I had more in the tank". YIKES!! Bring on the World Junior Trials.
LEAH SIMPSON wound up her Nationals prep with a confidence-boosting victory in the U/18yrs 800m (NQ/2.15). The reigning AJ silver medallist led the whole way, parlaying a 65 sec opener into a near-season best time.
ALEX GOUGH was equally assertive, employing a double kick (the first didn't work!) to dispatch his rivals in the U/18yrs steeple. His 6.17 was a 4sec PB and set himself up for another AJ podium.
ISABELLA HARTE was fearless in leading the U/14yrs 1500m, creating a gap that the chasers could never close. Gold and a PB/NQ 4.45 was her reward and followed an impressive bronze (NQ/2.21) running up in the U/15yrs 800m.
RUBY HUGHES, still only 12, replicated her PSG heroics in the U/14yrs 800m leading all the way to an NQ/2.22 (69sec split). So hard to catch when gone.
JACKSON CRANITCH gained himself two National starts in the 1500m (silver in 2.27 after being nipped on the line) and the steeple (bronze in 7.05).
CIANA JAMIESON broke through in the U/17yrs 800m with a 3sec PB/NQ of 2.14 which netted her silver.
DAISY FAHEY took 2secs off her 1500m PB (NQ/4.37) to capture silver in the U/17yrs and give her National 2km Beach Run hopes a timely boost.
BRIDGET MORRISSEY added a steeple bronze (NQ/PB 7.28) to her 3000m one, giving herself a double chance in Sydney.
Also qualifying for National Juniors were ELLE RUTHERFORD, EMMA-KATE WATT and ANNA JONES who joined OSCAR RUTHERFORD, LIZZIE BRYANT, KLOE LOCKHART and 11 others eligible for Sydney. That gives us a Queensland-leading 26 middle distance runners qualified for AJs, not including our race walkers AMELIA SCHOFIELD and debuting little sister SCARLETT who, at 12, will probably be the youngest there.
GREAT WORK, YOU STARS!
***
Three of our runners won medals at the Qld Schools Triathlon/Aquathlon on Feb.16-17 in Hervey Bay. MATTHEW MOATE, 37th last year, was the Championship "bolter" with his sensational silver medal in the Intermediate race. With only a junior win at Bribie Island this season, Matthew caught seven of Australia's top 10 juniors totally by surprise. Chills-up-the-spine stuff! KEELY WHITTAKER crowned a stellar schools triathlon career with her first QSS medal, a bronze, in the Senior race. The effort duplicated her National bronze last year and clinched her a third State Team berth. Great job again Keely! MJ LOWE showed why he is a National-class swimmer (Pac School Games, Darwin Nationals) and runner (National track & cross) with a tearaway opening leg of the QPS Aquathlon. Only the national cross bronze medallist Blake Turner could match MJ but it took most of the race to break him. An impressive silver medal, MJ. You're back!
Plaudits also to BRIANA MOW (4th), MITCHELL DENSLEY (4th) and TIM GEERS (6th) from Graham Fidler's Triple M Squad who run with us and who gained State selection.