News 2015
November 2015
Congratulations to our ADELE PHILLIPS and SAKURA SUGIYAMA who went 1-2 in the Queensland All-Schools Aquathlon at Kawana on November 8.
LARA CROUCH, 14, became the youngest-ever winner of the UQ 1500m Classic in atrocious conditions on November 5. Heavy rain made it a splash-a-thon. It took Lara two laps to get past AJ 3000m champ Katrina Robinson and claim the $500 first prize.
BRODIE MODINI and LACHLAN COOK were always prominent in the men's race before falling to ex-training partner Max Daddo's explosive finish. Amazingly Brodie was just a second behind his Commonwealth Youth Games medal-winning time. Special mention must go to DAISY FAHEY and ELLE RUTHERFORD who utilised suicidal early pace tactics. Daisy's 4.41 was an 11-second PB and broke the Schoolgirl Race 2 record. Elle was only caught in the last 200m but her 4.39 was a 7sec. PB. ANNA JONES had a good try at BRIANNA CAMPTON'S Primary School record (4.46), falling just 2 seconds short.
WINS Lara Crouch Elite Women, 4.29 Daisy Fahey Schoolgirl Div.2, 4.41 (REC) Nick Erzetic Schoolboy Div.2, 4.18 Anna Jones Primary Girls, 4.48
RUNNERS-UP Brodie Modini Elite Men, 3.56 Elle Rutherford Schoolgirl Div.1,
4.39 Tehlia Burton Schoolgirl Div.2, 4.49 Caitlin Boyle Schoolgirl Div.3, 5.12
THIRDS Lachlan Cook Elite Men, 3.57 Ellie Ryan Primary Girls Div.1 4.39 Alanasia Malone Schoolgirl Div.2, 4.52 Samantha Korck Primary Div.2 5.28
September 2015
COMMONWEALTH YOUTH GAMES Hot and windy conditions greeted BRODIE MODINI and a world-class field at Apia Stadium for the 1500m. World youth record-holder Tamari Taki and his Kenyan teammate went off the front in a suicidal 56/1.55/2.56 with Taki winning in 3.39 (=a 3.56 mile!). Brodie co-led the chasers in 63/2.10/3.15 before closing in an unprecedented 40 secs–Taki closed in 43!– to nip the Brit's for the bronze medal (3.55). Great green and gold debut, Brodie!
June 2015
With all Regionals completed, we have a record 120 runners qualified for State Schools Cross-Country. The breakdown is 30 to QPS, 67 to QSS and 23 to NSW PS/SSX.
***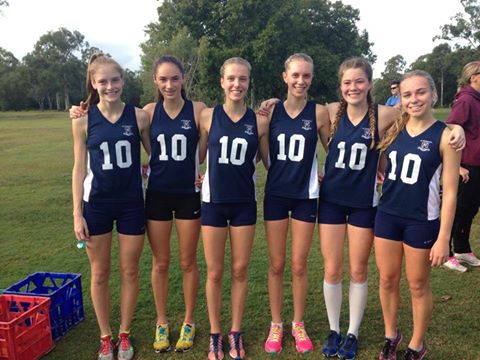 Border Striders is playing a major role in St.Margarets College's bid to represent Australia at the World Interschool Cross-Country in Budapest next year. St Margarets went one step closer on Saturday by winning the Queensland School Trial with LUCINDA CROUCH, LARA CROUCH, ISABELLE BURDON and BRIANNA CAMPTON going a perfect 1-2-3-4 while BRONTE THOMPSON and ALEX CLEMENTS played the key "pusher" roles in denying the opposition higher positions.
***
The Queensland Medium Course Cross-Country Championships at Yeronga on June 13 netted us 9 medals including half the open ones.
TAMARA CARVOLTH (Open) and CHLOE McLENNAN (U/16) won State gold medals; LACHLAN COOK (Open), ELLIE RYAN (U/16) and ISABELLA GORDON (U/14) took silver; and JORDAN PIZZICA (Open), BRODIE MODINI (U/20), THWANE FOUCHE (U/20) and SHELLBEE WELSH (U/14) won bronze. Congratulations all.
May 2015
LACHLAN COOK starred in the Queensland Open 4km Cross-Country Championships at Kedron on May 9 taking bronze in a swift 12.45 (also gold for first junior). PAUL SCURR added a silver in the 35-44yrs masters division to his growing collection (14.19).
Also congratulations to our ALEX CHRISTIE for her first-ever open road race victory in the Mothers Day 4km on the Gold Coast.
April 2015

MACKENZEY ORMISTON ran a PB of 4mins 45 secs to capture the bronze medal in the 1500m at the Australian Little Athletics titles in Perth on April 26. JASMINE HAYES did likewise in the 80m hurdles while JAI HOCKEY picked up valuable field event points for Queensland. Well done all!
Back home, our girls won all the Gold Coast Bulletin Fun Run short races with LEAH SIMPSON (5km), JORDAN BENNETT (2.5km) and MICHAELA PULFORD (1km) successful. JAMISON STOVIN was our best boy, capturing the 2.5km races.
OLIVIA BURDON will run the 1500m at the World Youth Championships in Cali, Colombia, on July 16-18. This follows her victory in the Australian AND New Zealand junior 1500m titles, a 4.23 PB and qualifying as the sole junior for the Australian open womens' 1500m final. Olivia will wear the Kiwi All-Black colours but we won't hold that against her. Our previous WY rep, KATELYN SIMPSON, made the final in 2011. Another Border Striders product BRODIE MODINI makes his international debut at the Commonwealth Youth Games 1500m in Apia, Samoa on Sept.7. Brodie also won the AJ title and bettered the WYQ with a 3.50, so will be competitive against the Kenyans and Brit's. Congratulations to both and good luck.
BEN COOK has banked $750 for winning the Luke Harrop Triathlon at the Gold Coast on April 12.
There was further success at the Australian Schools Triathlon on April 29 at Penrith with TAHLIA FLETCHER winning gold in the juniors (13-14yrs) and RYAN ROBERTS taking the bronze. We'll claim one third of those medals. Well done Tahlia and Ryan.

March 2015
Our girls dominated the Intraining Twilight Runs on March 22 with LARA CROUCH, ELLIE RYAN and TEHLIA BURTON's trifecta in the 5km. The 10km saw TAMARA CARVOLTH and LUCINDA CROUCH (Ist junior) go 2-3 and beat the downpour.

The Queensland Sprint Triathlon Championships on March 29 at Redcliffe brought gold for ADELE PHILLIPS (10-11yrs), silver for TRISTA HOCKEY (7-9) and FINN REECE (10-11) and bronze for MIA HAYDEN (12-13). Great work!
MACKENZEY ORMISTON will represent Qld at the Australian Little Athletics Championships in Perth (April 26) in the 800/1500m. Good luck!
OLIVIA BURDON won the New Zealand Youth (U/18) 1500m Championship in Wellington on March 8 with a time of 4.25.
BRODIE MODINI maintained form with victory in the Qld Men's 1500m title (3.54) on March 8. At 16, he is believed to be the youngest-ever winner of the title!
Congratulations to ANDREW O'BRIEN (40-44yrs) and ALEC O'BRIEN (U/20) who've been selected in the Australian team for the World Duathlon Championships to be held in Adelaide in October.
The March road running scene has proved lucrative for JAMES TURNER ($250 for second at Port Macquarie Half-Marathon) and LACHLAN COOK ($250 for third at Mooloolaba 5km). CHLOE MCCLENNAN won Clive Palmer's Coolum 5km as well.
The Australian Youth Triathlon at Twin Waters on March 12 saw gold to our TAHLIA FLETCHER and bronze to RYAN ROBERTS, both in the 13-14 year age groups. Good luck at the National Schools in Sydney.
***
We have 35 runners through to 800/1500m races at State Little Athletics on March 21-2 following recent Intercentre championships. Three are ranked #1 – MACKENZEY ORMISTON (U/13 800/1500m), EMMA–KATE WATT (U/11 800m) and REBECCA WEBB (U/9 800m). Good luck all.
***
Congratulations also to JACOB CARUANA, JESSICA CORLISS, RYAN ROBERTS, GEORGE NIELD, TAHLIA FLETCHER and LATICIA TRANSOM on their state selection for next month's National Schools Triathlon. All have run with us this season.
February 2015
The Queensland Junior Track Championships, after being postponed a week due to a cyclone (?), brought us a 39 medal bonanza at QSAC on February 26 – March 1. This was up on last year's record 32 medals, and as a result QA named 39 or our runners in it's Heat team for Nationals in Sydney, March 11 – 15. Of note, we won every girls 1500m gold except the U20's, and the U17 girls 1500 / 3000 trifecta.
***
Congratulations to TAMARA CARVOLTH and BEN COOK on their results in the State Open 5000m championships held on 26 February. Tamara took silver in the women's in a time of 17.11, and bronze for Ben in the men's in 14.50.
January 2015
BRODIE MODINI clocked a 6 second PB of 3.50 for the 1500m at Newcastle's Hunter Classic on January 31. His consistent 61-62sec splits saw him dip under the World Youth qualifier. A repeat effort and gold at National Juniors will see him selected for WY in Colombia. Well done Brodie! 
OLIVIA BURDON started the year with the same brilliance she finished 2014, capturing silver in the Queensland Open 3000m Championship at QSAC on January 24. Lilli, still riding the boost gained from her week at Falls Creek over the New Year, lowered her PB by an incredible 13 seconds to clock 9.36, less than 2 seconds behind dual world championship racer Jackie Areson. More importantly she was just 4.5 seconds outside the qualifying standard for the World Youth Titles later this year. Great work, Lilli!