News-2013
November 2013
The Australian Primary School Track & Field Championships at Brisbane's QEII on November 24 saw our Elle Rutherford produce the greatest 800m run in the meet's history! Elle broke Olympian Georgie Clarke's record in the 11 years division, one that had stood since 1995. Her time was a brilliant 2.17.44, made up of 31 sec (200m) and 65 sec (400m) splits. Incredibly, she had run a 2.17.8 in the heat the day before, and had to repeat the effort in the tetrathlon 800m an hour after. Congratulations Elle, an amazing achievement!
***
Our Triathletes kicked off their season successfully at the Queensland All Schools on November 10 at Kawana.
GOLD James Nield (10-11yrs Aqua)
Joshua Booth (U10 Aqua)
SILVER Sophie Malowiecki (Senior Tri)
Ryan MacNicol (Inter Tri)
Chloe McLennan (10-11 Aqua)
BRONZE Jess Whittaker (Inter Tri)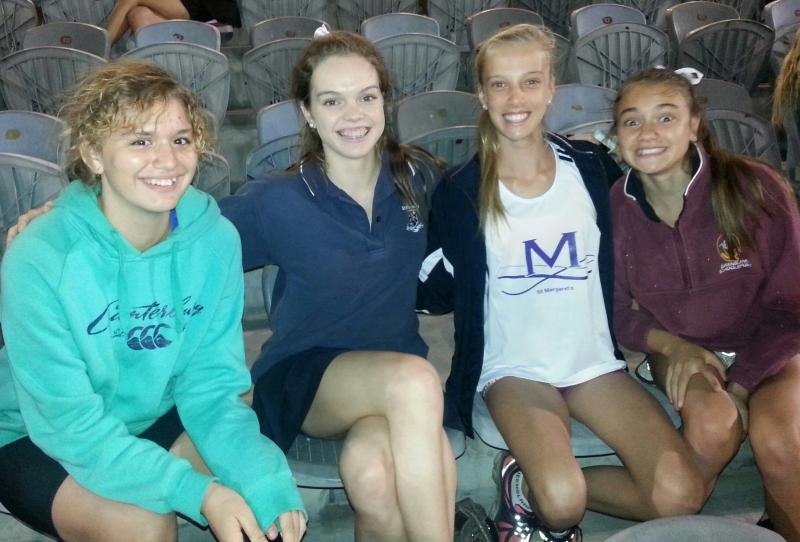 Lexi, Bella, Lucinda and Thwane enjoying the Classic
The 1500m CLASSIC at UQ on November 7 netted us 14 podiums, including 3 wins, and loudest cheer squad honours!
WINNERS Brodie Modini (SS #1) 4.00
Elena Green (SS #1) 4.38
Brianna Campton (PS #1) 4.46 RECORD
SECONDS Olivia Burdon (Classic) 4.29
April Scurr (SS #1) 4.39
Braelan Renton (SS #2) 4.14
Sam Bennett (SS #3) 4.24
Lara Crouch (PS #1) 4.50
Isabella Schofield (PS #2) 5.22
THIRDS Caitlin Erasmus (SS #3) 5.01
Aeysha Granzien (SS #4) 5.11
Leah Simpson (PS #1) 4.58
Harry Briggs (PS #1) 4.34
Jamison Stovin (PS #2) 5.10
GREAT WORK TO ALL!
August 2013
The Queensland Duathlon Championships were held at Springfield on August 11, with Border Striders taking a share of the medals. Congratulations to :
Gold: Savannah Wayner (U18) and Joshua Booth (U10)
Silver: James Nield (U12)
Bronze: Gabby Stanek (U16)
Jacob Bragg's time of 78mins 53seconds in the Half Marathon at the Brisbane Marathon Festival on Sunday 4th August has been officially confirmed as a new World Single Age (13yrs) record! Amazing result Jacob!
July 2013
Our runners again stood out at the Gold Coast Marathon festival on July 6-7, scooping half the Junior Dash placings, and going 1-3 in the Mass 5.7km.
Winners: Olivia Lucas (5.7km / 19.37), Katrina Robinson (4km / 13.55), and Justin Currie (4km / 13.20).
Runners Up: Mackenzey Ormiston (4km / 14.31), Jake Brooks (2km / 6.57)
Thirds: Sarah Champley (5.7km / 21.21), Jacob Bragg (4km / 13.24) and Dakota Farrell-Thomas (2km / 7.49)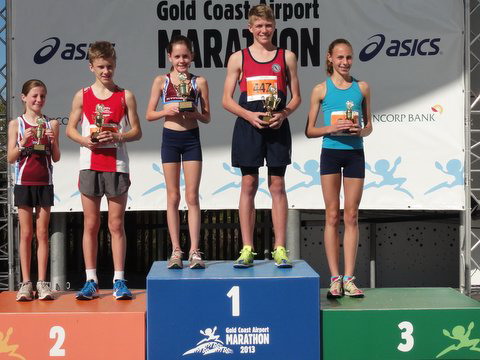 Pictured above, the placegetters in the 4km dash at the Gold Coast Marathon festival included 4 Border Striders. Far left Mackenzey Ormiston (2nd place), the winners Katrina Robinson and Justin Currie, and missing from photo 3rd placed Jacob Bragg.
June 2013
The Queensland Medium Distance Cross Country Championships were held at Yeronga on June 8th. Olivia Lucas won silver in the open women's 6km (22.23), while Paul Scurr (gold) and David Morse (silver) medalled in their masters divisions.
May 2013
More exciting international news! Isabella Smith has won selection for the Oceania Track Championships in Tahiti later in the year. Congratulations Bella!
April 2013
The 3rd Annual Easter 4000m Relays were held as usual at Greenmount and saw a good turnout although with Easter falling earlier than usual this year the event seemed to creep up on us unawares (wasn't it only New Years the other day?) and time was a little short for getting things organised, so some of the regular teams were unable to attend. Thanks to Leshay Wells for once again taking on the organising of this event, and ensuring there was plenty of chocolate to go around.
Here are the results and statistical trivia for those interested:
Primary School Girls – Winners QEII Bunnies (Christabel Kingdon, Lilly Mooney-Stack, Shellbee Welsh, Tahlia Fletcher) 14mins 12secs
2 in a row for QEII, just outside their own record (13.59)
Tahlia ran fastest time (3.24)
Katrina Robinson's record set last year is 3.17 (equalled this year by Brianna Campton running up in the Secondary Girls division).
Primary School Boys – Winners QEII Nuggets + 1 (Caleb Bragg, Jordan Kingdon, Jayden Syme, Brady Thwaites) 15mins 03secs
3 in a row for QEII, though well outside their record (13.40)
Brady was fastest (3.26), so Jacob Bragg's 3.11 remains the record.
Secondary School Girls – Winners Tweed Blue Bolts (Jacquie Soden, Gabby Stanek, Maddie Dick, Marlie Campton) 13mins 07secs
First win for the hosts, but QEII's record (12.38) still stands
Marlie's 3.06 was quickest, with Katelyn Simpson's 3.01 still the record.
Secondary School Boys – QEII (Jonathon Hoffman, Richard Baron, Jacob Bragg, Braelan Renton) 11mins 58
The defending champs lowered their own record by a minute!
Jonathon's amazing 2.47 was 17 seconds faster than the previous best.
March 2013
Olivia Lucas starred in the Queensland Open Championships at QEII on March 26 – 28. She is State Champion in the 3000m Steeplechase, being first Queenslander across the line in 10.53, and took bronze in the 5000m (17.16). Katelyn Simpson won the bronze medal in the 800m (2.10).
In major road race action, Katrina Robinson launched our new uniform at Intraining's Twilight 5km on March 23, placing second in 18.09 seconds. Our Pacific Masters Games champion Melanie Black was third in 19.03.
At the Sydney Track Classic on March 9 – 10 Katelyn Simpson lowered her PB to the incredible time of 4min 18secs. This has clinched her a trip to Europe with Australian Under 21 squad. Well done Katelyn, you are an inspiration to all the younger runners!
In Sunday 10th's International Women's Day 5km run at Southbank we placed four runners in the Top Ten (out of 8,000)! They were Sophie Malowiecki (2nd, 16.42), Lilli Burdon (3rd, 17.03), Tamara Carvolth (5th, 17.33) and Rebekah Matulis (9th, 18.07). Also our Alex Clements (14th, 19.23) was the third under 16 girl to finish. Fantastic result girls!
On March 17th, Jacquie Soden was the winner of the open women's 5km race at Runaway Bay, in a time of 17.26, scoring $250 for her effort. On the same weekend Lilli Burdon placed second in the Mooloolaba 5km run (18.33), a result which rewarded her with a prize purse of $500. Congratulations girls.
January 2013
Some great results to report for Border Striders competing on the weekend of 19th and 20th Januay.
Congratulations to Lachlan Cook for surviving the hottest day ever on record in Sydney, with temperatures over 44 degrees seeing day one of competition at the Australian Youth Olympic Festival cancelled and all athletics events squeezed into day two. Lachlan's performance was as sizzling as the previous day's weather, winning a silver medal in the 3000m, in a personal best time of 8.42, just 2 seconds behind the winner Ververt Fidelis of Brazil.
On Sunday the World Cross Country trials were held at Stromlo Forest Park in Canberra. Leshay Wells came 7th and Olivia Lucas finished 9th. Leshay's time of 21.39 was a personal best for this course, and was a time that would have gained her selection in any other year. Well done to both girls.