News 2018
Sept – Nov 2018
One of our best-ever periods highlighted by:
* CALLUM DAVIES runner-up at Bridge to Brisbane 5km, banking $500 for his 15mins 17secs of work.
* Australian University Games and it was Callum again, taking gold in his favourite 1500m event (a tactical 3.59).
* ISABELLA HARTE battled a tropical downpour to become the youngest-ever winner (13yrs) of the prestigious QGSSSA 3000m–and in a PB/NQ 10.06! She joins our EMMA SNOWSILL (1197), EMMA JACKSON (2007), LAUREN MEWING (2008), SOPHIE MALOWIECKI (2013) and KATRINA ROBINSON (2015) as a winner of the ultimate QG endurance test.
* BIANCA RAYWARD not only won the Junior Coolangatta Gold (U/11)–she beat the boys as well! History?
* CALLUM DAVIES baptized the new Sheldon track with an 8.16 PB 3000m in windy conditions. The State U/20 record (8.13) was set by Jock Given in 1978, just after his parents were born! Zatopek will be his chance for immortality.
July 2018
Queensland Duathlon Championships
Congratulations to our MADISON TURNER and DANIEL PRINSLOO (T-Rex Tri Club) who scooped the U/12 gold medals  in fine style at Springfield on Sunday July 22. FREDDIE AYRES (Triple F Tri Squad) broke through for his first state medal capturing the silver in a competitive U/14 yrs division.
World Junior 1500m
CALLUM DAVIES became our 4th finalist at a WYJ 1500m (Melissa Rollison, Katelyn Simpson, Lilli Burdon) defying the odds in a classic bolt-from-the-blue run. He went in to the Tampere, Finland, race ranked only #88 and with the #164 time (3.47). In the heat Callum split 1.02 (boxed)/1.04 (boxed)/58secs (clear) with an astounding 42sec last 300m to claim world-class scalps in Kiplangat (Uganda) and Nguse (USA), posting a PB 3.46.  
He'd survived mayhem in a too-small warmup area as well as only three hours of darkness each night.
Callum started beside the world indoor champion at the gladatorial Ratina Stadium, knowing he needed the 3.46 to make the final. Mission accomplished our man was elated post-heat. "That last 200 is the best I've ever done in a race", he said.
In the 9-nation final, Callum showed he belonged equalling his PB and finishing less than 5secs behind the gold medallist!
Drawn perfectly in Lane 10 his splits were 1.03 (12th on rail)/1.03 (11th with 3.42 Dutchman Van Riel)/57secs (10th with USA/Oregon's Teare) and 43secs last 300m.
"From #88 in the world to #11 junior and back-to-back PBs. We'll take that", said coach en route to Nightwish.
Callum, mulling a scholarship offer from Notre Dame, said "I was feeling it at the end but just happy to be there".
LEGEND!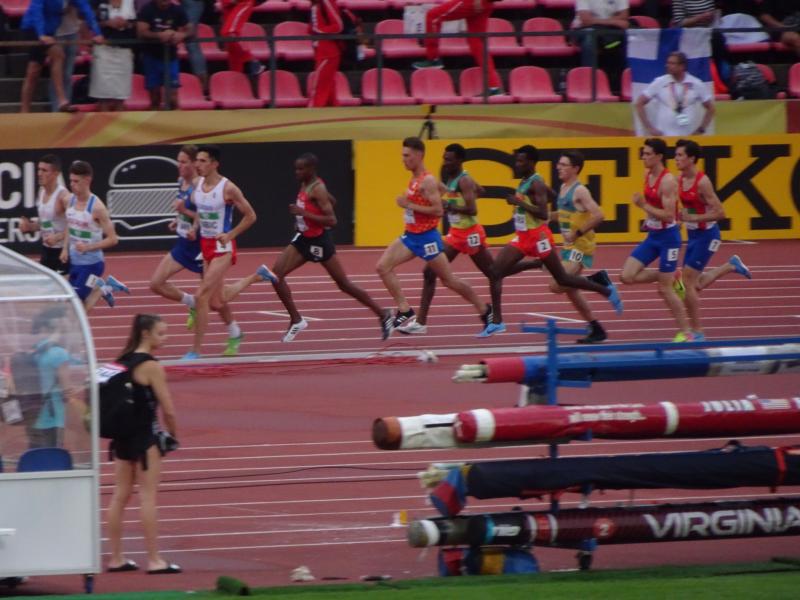 Pictured above Callum Davies (3rd from right) in the 1500m final
World Junior Championships Tampere Finland
June 2018
CALLUM TRIUMPHS IN GERMANY!
CALLUM DAVIES enjoyed a dream European debut with victory in the prestigious Mannheim Junioren Gala. The fleet-footed one stayed a the rear to avoid the mid-pack rough and tumble of a tactical race held in windy conditions. Laps splits were a "crazy" 67/60/64. Callum came around the entire field to cover the first breakaway, then bolted the last 300m in 40secs-odd to prevail in 3.53. That extended his unbeaten record in the Green and Gold to 3. Callum also underwent his first drug test (he passed) and was drafted into an Australian 4 x 400m relay combo. FINLAND next and maybe a Place in Heaven! 
CALLUM DAVIES' leadup form for World Juniors has been impressive with 3.51 (solo 1500m), 1.53 (solo 800m) and 3.47 recorded on successive weekends.
EMMA-KATE WATT landed our first State Junior Mountain Running title since Jade Dowling, grinding up the tough Camp Mountain 4km course in 18 min's-plus on June 3. It was a doubly-creditable effort coming just two days after Met West Cross and showed the nation's #10 for her age is on track for another state team.
April 2018
Congratulations to BRIANA MOW on her maiden State triathlon title at the Queensland Sprint on April 29. Also to DANIEL PRINSLOO for his bronze in the U/12.
KEELY WHITTAKER has been selected to represent Australia in the World U/20 Triathlon mid-September on the Gold Coast.
PAUL McINTOSH won the Qld. Masters (40-4yrs) 800m title in 2.14 after a flu-affected leadup.
MATTHEW MOATE won silver on debut in the Australian Schools Triathlon (Inter.) Championships at Penrith, just 15secs behind the winner.
March 2018
CALLUM DAVIES may epitomize the classic late developer following his selection to run for Australia in the 1500m at the World Junior Championships in Tampere, Finland on July 10/12 (For aerial of Ratina Stadium, youtube "Nightwish@Tampere The Greatest Show on Earth" from 20.00 to 21.00). He made his first State Cross at 11 and National Cross at 13 which indicates good aerobic ability (or pushy coach). But Callum was 15 before he even qualified for State Track and incredibly he won a national title (Perth/2016, 3000m) before he even won his first District or AIC title! He was a two-sport participant  throughout school (a hard-to-get-out cricketer).
Callum is the 6th Border Strider to make an IAAF World Junior/Youth Championship joining Melissa Rollison (1500m/Chile, Cross/Belgium & Ireland, WJ Record steeple), Ian Hornabrook (Cross/Belgium), Tamara Carvolth (3 x Cross as a junior/Scotland, Poland & Jordan), Katelyn Simpson (1500m/France) and Lilli Burdon (1500m/Colombia) in achieving the honour. And he's on the same training program!
Callum is also the 4th Queenslander to run the WJ 1500m following Alastair Stevenson (France/1998, 7th/3.45), Duncan Long (Chile/2000, 9th/3.44) and Adam Graham (China/2006, NQ/4.00).
Coach currently working out how to get from Gorky on July 2 (Aust.V Argentina World Cup Football knockout game) to Tampere for Callum's \"Magic Session\" on July 8, then Nightwish ("Seven Days to the Wolves") on July 13.
TRIP OF A LIFETIME, CALLUM. ENJOY IT.
Other March highlights:
* JACK PARTRIGE'S silver medal in the State Junior 3000m points to a standout cross-country season.
* DAISY FAHEY aced the State U/15 2km Beach Run to set herself up for a National 1500m debut and a possible trip to Perth for Surf Life Saving's "Aussies".
* We have a Commonwealth Games rep, but it's not a runner! LATITIA TRANSOM, who cross-trained with us during 2015-17, has made New Zealand's team as a swimmer! ISHA POMANA and GLADWYNNE should be deservedly proud. She's a great girl.
* THOMAS BASFORD took the U/12 sprint/flags double at State SLS Championships.
* PRIYA MADDERS won $180 when runner-up at the Mt Marley 5km in front of a 15,000 main street crowd. Good payday for a 10 year old!
* EMMA-KATE WATT was our top finisher at the International Women's Day 5km, tuning up for the Nationals with an 18.52 and 5th place out of 5000-plus girls and women.
February 2018
CALLUM DAVIES continued his sensational rise, placing first junior in the Commonwealth Games Trials 1500m at Carrara. In warm and breezy conditions Callum split 1.01/2.04/3.06 en route to 3.49, his second-quickest time ever. Great run in a pressure cooker situation, Callum! ELLE RUTHERFORD and LEAH SIMPSON also soaked it up in an experience that can only help their future racing.
January 2018
CALLUM DAVIES launched our New Year with a bang, posting a World Junior Qualifier (3.47/3sec PB) at a Vic Milers 1500m in Melbourne. The Lakeside Track was uncommonly still and temp's around 30 degrees as Callum produced the most outrageous negative split in squad history (63, 62, 60 and a 42-close). "I was feeling sick the day before", our newest world-class runner said. "And no pacemaker. After the 2.05, I thought I had no chance of qualifying so just aimed for a PB". Callum finished fractionally behind National Cross champ Andrew Buchanan with junior 3000m Zatopek winner Cody Shanahan 10 metres back. A top two at Junior Nationals will see our newest world-class junior runner off to the Worlds in Finland July 10/12. The coach also gets to tick a bucket list item with Nightwish ("Last of the Wilds") nearby on Friday 13th (Oops!). Well-deserved reward for hard work and commitment, Callum.