News 2014
November 2014
Olivia Burdon's new Queensland junior mile record highlighted our 13 podium blitz on the UQ 1500m Classic on November 6. Lilli lowered Angela Raines-White's 1989 record by .05 second in what was the 11th fastest ever time by an Australian junior and number 5 by a Queenslander of any age. And a $700 bonus prize to boot! Well done Lilli!
Wins Lilli Burdon Elite Mile 4.43.31
Paul Scurr Masters 1500m 4.30
Lucinda Crouch SS # 1 4.34
Mackenzey Ormiston PS # 1 4.49
Runners–Up Lara Crouch SS #1 4.34
Daisy Fahey PS #1 4.55
Jaxon Paterson-Wright PS #1 4.41
Jack Partridge PS #2 4.58
Thirds Brodie Modini Elite Mile 4.17
Cara Feain-Ryan SS #1 4.36
Will Omeara PS #1 4.53
Emma-Kate Watt PS #2 5.24
Mikaela Woodward 1500m walk 7.20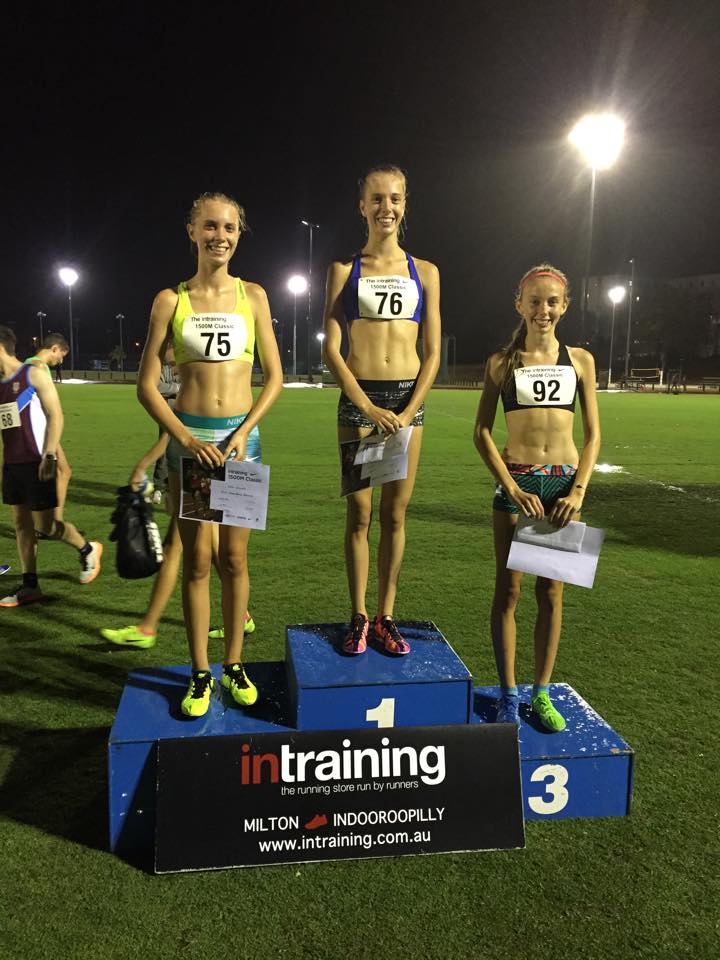 Pictured above, trifecta to Border Striders in the SS #1 race, 1st Lucinda Crouch, 2nd Lara Crouch, 3rd Cara Feain-Ryan
***
Our runners won six of the ten gold medals in the Queensland All Schools Triathlon and Aquathon Championships at Kawan on November 9. More than 20 qualified for State at Hervey Bay late February 2015.
GOLD Jessica Hoskin Senior Tri 65 mins 39s
Laticia Transom Junior Tri 41.04
Ryan Roberts Junior Tri 38.00
Harrison Turner Primary Aqua 11.43
Tayden Tomich Kids Aqua 7.36
Connor Mcareavey Kids Aqua 6.51
SILVER Adele Phillips Primary Aqua 12.12
BRONZE Tahlia Fletcher Junior Tri 41.57
Sakura Sugiyama Primary Aqua 12.15
Trista Hockey Kids Aqua 8.00
Blake Turner Kids Aqua 7.16
October 2014
BEN COOK won his first senior men's triathlon title, the Olympic Distance, on Oct.12 at Redcliffe Peninsula. Well deserved.
September 2014
BEN COOK led our stars at Bridge to Brisbane on Sept.7 placing second in the 5km (PB 14.39) just 4sec's behind an Olympian. Our junior girls, LIZZIE MOSS (20.28) and SHELLBEE WELSH (20.43) went 1-2 in the U/14 division while SEAN RYAN broke through to be second junior boy (18.03). SAM BENNETT (36.26) also starred when third junior in the 10km race. As well LARA CROUCH (42.08) and ERIKA GAGE (44.54) were the top two under 13s in the 10km with MATTHEW MOATE third boy. JAXON PATTERSON-WRIGHT (18.44) was third boy in the 5km with LACHLAN COOK runner-up in the 14-18yrs (15.02).
The month ended with a bang for PAUL SCURR who won his second national medal, a teams bronze (again), at the Australian Half-Marathon in Sydney on Sept.21. He clocked 1 hour 18 mins in his debut at the distance. Meanwhile daughter APRIL SCURR was second junior in the massive Bridge 9km Bridge Run behind the world schools cross-country silver medallist. 
On the previous night TAMARA CARVOLTH ran second to an Olympian in the Bay Twilight 10km ($200), ELLIE RYAN was runner-up in the women's 5km ($100) and JAYDON WALDRON placed third in the men's 5km ($50/1st.junior). HARRISON and BLAKE TURNER went 2-3 in the Kids 1km while TAYDEN TOMICH and CAITLYN MORSE did the same in the girls race.
Congratulations to LOUIS McAFEE (Idaho) and ISSI SMITH (North Carolina) on being awarded full USA athletics scholarships. Also to ISHA POMANA on her selection for the 2015 World Duathlon Championship and CIERA STAFFORD who is currently racing on the West Coast USA.
August 2014
The Queensland Duathlon Championships at Springfield on Aug.10 saw gold medals go to RYAN ROBERTS & PARIS SHIELD (12-13), ISHA POMANA (30-4), ANDREW OBRIEN (40-4), SKYLA TOMICH (10-11) & TAYDEN TOMICH (U/10); silvers to ADELE PHILLIPS (10-11) & COOPER CARSWELL (U/10); and bronzes to SYDNEY O'RILEY (U/16), KEELY WHITTAKER & GEORGE NIELD (12-13). Great work!

Three Border Striders starred at the Brisbane Marathon Festival on Aug.3. FINN REECE won the junior 2.2km outright (8.11) with CAITLYN MORSE second girl in 9.12. JAMES TURNER beat 2000-odd runners in the 10km, placing third to national-class runners in a PB 35.18. Comebacker TAMARA CARVOLTH banked a cool $1500 for a course record and victory in the Townsville 10km.
July 2014
The State Mountain Running championships on July 12 at Bellbird Park saw Caitlyn Morse win the U12 gold and Katey Brassey the U14 silver. Great work in a tough event.
***
We were the most successful squad again at the Gold Coast Marathon festival on July 5 with six placings in junior and development races.
Our winners were Harrison Turner (2km, 6.55) and Katrina Robinson (4km, 13.47); while runners up were Sakura Sugiyama (2km, 7.17), Mackenzey Ormiston (4km, 14.26), Bradley Warnes (5.7km, 18.39) and Sarah Champley (5.7km, 20.42). Louis McAfee, still a junior, won the bronze medal in the Queensland Men's 10km Road Championship. A special mention to Paul Scurr whose massive PB 2.49 in the marathon made him instantly one of Australia's quickest masters' marathoners.
***
June 2014
Bella Smith, who does some endurance training with us, starred at the Oceania Championships in the Cook Islands on June 25-26. Her medal haul consisted of silver in the 1500 (4.37), and an 800 bronze (2.14). Great work for the off season.
***
On June 21 at Palmerston North, Katrina Robinson won bronze in the Year 9 race at the New Zealand Schools Cross Country titles. Great result on a challenging, slippery, muddy course, congratulations Katrina.
***
The State Medium Course Cross Country Championships held at Yeronga on June 7 yielded Gold for Katrina Robinson (U20 4km, 14.17) and Paul Scurr (Masters 8km, 29.30); Silver to Louis McAfee (Open 8km 26.14) and April Scurr (U20 4km 14.53); and Bronze to Thwane Fouche (U20 4km, 15.23). Well done!
May 2014
Congratulations to Brianna Campton on two medals at the Australian Little Athletics championships held at Lakeside Stadium in Melbourne on May 3, silver in the 1500m and bronze in the 800m.
April 2014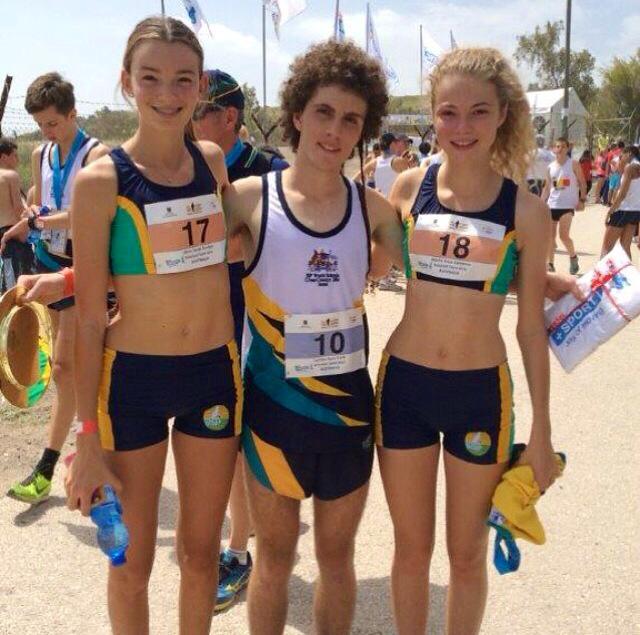 On April 1st, three of our runners competed at the World Schools Cross Country Championships in Israel. Brian's report from the Championships:
"Anyone further back that fifth ate dust, the track being dry throughout, and hard in places. The day got hotter as it went on, and the races were accompanied by sonic booms which were either Israeli jets breaking the sound barrier overhead, or nearby mortar tests.
Lachlan Cook – Silver – sat in tightly bunched lead pack throughout, taking inside line on 90 degree corners. Was left to battle it out with two Turkish runners, when the first of them went with 1500m to go. Lachlan led Australia to a team silver.
Lilli Burdon – 4th – sat in the lead pack and made a strong move from 6th to 4th to 3rd at the halfway mark. Overtaken by a Turkish runner on downhill with 1km to go but hung in to take 4th.
Marlie Campton – 12th – Felt very good on the first lap and hit halfway in 2nd right behind the eventual winner. Ran out of endurance on the last lap, but pushed scoring runners of the 2nd and 3rd placed teams back to ensure team Gold for Australia.
March 2014
The International Women's Day 5km Run on March 9 saw a career breakthrough for 15 year old Alex Clements. Out of 9,000 starters, Alex placed an incredible 5th (pb 18.49) and was the first placed U16 girl. Well done Alex, a fantastic result! 
***
We have a record 41 athletes heading to the Australian Juniour Championships in Sydney on March 12-16, up from 23 last year. In addition to the state medallists listed on the results page, we will be represented by Emily Beston, Chloe Bradley, Jacob Bragg, Lachlan Cook, Thwane Fouche, David and John Lean, Rachel Pieszko, Jordan Pizzica, Ellie Ryan, Leah Simpson, Jazmin Smith, Bree Watson, India Williams and Kelsie Willoughby. Athletes who train with us and have qualified in exotic events are Jasmine Hayes (80m hurdles) , Tianah List (400 hurdles, javelin) , Annie McGuire (jumps) , Maddie McGuire (400 hurdles) , Jamison Stovin (3000m walk) and Scout Cook (400m). 
Good luck to all.
February 2014
At the Feb 8 – 9 Little Athletics Inter Centre meets, 38 of our 800/1500m runners qualified for the State Championships in Cairns next month. Six are ranked no. 1 on times – Braelan Renton (U15 800/1500), Courtney Thwaites (U14 800/1500) Brianna Campton (U13 800/1500) Harry Briggs (U13 1500), Issi Schofield (U12 1500) and Brady Thwaites (U11 1500). Good luck to all.
***
Louis McAfee added another senior medal to his tally with a bronze in the State Men's 5000m at QEll on February 7. His massive PB of 14.44 qualifies him for next month's Junior Nationals in Sydney. Well done Louis.
January 2014
At the State Open 3000m championships at QSAC on January 24th, Lachlan Cook, 16yrs (8.26) and Katrina Robinson, 13yrs, (10.12) each won bronze. An amazing result, remembering this is an Open championship. Congratulations to both.
***
Border Striders kicked off the year with nine podiums at the Queensland Aquathlon Championships on January 19 at Southport Broadwater.
GOLD James Nield 10-11yrs, Harrison Turner 7-8yrs
SILVER Keely Whittaker 12-13yrs, Justin Currie12-13yrs, Dakota Farrell-Thomas 7-9yrs
BRONZE Taylor Chinn 14-15yrs, Braelan Renton 14-15yrs Tayden Tomich 7-9yrs, Joshua Booth 7-9yrs
A great start to their year, congratulations!