QUEENSLAND ALL-SCHOOLS TRACK CHAMPIONSHIPS, QSAC,
                                Oct.16/17--30/31 2021
* We won 11 Golds, 2 Silvers & 3 Bronzes in MLD (Middle/Long Distance) races to reclaim #1. GOLD
ISABELLA HARTE U/17yr 3000m 9.19 PB/WJQ
Greatest run by a 16 year old in Qld School Championship history, given the QSS record by future international Katrina Robinson is 9.27. World Junior Qualifier!!
ISABELLA HARTE U/17yr 1500m 4.36 NQ
HARVEY CRAMB U/18yr 2km Steeple 6.03 PB/NQ * Compares favourably with the QSS record (5.59) of Ky Robinson.
JOSEPH SAUNDERS U/17yr 2km Steeple 6.03 PB/NQ * But for SARS-2, Joe would be the new QSS record-holder (stands at 6.07).
AMY PARTRIGE U/18yr 3000m 10.16 NQ * Three golds-in-a-row for this model of consistency. Km splits of 3.20/3.26/3.30.
SELWYN RUSSELL U/15yr 2km Steeple 7.45 NQ * Her maiden State title was memorable, dodging kookaburras and crash-landing deep into WJ #3. Arose and then ran 'em down! Unbelievably tough.
CAIDEN MACFARLANE U/14yr 1500m 4.20 NQ * A tactical masterpiece by Aust's #2, delivering a 3-lap negative split for the ages!
ELKE RAYWARD U/12yr 800m 2.26 PB * Went for the NQ with a 1.10 opener only to miss by a micro-second. Impressive.
ELKE RAYWARD U/12yr 1500m 5.02 * Gave her rivals no chance & qualified for Nationals under the "Top 3" rule.
ELSA CHAN U/20yr 3km Steeple 11.57 WJTQ * Took a dip at WJ #5 but held her composure to clinch her first State title.
ROB STRINGER U/20yr Open 800m 1.56 * A thriller with Rob converting a 61sec opener into an irrepressible 55sec close. Other State Champions:-
ADDISON HOUSLIP Qld Junior All-Schools Triathlon
* One of only four 12 year olds in 24 years to win this highly-contested title. AND after a 3-month injury layoff!
ELKE RAYWARD Qld Primary All-Schools Aquathon * Kept our string of winners alive in what is THE PREDOMINANT talent ID event in Qld.
LYLA WILLIAMS NSW Open Schools 3km Walk 13.54 PB/NQ * Won in a sprint finish to demonstrate her technical soundness as well as her fitness. SILVER
OSCAR RAYNER U/17yr 2km Steeple 6.23 NQ *Part of an historic squad trifecta, Oscar was primed after his GPS 3.57 (NQ/PB).
JOSEPH SAUNDERS U/17yr 3000m 8.41 NQ/PB * The 2.42 final km (67sec last lap) left Joe just 2secs off Gold. BRONZE
VINNIE BUHAGIAR U/17yr 2km Steeple 6.23 NQ/PB * Clinched a trifecta unmatched by any other squad! History!!
ELSA CHAN U/20yr 3000m 10.52 PB * Km splits of 3.24/3.42/3.47 secured a podium for our first-year runner.
SHANTEAL HANSEN U/20yr 3km Steeple * Steepled nicely early, then hung on to win yet another State medal. Other Bronze medals:-
JOSEPH SAUNDERS U/20yr 5000m 14.50 PB/WJTQ * A sensational debut over the distance and first ever to break 15 in the Div.2 race.
ASHLEY PLANE Qld All-Schools Junior Triathlon
* Consistent top-6 times across the swim/bike/run legs secured a podium for Asley.
BRIDGE TO BRISBANE road race Nov.7

#1 Junior (U/20yr 4.5km) JAXON PATERSON-WRIGHT 14.04 PB
#1 Junior (14-18yr 10km) JACKSON CRANITCH 32.08 PB
#2 Junior (14-18yr 4.5k) HARVEY CRAMB 14.07 PB

UQ 1500m CLASSIC St Lucia Oct.20

1st ISABELLA HARTE Women's Classic (8sec PB!) 4.23 PB/CGTQ
2nd ELKE RAYWARD 12yrs/Under (Aged 10!) 4.56 PB/NQ
2nd JACKSON CRANITCH Men's Open Div.1 4.02
2nd ELLA COSGRAVE 12yrs/Under Div.2 5.20 PB
2nd ELLA BROWN Sec.Schhols Div.3 4.55
3rd HARVEY CRAMB Sec.Schools Div.1 3.58 PB
OTHER NATIONAL QUALIFIERS:-
JACKSON CRANITCH U/20yr 5000m 15.07
JAXON PATERSON-WRIGHT U/23yr 1500m (3.55)/5000m (15.06)
ROBERT STRINGER U/20yr 800m (1.54)/1500m (3.55)
JOSEPH SAUNDERS U/18yr 1500m (4.02)/3000m (8.39)
ELLA BROWN U/17yr 3000m 10.35
OSCAR RAYNER U/18yr 1500m 3.58
SELWYN RUSSELL U/16yr 2km Steeple 7.30
CAIDEN MACFARLANE U/15yr 800m 2.05
JEMMA WILSON U/16yr 2km Steeple 7.51
HOLLY-MAREE MATTHEW U/15yr 3000m 10.54
SUMMER PHILLIPS U/14yr 400m 62.9secs
July 31 QLD JUNIOR CROSS-COUNTRY CHAMPIONSHIPS, Toogoolawah Golf Course
One long hill every 2km lap. Unseasonably warm. Races brought forward to beat Lockdown.
GOLD ELKE RAYWARD 11yrs 3km 11.09
The star SLS nipper replicated her 2019 victory at Maleny with a dominant display, setting
up a lead by 1km, then powering away to a 22sec. win. Earned State Team representation.
GOLD ISABELLA HARTE 16yrs 4km 14.04
After a cautious opening lap, Izzy hammered the final 2km to record the fastest time of the
day and a 14sec victory. That gave her the State Cross trifecta and 4-in-a-row QJX wins.
SILVER JAXON PATERSON-WRIGHT 18/19yr 8km 26.41
The 2016 QSSX champ returned to his best running near the front throughout the 4-lap test.
SILVER AMY PARTRIGE 17yrs 4km 15.01
Cleared out from her rivals on the second uphill to clinch yet another State medal.
SILVER ZARAH FARRINGTON 12yrs 3km 11.17
The Qld Primary School Aquathon champion ran her own race throughout to secure her
breakout State medal and her first Qld Team selection for National Cross-Country.
BRONZE GIA ANTONIO 8yrs 1km 4.06
Last year's winner recorded the same time as the silver medallist in a thrilling finish.
OUR NATIONAL QUALFIERS (QA Merit plus QSS/PS prognostication):-
10 Years old Bianca Antonio
11 Years old Elke Rayward, Ella Cosgrave, Kelsey Rolff
12 Years old Addison Houslip, Zarah Farrington
13 Years old Holly-Maree Matthew, Bianca Rayward, Caiden MacFarlane
15 Years old Emma McDonald, Ruby Hughes
16 Years old Isabella Harte, Joseph Saunders, Vincent Buhagiar
17 Years old Amy Partrige
18/19 Years old Jaxon Paterson-Wright, Jack Partrige, Gabby Hill, Elsa Chan, Clayton Moore &
Ewan Smith.
July 18 QSS/PS SCHOOLS CROSS-COUNTRY CHAMPIONSHIP, Limestone Park
The traditional Met West course was used. Conditions fine.
GOLD ADDISON HOUSLIP 12yrs 3km 10.33
The race-of-the-day saw Addie break through for her maiden State running title. Several lead changes and a hard pace had the co-leaders out on their feet coming
into the final straight with Addie grinding out a famous victory.
GOLD ISABELLA HARTE 16yrs 4km 13.19
Izzy led throughout for a Championship "5-peat" & fastest time of the day.
BRONZE AMY PARTRIGE 17yrs 4km 14.20
A hard surge on the second uphill kilometre proved the key to Amy's 4th QSS medal.
May QUEENSLAND ALL-SCHOOLS CROSS-COUNTRY, Limestone Park
GOLD ISABELLA HARTE 16yrs 4km 14.10 * 5 titles-in-a-row. Fastest 4km time of the day.
GOLD CAIDEN MACFARLANE 13yrs 3km 10.22 * His 4th QASX title.
SILVER GABRIELLA HILL U/20yrs 6km 24.05 * Her 2nd QASX medal.
SILVER ADDISON HOUSLIP 12yrs 3km 11.30 9 of our runners won automatic selection to National Cross.

QUEENSLAND SHORT COURSE CROSS-COUNTRY, Richlands
GOLD CALLUM DAVIES Open 4km 12.13 * It was his first State cross medal of any colour.
BRONZE WAYNE ADAMS 40-49yrs 4k 15.32

AUSTRALIAN UNIVERSITY GAMES, Sydney
GOLD CALLUM DAVIES 1500m 3.45 * 3-straight 1500m titles.
GOLD CALLUM DAVIES 5000m 14.34 April AUSTRALIAN TRACK CHAMPIONSHIPS, Sydney
SILVER CAIDEN MACFARLANE U/14 1500m 4.23 PB
BRONZE JOSEPH SAUNDERS U/17 Steeple 6.07 PB * Also top 10 in 3000m (PB 8.59)
SILVER LYLA WILLIAMS U/15 3k walk 15.08 PB 5th
OSCAR RAYNER U/17 Steeple 6.16 PB * Also 3000m in 9.08 PB 6th
CALLUM DAVIES Open 1500m 3.38 PB * #5 All-Time Queenslander
VINCENT BUHAGIAR U/17 Steeple 6.22 PB 8th
SELWYN RUSSELL U/15 Steeple 7.54 10th
ELSA CHAN U/20 Steeple 12.06
ADDISON HOUSLIP #3/12yrs in U/14yr 1500m (4.55)
"AUSSIES" (SURF LIFESAVING), Mooloolaba

GOLD CATHRYN RAYWARD Masters 4km Beach Run * Also silver in Beach Sprint
GOLD FIN BOOKER U/14yrs 2km Beach Run
SILVER EMMA MCDONALD U/15yrs 2km Beach Run BRONZE JASMINE RAYWARD Junior Iron * Also named in Aust. Junior Talent Squad (Kayak).

March QUEENSLAND LITTLE ATHLETICS TITLES, QSAC
GOLD LYLA WILLIAMS U/14 1500m walk 6.59 PB * 3 years-in-a-row.
GOLD ELLA COSGRAVE U/12 1100m walk

QUEENSLAND TRACK CHAMPIONSHIPS, QSAC

GOLD CALLUM DAVIES Open 1500m 3.45 * 3 years-in-a-row (1st time in a quarter century).
GOLD ALANASIA MALONE Open 3k Steeple 11.57
GOLD CAIDEN MACFARLANE U/14 1500m 4.32 PB
GOLD JOSEPH SAUNDERS U/17yr Steeple 6.13 PB * 3 years-in-a-row.
GOLD KYLE WILLIS Para 800m 2.22
GOLD LYLA WILLIAMS U/15 3km walk 15.30
GOLD GABRIELLA HILL U/20 10k walk 54.37 * Robyn Wales is their race walking coach.
SILVER CALLUM DAVIES Open 800m 1.52
SILVER LACHLAN RAYNER U/16yr Steeple 6.34
BRONZE ROBERT STRINGER U/20yr 800m 1.55
BRONZE ELSA CHAN U/20yr Steeple 12.10
BRONZE HARVEY CRAMB U/18yr Steeple 6.06
BRONZE BRIDGET MORRISSEY U/18yr Steeple 7.45
BRONZE JOSEPH SAUNDERS U/17yr 1500m 4.09
BRONZE OSCAR RAYNER U/17yr Steeple 6.23
BRONZE SELWYN RUSSELL U/15yr Steeple 7.43
Sydney national athletics championships 2021
Lyla Williams PB 15.08 to clinch Silver for 3000m Walk
Caiden Macfarlane SILVER Medal 1500m 4.23 Caiden's splits were1.04(!)/1.12/1.14/1.12
Addie Houslip 11 years old the youngest in the U/14yr girls 1500m 1.10/1.22/1.24 and a 1.21
*** WE ARE OFF TO A FLYING START IN 2021 ***

NATIONAL TRACKA silver medal in the U/14yr 1500m (PB 4.23) by CAIDEN MACFARLANE (Pic in pre-kick mode) and the U/17 Steeplebronze (PB 6.07) by JOSEPH SAUNDERS led the way.

STATE TRACK Open titles to CALLUM DAVIES (1500m "3-peat")
ALANASIA MALONE (Steeple) and junior golds to CAIDEN MACFARLANE, JOSEPH SAUNDERS & KYLE WILLIS highlighted our 14 medals & 23 National Qualifiers.

QLD ALL-SCHOOLS CROSS-COUNTRYA resurgent IZZY HARTE spearheaded our 4-medal haulwith 7 earning early selection for Nationals in Adelaide.

STATE SHORT COURSE CROSS-COUNTRY CALLUM DAVIES is mid-purple patch with his 3rd at Zatopek 1500m eclipsed by a 6th at the Olympic Trials 1500m (=PB 3.38) and then followed by UQ Sports Star of the Year Award, the Aust.
Uni Games 1500m/5000m double gold and our first victories at State Men's 4km Cross and theUQ Great Court Race!
"AUSSIES" (Surf Life Saving Beach Runs)Golds to FIN BOOKER (U/14) & CATHRYN RAYWARD(Masters).
See Results Page for details.
2021 National athletics Championship Sydney Olympic Park
Sydney Nationals Day 1/2x
CAIDEN MACFARLANE SILVER/PB!!!ADDIE HOUSLIP #3 (12yrs) IN AUSTRALIA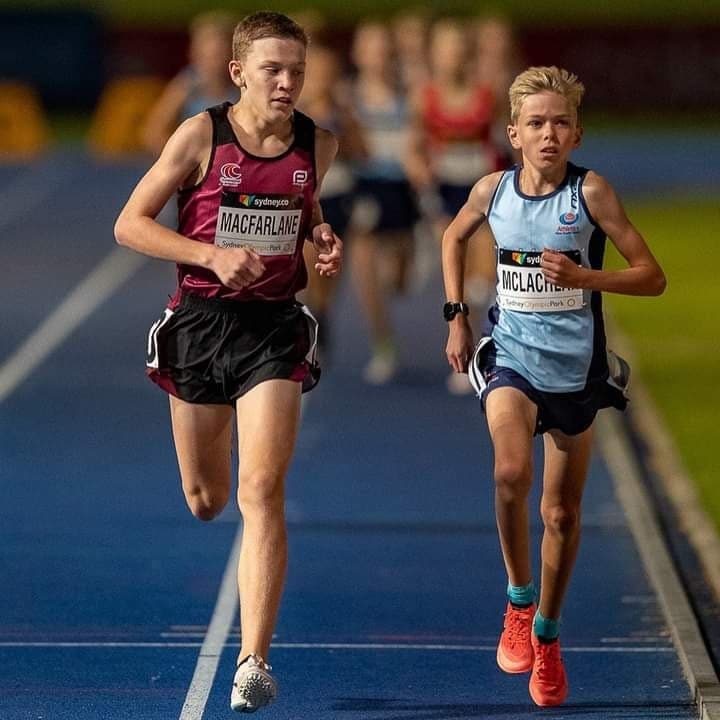 Caiden gave our Nationals campaign a flying start with his Silver medal in the U/14yr 1500m at Sydney Olympic Park.He slashed 6sec's off his PB (4.23) and it took an Australian Record to snap his 2 year unbeaten streak. Caiden's splits were1.04(!)/1.12/1.14/1.12 in securing his maiden national medal.
Addie, at 11 the youngest in the U/14yr girls 1500m, stunnedher 12 higher-ranked rivals with a blistering PB opening 400m(1.10) and leading through 900m!. Splits of 1.10/1.22/1.24 anda 1.21 close rewarded her with #3 (age) and a near-PB 4.55!!!
HOLLY-MAREE MATTHEW tuned up for her 800m with acreditable 5.04. I ended up $50 lighter for buying 'em dinner!!
"Olympic Trial" & "World U/20 Trial".
Pic of our Alanasia Malone lined up at the start of the Olympic Trial steeplechase beside eventual winner Genevieve Gregson
Pic of Elsa Chan at start of World U/20 Trial steeplechase with big smile.
Day 3
Pic of our Shanteal Hansen at first water jump in 4th place early in WJ Trial Steeple (with her name on the scoreboard in background!)