News 2019
December 2019
AUSTRALIAN ONE MILE CHAMPIONSHIP, Bankstown (NSW), Dec.21
CALLUM DAVIES faced 3 sub-4 minute milers including a USA indoor racer amid fears of a severe bushfire haze. A muddling early pace (66/69/63) saw Callum near the lead, albeit boxed, when they kicked. He sped a 54 second finale (1.57 last 800m) only to be stymied in the last 50m by the visitor. Nonetheless a first senior medal (bronze) fractionally behind the historic deadheat winners (4.14) was some consolation.
* CALLUM DAVIES has finished 2019 in a rich vein of form. A 4.02 mile at the new Uni of SunCo meet made him #10 Queenslander in history (and #10 Aust. this year). Splits of 59/63/62/56 +2 clinched what was a jaw-dropping debut at the distance. $500 banked as well!
Callum then shocked the Australian distance-running fraternity by winning the 1500m at Melbourne's Zaptopek meet. Even splits with a 57-sec final lap secured him a PB 3.43. That qualifies him for the Olympic Trials in March.
* ZALI BOWDEN won the junior 2.5km race on the beach at the GC50, leading most of the way before a boy passed.
* SHANTEAL HANSEN was our sole rep at Nitro Schools in Perth, running a relay involving 2 x 400m with 60secs recovery. Showed no fear with a 60sec opener.
* MATTHEW HANSEN won the Yeerongpilly "Magic Mile" on a challenging course in 4.53, 7secs ahead of his adult pursuers. SAMUEL STANWAY won the Junior U/14 mile at the same carnival.
* ROBERT STRINGER won the PNG Triathlon, aged 16.
* EVA PARISH achieved a special moment in triathlon history when she won the AYS Youth (U/16) opener at Runaway Bay. Only in the sport for two months and riding the same gear on all her bike legs, Eva survived tropical heat and storms to defeat the nation's best young juniors. Her pitter-patter running style and exceptional recovery powers ensured a dream national-level debut.
MADISON TURNER & DANIEL PRINSLOO won the "Rookies" division in dominant displays.
* LYLA WILLIAMS clocked a 2.38 PB when anchoring Tweed Little Athletics' medley relay team to State gold.
* Border Striders product ELLE RUTHERFORD is off to Notre Dame Uni (Chicago) on a 4-year scholarship. She joins LILLI BURDON, LACHLAN COOK & BRODI MODINI on the USA circuit.
November 2019
CALLUM DAVIES at 20 became one of the youngest-ever Qld 5000m Open Men's champions at QSAC on November 16.
Callum, who won the State junior 5km three years ago, ignored warmish conditions and a niggling breeze to carve out km splits of 2.49/2.52/2.58/2.54 and 2.45.
He was tucked away for six laps about 5th inside a strong-running field containing six internationals.
Callum moved into third mid-race, then closed with a 62sec 400m to add the 5000m to his State 1500m title (a feat only achieved by ex-Border Strider LOUIS McAFEE and Aust.100km. rep SCOTT BRITTAIN within a year this century!).
His 14.18 bettered his road PB set at Noosa a fortnight earlier by 9 secs.
Only Olympian Peter Nowill and 5-time victor Jackson Elliott have won in quicker times the last quarter century!
Callum is our first men's 5000m champion with LESHAY WELLS (2012/At 15 the youngest-ever male or female champ) and STEPHANIE POWELL (2004 at 16) our previous women's winners.
KYLE WILLIS is the new Australian junior record-holder for T38 5000m with his 20.03 eclipsing the previous mark by over a minute!!
ISABELLA HARTE clocked a PB/NQ 9.46 for the Sheldon 3000m to top the national U/16 rankings this season.
October 2019
The best junior meet of the year, the UQ 1500m Classic on October 31, delivered us 5 podiums and 7 PBs.
2nd SHANTEAL HANSEN SS#4 4.59
2nd ASHANTI HEAP 1500m walk 6.57 = PB
3rd CALLUM DAVIES Elite Men 3.45 PB/NQ
** Callum finished just 0.35 secs behind two internationals off 61/61/61 splits and a 56 sec close. $400 boost to his bank account.
3rd ISABELLA HARTE SS#1 4.35 NQ
Splits of 1.10/1.20/1.15 and a 1.08 close saw Isabella star in this livestreamed race.
3rd BRIDGET MORRISSEY SS#2 4.39 PB/NQ
To drop 8secs off your PB in a big race is huge–as was the last 100m charge.
PBs also to CAIDEN MACFARLANE (4.46), ZAHN SPIES (4.52), MAJENTA STIRLING-WRIGHT (5.12), ALASTAIR BELL (5.18), CHARLI SPIES (5.19), ALEXIA ABELA (5.21) & AVA THOMPSON (5.29).
Hot off the Press!
* CALLUM DAVIES clocked 5km PB at Noosa Bolt (14.27).
* GPS podiums to SEAN RYAN (400m/49.82 AJQ), JACK PARTRIGE (2nd/3km), LACHIE RAYNER (800m/2.11 NQ) and MJ LOWE.
* TRENT DARBYSHIRE sub-2 for the first time in the open 800m(4th). (1500m,4.43).
* LEO LLEWELLYN won J-GPS 800m (2.25).
* ZAHN & CHARLI SPIES took the 1500m double at the State Little Athletics Senior Carnival.
* BIANCA RAYWARD, ALEXIA ABELA & ZALI BOWDEN went 1-2-3 at South Coast Aquathon.
September 2019
CATHRYN RAYWARD stunned a large crowd at Surf Life Saving's State Enduro 4km Beach Run Championship winning the Open women's gold medal on the Burleigh sand in brilliant style. The state's #3 steeplechaser and a Japanese competitor were no match for our Supermum who broke through for her first open title.
Daughter BIANCA RAYWARD was equally impressive in the U/12s while KARA PEASE (U/19), EMMA McDONALD (U/14) and EVA PARISH (U/15) also won State junior medals in a day to remember.
August 2019
CALLUM DAVIES boosted his road racing cred with victory in the Bridge To Brisbane 5km on August 23.
His PB 14.48 turned back a field of thousands, including two Australian rep's, and was the quickest winning time in five years.
"I was cruising the first two kilometres and couldn't believe I felt that good", Callum said.
The time was 29secs faster than last year and earned him $1200.
A week later Callum showed he'd lost none of his speed when he nailed the NITRO 1000m in a PB 2.30.
August 4 Australian Half-Marathon. 
CAMERON KILPATRICK was second junior in a PB 1.19.04 for 21.1km.
July 2019
July 21 Jetty to Jetty 5km
TORRYN SQUIRES, LANI & ELLA RAGHAVAN, and KATE TICEHURST finished top 8 out of 500-plus females with Torryn and Kate taking age wins.
July 6 Gold Coast Marathon:-
2nd MATTHEW HANSEN in the Garmin 4km (12.40) after leading in a gale. His time would've won 12 of the 17 previous editions!
3rd RUBY HUGHES clocked a PB 14.27 after a training stint up north with Pace Project.
3rd SAM ELLICE ran the 2km in 7.13, just 6secs behind a world age record-holder.
3rd DESTINEE PICKVANCE was also close to the leaders in the girls 2km (PB 7.53).
In other highlights:
* KLOE LOCKHART was first Australian U/16 in the Half-Marathon (1.33 on debut).
* MAJENTA STIRLING-WRIGHT was 2nd U/13 in the 5.7km
* ISABELLA HARTE won the U/15 division in the 10km (PB 37.52) after surviving a monsoonal deluge at the start. She had debuted the previous month at Brisbane MF 10km winning in 38.11 (and banking $300). Isabella also won the Mothers Day 8km (28.49)!
Other winter standouts:
* HOLLY-MAREE MATTHEW won her fourth Andrews Cup cross-country (=Junior Girls GPS) while EVA LLEWELLYN was first over the line in the 8yrs.
* HARVEY CRAMB enhanced his road racing resume with victory in the Noosa 5km (17.32) against a large, mainly adult field.
* CALLUM DAVIES was a close runner-up in UQ's prestigious Great Court Race after leading most of it.
* DANIEL PRINSLOO won the inaugural Australian Schools Aquathon in a brilliant display of run-swim-run excellence. State champion MADISON TURNER also starred with silver in the girls.
April – May 2019
Australian Little Athletics Championships, Hobart, April 27-8
RUBY HUGHES, thawing after a 7 degree Day One, raced a copybook 1500m to win yet another National title. Laying off the pae early (1.14) in blustery conditions, Ruby launched on lap 3 to seize the lead. A calmly-executed KS manoeuvre with 250m left enabled her to sprint to the lead and claim gold in 4.48.
Ruby joins a pretigious past winners list including Olympians Georgie Clarke and Lisa Corrigan while her victory is our 4th in the last 12 years (KATELYN SIMPSON, JADE DOWLING and MARLIE CAMPTON).
ASHANTI HEAP, who runs with us won silver in the 1500m walk (coach Steve Langley).
Australian Schools Aquathon / Triathlon Championships, Kawana, May 5
DANIEL PRINSLOO came of age and made history when he won the inaugural Australian Schools Aquathon at Kawana.
The Team T-Rex TC product sat on the national runners through a 3.26 kilometre, dropped several on the swim, then outran a state rep by 13secs (3.30) for a famous victory.
State champ MADISON TURNER proved her class with silver (3.41/3.49 splits) while ALEXIA ABELA, who is age eligible next year(!), wowed in 4th.
GABRIELLA JACKSON, called up from the reserve list a week out, stunned in the Junior Triathlon with 6th (#3 Qld) and the 4th-quickest run.
Fellow FFF Triathlon rep FREDDIE AYRES was a creditable 12th in his National debut.
March 2019
Queensland Track Classic QSAC March 23
CALLUM DAVIES had only Commonwealth Games bronze medalist Luke Matthews ahead of him at the finish of the Track Classic 1500m despite a loaded and large field. Callum tucked in early to be dragged through uncommonly quick 58 & 1.58 splits. Lap 3 saw the pacers yield and a 62sec reset before Callum tore off at the bell to place second ($300) in a PB 3.46.
RUBY HUGHES (800/1500m) & ASHANTI HEAP (Walk) became our #28 and #29 State Team members for the Little Athletics Nationals in Hobart, April 27-8. 
Here is the full list of our legends who have made the "hardest-to-make" team (later significant achievements in brackets):
2017 Emma-Kate Watt
2015 Mackenzey Ormiston (AJX Champion)
2014 Harry Briggs (AJ medalist) & Brianna Campton (World Interschool Cross)
2013 Courtney Thwaites & India Williams (both AJ medalists)
2012 Tianah List (USA Scholarship)
2011 Marlie Campton (World Schools Cross)
2010 Jade Dowling (WJ Mountain) & Kenza Benzenati (AJ medalist)
2008 Tabitha Croton (International martial arts)
2007 Katelyn Simpson (World Youth 1500m), Tayla Langley (AJ medalist) & Breanne Goschnick (Volleyball international)
2006 Jordan Cross & Matthew Woods
2005 Kate Feely (diet legend) & Cameron Tew (A-League soccer)
2004 Emma Jackson (2012 Olympics)
2003 Andrew Hayes, Angus McNally & Daniel Bulmer (USA Scholarship)
2001 Kane Brigg (2006 Comm.Games)
2000 Jacob Henshall (AJ medalist)
1999 Nikita Daley (Touch international)
1998 Carrie Bailey (AJ Champ)
1994 Sian Bargh
That's more than 20% of all 800/1500m runners selected and makes us the #1 Squad of All-Time.
MADISON TURNER won the prestigious QPS Aquathon at Hervey Bay, outracing 5 national-class runners in an 83-strong field. Swimming off-pace after a 3.28 opening kilometre ("I conserved in the swim because I knew the last run would be hard"), Madison kicked with 150m left to secure a spot at the discipline's first-ever Nationals. Also won the QTS (Triathlon Series).
BIANCA RAYWARD won the QSLS U/11yrs 1km Beach Run and the Ironman at Burleigh in tactical displays beyond her years. A professional Surf Series career in the making.
DANIEL PRINSLOO (Prime coach–T-Rex) was runner-up at the QPS Aquathon, diving across the line to earn his first State selection.
EMMA McDONALD won the silver medal in the QSLS U/13yrs Beach Run.
ASHANTI HEAP (gold) and LYLA WILLIAMS (bronze) qualified for the Nationals in the 3000m walk.
ALEX SHEPPARD is the new QSLS State U/11yrs Ironman champion.
FREDDIE AYRES earned a Nationals debut after a courageous 5th at the QSS Triathlon.
February 2019
BRIDGET MORRISSEY achieved a rare honour when listed World #1 for the 2000m steeplechase (7.03 PB) in early-year international ranking lists just released. 
With 17 already qualified for Nationals in Sydney it looks like being another bumper year.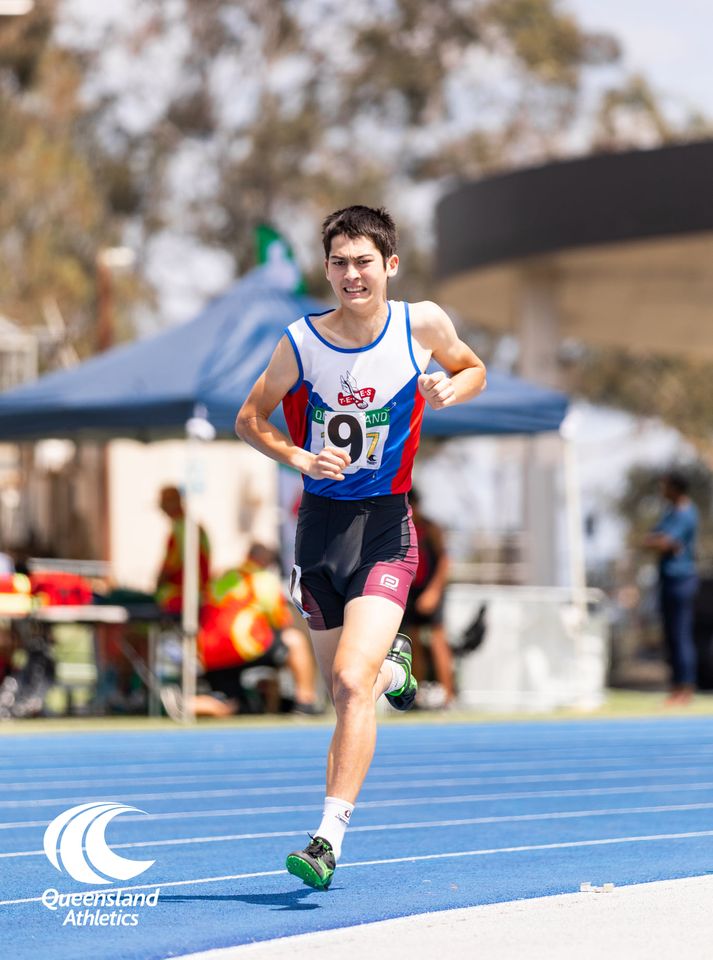 15 MLD MEDALS at QLD ALL SCHOOLS!
(5 GOLD – 7 SILVER – 3 BRONZE)
QA NAMES 7 IN ITS STATE MERIT TEAM!!